Unfortunately, my lawnmower has been damaged having left unused for a long time. But my lawn became messy and I need to clean it. Then, of course, I had to pick another tool for cutting the grass on my lawn. 
Actually a lawnmower is a standard tool for grass cutting. However, there are some tools that also work effectively as a lawnmower for cutting grass. 
Have you any idea what the tools are and how to cut grass without a lawnmower? If you have no clue, then no need to worry. But note that, you have to manage more time for cutting grass with these tools. 
In this article, I will try to give you in-depth information about the tools and how to use them for grass cutting. 
So, without wasting time, let's begin. 
A Complete Guideline To Cut Grass Without A Lawnmower
A lawnmower is a very useful tool. But if you have a small lawn, you don't need to spend money on a lawnmower. As I mentioned earlier, you have some other options for cutting grass instead of a lawnmower. 
Let's have a look at the other options that are as effective as a lawnmower. 
String Trimmer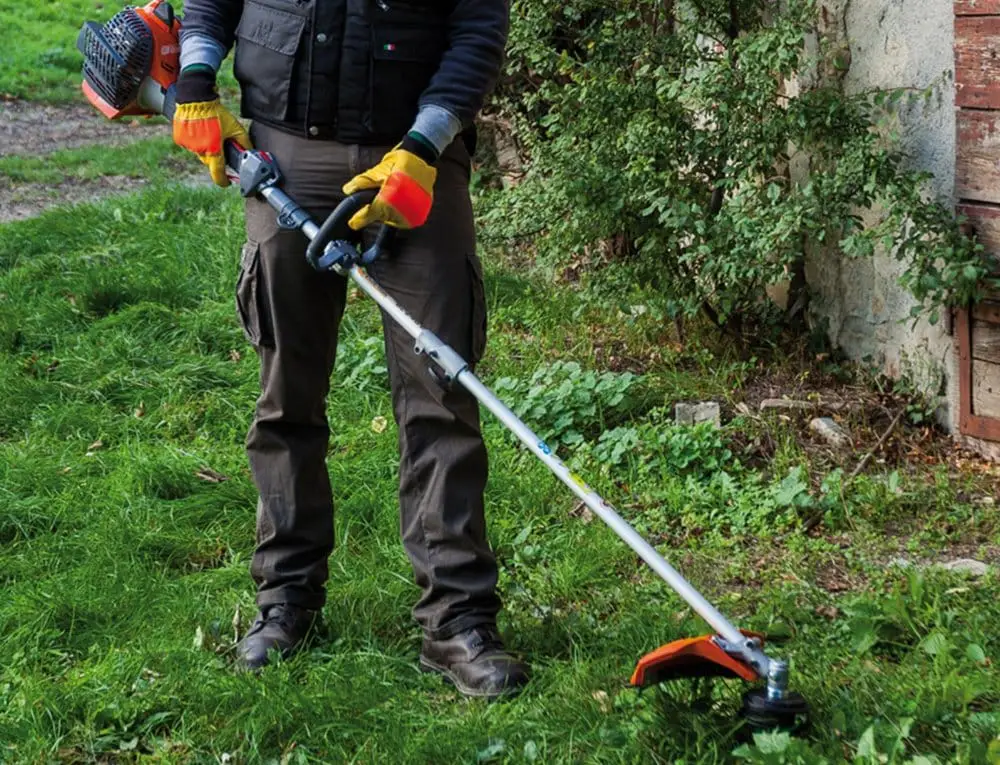 You know a lawnmower needs a space for storing purposes. It typically needs a garage or storeroom when you store it for the next summer season. And you need to clean the mower and grass bag after mowing. It creates a hassle to maintain a lawnmower.  
However, an electric-powered string trimmer can save you from this hassle. This is comparatively thinner than a lawnmower and requires less space for storing. 
It is a matter of comfort for you that most of the string trimmers available in the market are cordless and battery-powered. It is really easy to handle rather than a lawnmower. 
If the trimmer carries a cord, no need to be tensed. The manufacturers provide a sufficient amount of cord with the trimmer that covers your whole lawn. 
But before using the trimmer, make sure that your lawn is totally dried. It is recommended to avoid the wet grass when using a trimmer for grass cutting.  
Now, plug in the trimmer if it carries a cord. Take your position in your lawn where you want to start grass cutting. Place your one hand on the trimmer handle close to the throttle and the other hand on the forward support bar. 
This time, take the string trimmer's head in contact with the grass. Move the string trimmers head side by side to cut the grass of your lawn. 
In fact, everything has its benefits and drawbacks. The string trimmer is not above it either. Actually, it takes a longer time to cut the grass than a lawnmower and it throws grass clippings here and there. So, you need to clean up the surroundings of your lawn after using the string trimmer. 
Scythe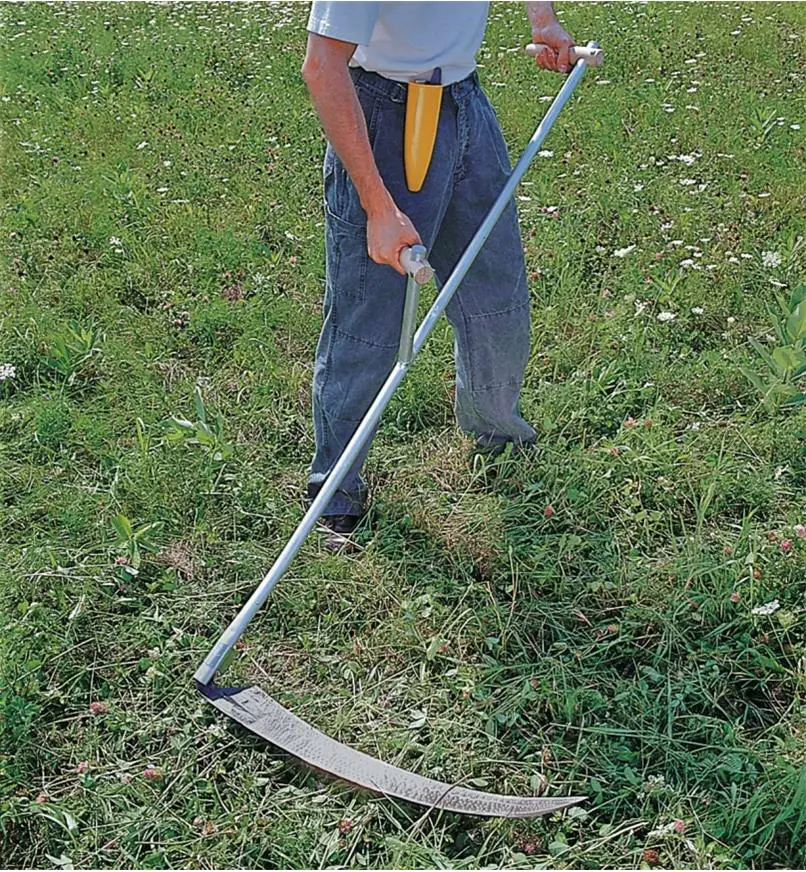 If you want to avoid any electrical connection, then a scythe is the best solution for you to cut the grass of your lawn. 
Actually, a scythe consists of a large metal blade and a long metal handle. Nowadays people prefer electrical tools for cutting grass. But a scythe is also an effective tool like other electrical tools used for grass cutting. 
For cutting grass with a scythe, take your position into your lawn where you want to start grass cutting. There are basically two handles in a scythe. One is the main handle and the other is a horizontal handle that is welded with the main handle. 
First of all, hold the main handle with one hand and the horizontal handle with the other hand. Now, swing the blade of the scythe back and forth to cut the grass. Try to hold the blade close to the base of the grass to get the best result. 
You must need to be careful when operating a scythe because the blade is totally uncovered. Note that, reckless use of the scythe will cause serious damage to you. 
Shears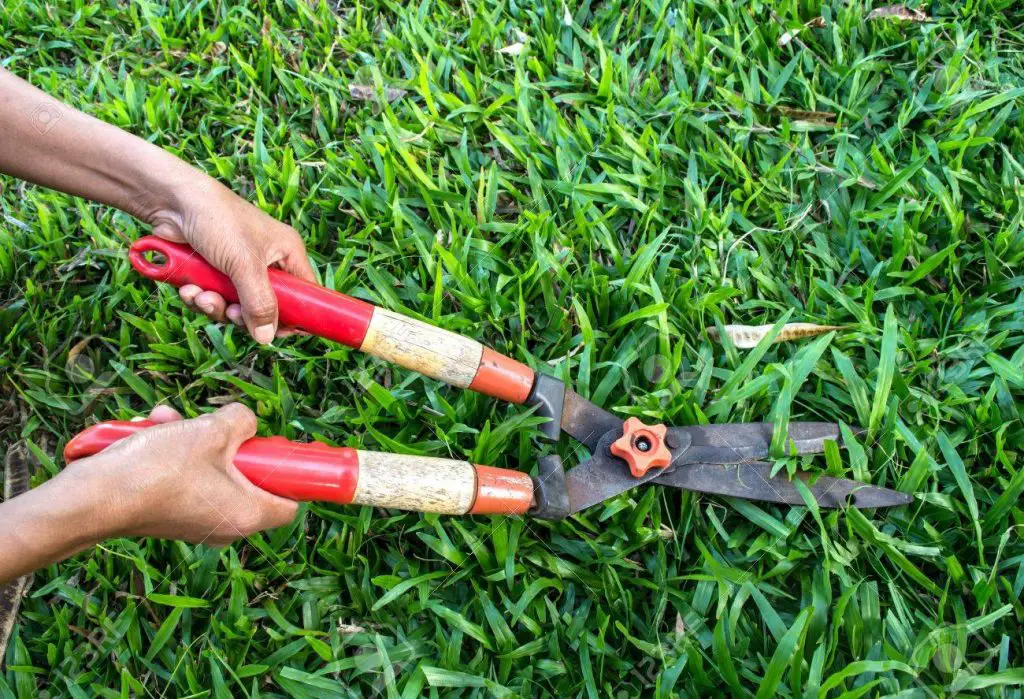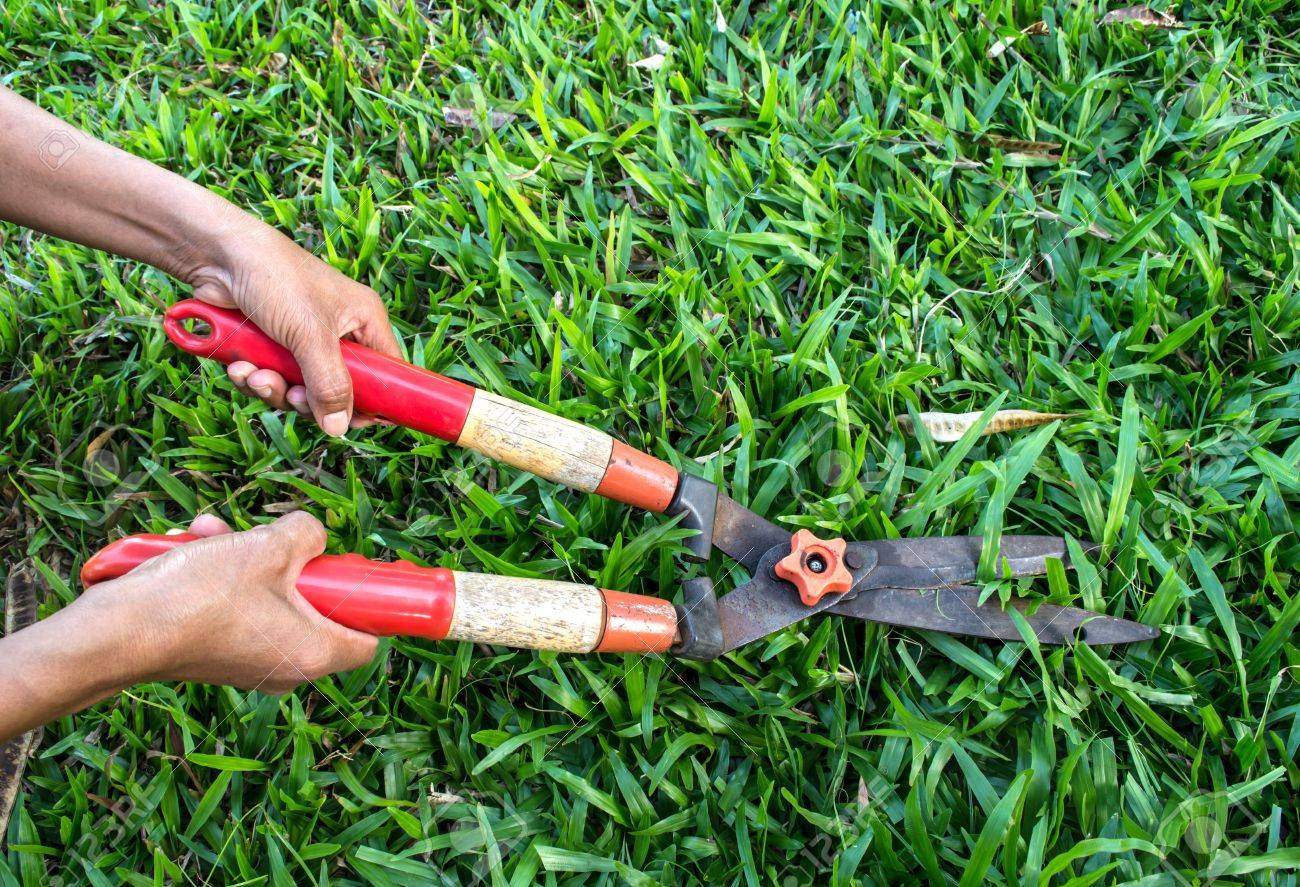 If you are conscious about the accuracy of the grass cutting, then a shear is an unbeatable tool for fulfilling this purpose. Shears are actually large scissors and you must hold it by using both hands. The blade is attached at the end of the shears handle. 
Shears are very effective tools for cutting small grass effectively. Now, hold the shears handle and squeeze it. When you squeeze the handle, the blades come close and cut the grass. 
However, cutting grass with shears is a time-consuming task. And if you have a small lawn, then it will be your best companion for grass cutting. 
Hedge trimmer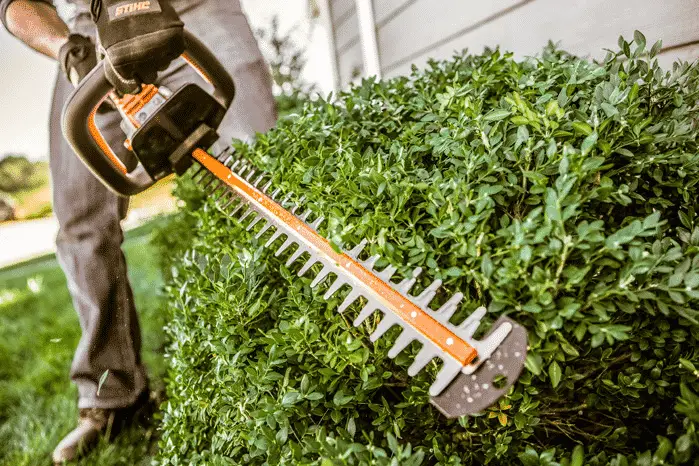 A hedge trimmer looks like a chainsaw. If you need to clean the bushes then the hedge trimmer is a perfect tool for you. You can use it for grass cutting purposes as well. 
Just slowly move the trimmer close to the grass for getting a perfect size grass. Don't move it wildly. But when you want to clean bushes, a hedge trimmer is really an unbeatable tool for fulfilling this purpose. 
Final verdict
If you have a damaged lawnmower, then you can choose any one of the above-mentioned tools. 
In fact, these tools are cheaper than a lawnmower but you get the same result. For a small lawn, you don't need to purchase a lawnmower. 
Hopefully, this article has quenched your thirst for how to cut grass without a lawnmower. 
Now, pick the best one for you and enjoy!