You should go with Bolens as they have proven track in the mower industry. It is not my mere statement, the proven performance of their mowers speak for them.
Bolens is producing numbers of renowned lawn mowers of different categories during the decades. And so landscapers have been keeping trust on them.
Then why not you? I know you also want to choose a Bolens mower. That's why you are here. And we have good news for you.
In this article, we are going to bring up the best Bolens lawn mower for you. Hopefully, you will be amazed with its features.  
So, let's dive in.     
In this content you'll learn:
Why Should You Buy A Lawnmower Made By Bolens?
Bolens is a brand that's owned by its parent company, MTD products. And MTD is one of the biggest manufacturing companies in the lawnmower industry. They have been producing high-quality outdoor power equipment for more than fifty years. 
They also own other popular brands such as Cub Cadet and Troy-Bilt. And in 2001 they acquired Bolens.
Bolens lawn mowers are renowned for their quality and user-friendliness. That's why you should consider purchasing a mower made by Bolens. 
Bolens 125-cc 20-in Push Gas Push Lawn Mower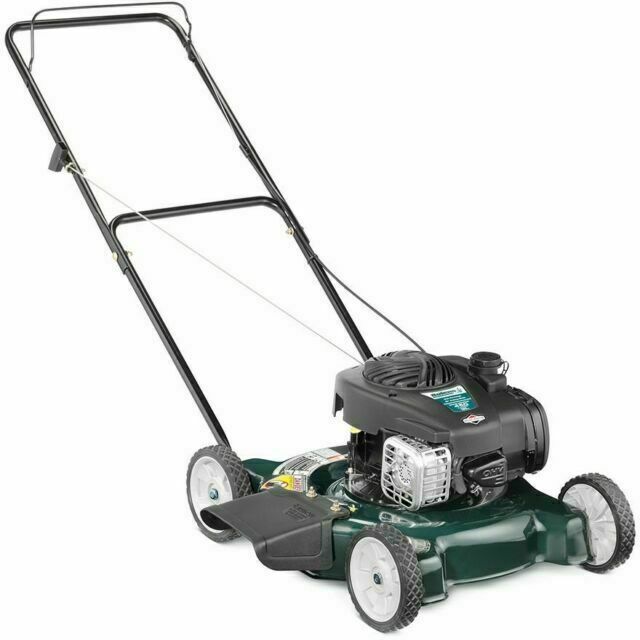 Do you want to buy a powerful gas-powered push mower at a low price? If so, then you can buy the new Bolens 20-inch gas-powered push mower. Although Bolens is a relatively unfamiliar brand in the lawnmower industry, the Bolens 125cc mower has gained popularity among its users. 
Moreover, it has received great feedback from its customers. After looking at so many positive reviews, we decided to test this mower out ourselves. And when we tested it out on our lawn, we were thoroughly impressed by its overall quality and engine performance. 
This walk-behind push mower uses a gas-powered Briggs and Stratton engine as its power source. It also has a sharp, rust-resistant blade that's made of steel. The assembly process of this mower is relatively easy, and it only took us about 10 to 15 minutes.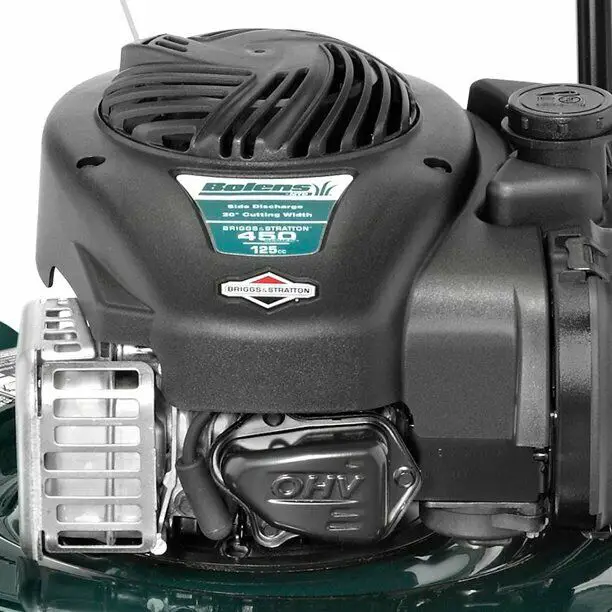 Features and benefits:
Design:
The Bolens 20" push mower has a compact design. Moreover, it's quite lightweight, and you can easily push it around the yard. It is able to mow around narrow corners and tight spaces without facing any issues. 
Engine:
The most interesting feature of this lawnmower is its powerful 125cc engine made by Briggs and Stratton. This engine has a gross torque of about 4.5 Ft. lbs. It will provide you with a consistent cutting performance every single time you use this mower. 
Height Adjustment: 
If you want to get a precision cut from your lawnmower, you have to adjust its cutting height according to the size of the grass. The Bolens 20" mower provides its users with three different cutting height adjustment settings. These heights range from 1.25"-3.75". 
Side Discharge: 
Since this mower doesn't come with a rear bagger, side discharge and mulching are your only two options regarding the grass clippings' disposal. It comes with a side discharge chute, and it helps the mower expel the grass clippings back to the yard. 
Maneuverability: 
The Bolens push mower uniform front and rear wheels, and each of these wheels have a radius of 7 inches. These tires are quite efficient at maneuvering the mower over rough terrains.
Performance: 
It's a mid-range lawnmower, and it's capable of mowing up to .25 acres on a single run. 
Overall, the Bolens push mower is an exceptional lawn mower, and it comes with a ton of cutting-edge features. It starts easily, and it provides the users with reliable performance for years on end. So, you should consider purchasing this mower. 
FAQ
We have talked to some of the customers of the Bolens lawn mowers, and we have also browsed through multiple forums. And here are some of the most frequently asked questions regarding this lawnmower:
Is Bolens a good lawnmower?
Buying a Bolens lawn mower would be an excellent option if you're on a budget and looking for an affordable mower. Moreover, it has some advanced features that set it apart from the rest of the push mowers in the market. 
Who makes Bolens lawn mowers?
Bolens lawn mowers are manufactured by MTD. This company is quite well-known for producing easy-to-use lawnmowers. 
How do you lower a Bolens lawnmower?
The height adjustment lever of the bolens mower is located near its wheels. Just push the lever down towards the wheel and then push it forward. This way, you can lower the cutting height of the deck. 
What kind of oil does a Bolens lawn mower take? 
Actually, you can use any kind of synthetic oil as fuel for the Bolens lawn mower. But we suggest you use the synthetic oil made by Briggs and Stratton. 
How do you assemble a Bolens lawn mower? 
The Bolens 20″ mower comes disassembled. It comes with all the necessary tools that you need to assemble it. At first, install the wheels on the mower and move on to the handles. Just follow the instruction manual carefully, and you won't face any issues. 
Final Verdict
Choosing a lawnmower is not an easy task. You'll need to have a lot of patience, and you need to check whether the mower you're purchasing meets all of your specific requirements. But fortunately for you, we have found one of the best gas-powered push mowers in the market. 
And that is the above-mentioned Bolens lawn mower. Hopefully, our comprehensive review of this mower has helped you realize why you should consider purchasing it. We can assure you that buying this mower would be an excellent choice.