In this content you'll learn:
Key Takeaways
Types of artificial grass materials include polyethylene, polypropylene, nylon, recycled, mixed with natural grass, or plant-based.
Artificial grass can have various blade shapes, infill material, grass length, and grass density.
The best grass type for you will depend on your needs and situation.
---
Artificial grass has many different options for buyers, ranging from materials to grass length. To help, here's a complete breakdown of all types of artificial grass.
Types Of Artificial Grass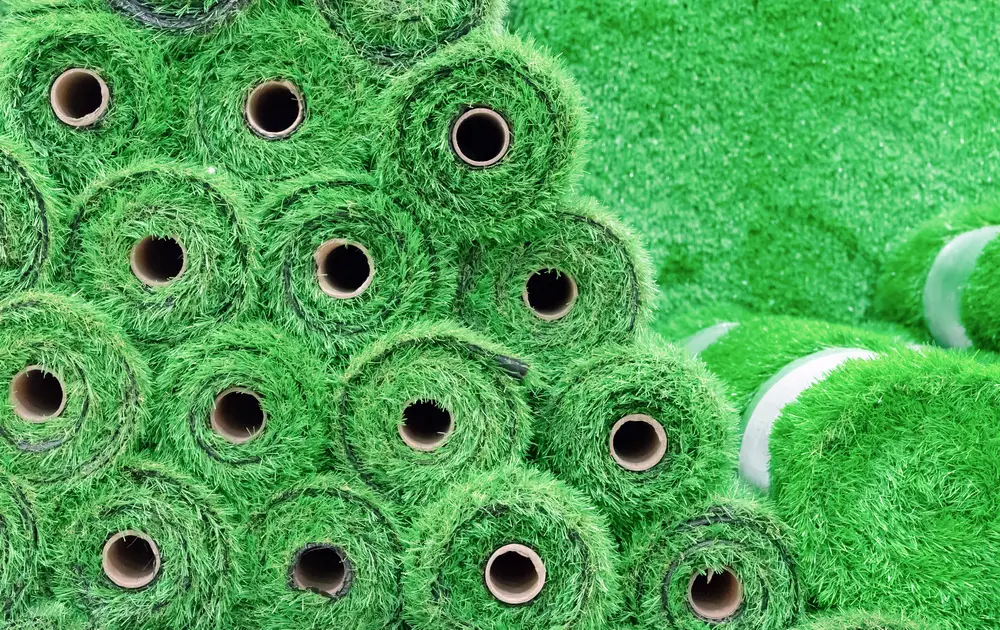 There are many different types of artificial grass. These include what manufacturers make artificial grass from, its blade shape, infill material, how tall the grass is, and how dense it is.
Let's start with materials.
Materials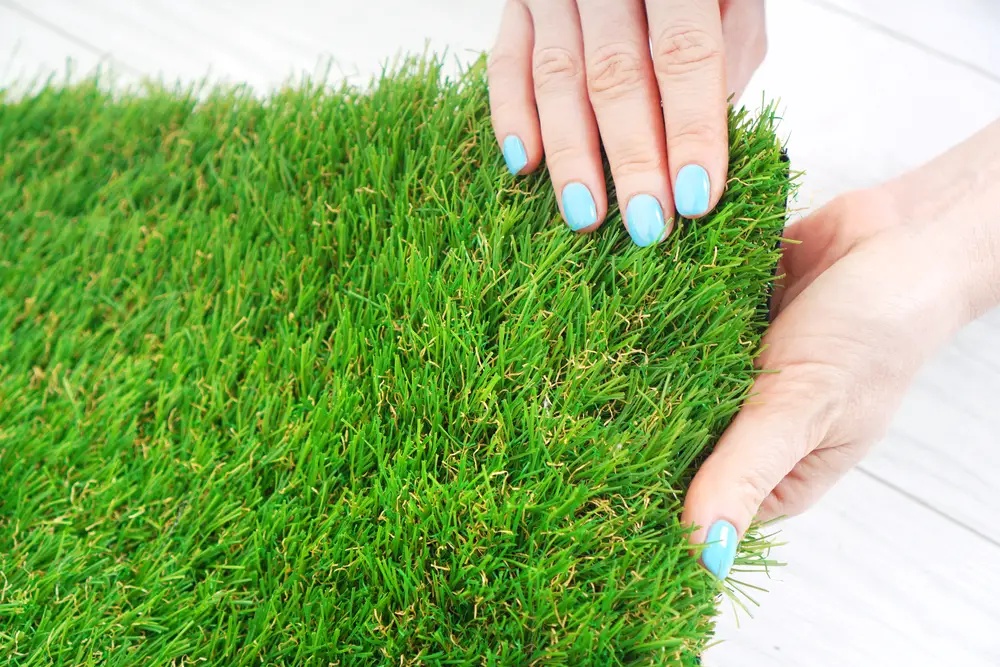 Manufacturers make artificial grass from polyethylene, polypropylene, nylon, and plant-based materials. You can also order recycled artificial grass and hybrid artificial grass mixed with natural grass.
Let's start with polyethylene.
Polyethylene (PE) Artificial Grass
Polyethylene is the most popular artificial grass material. 
Its benefits include:
Creating a very realistic-looking lawn
Excellent resistance to water damage
Low maintenance requirements
Grass blades spring back upright after being walked on
Maintains its shape 
Requires infrequent brushing to keep it looking neat
Less abrasive and softer than nylon
Is smooth and causes minimal "turf burn"
Comes in a wide range of types and densities
However, while it is still a tough artificial grass, polyethylene is not as long-lasting as nylon. 100% nylon grass is highly durable but causes nasty rashes, especially when used on sports fields.  
Projects PE Artificial Grass Is Best For
Sports stadiums and fields, such as soccer and rugby, use this artificial grass type. Landscaping projects do too. 
Polyethylene's ability to take on a variety of shapes and colors makes it a popular choice. It is also a reasonably priced material, an important consideration for a cost-conscious market.
Cost
Polyethylene artificial grass is cheaper than nylon and polypropylene artificial grass. Prices range between $2.00 and $4.50 per square foot (0.09 square meters). 
The more expensive PE artificial grass products contain polypropylene and nylon yarns to enhance their durability and strength.
Manufacturers
Manufacturers of PE artificial grass include:
Namgrass – Offers affordable, durable, and low-maintenance artificial grass products for gardens, lawns, and public places in more than 25 countries around the world
K. Versi Turf Private Limited – Manufactures and imports a wide range of artificial grass products with premium quality materials and attractive designs
Sport Group – A leading provider of synthetic turf sport fields, athletic tracks, and courts worldwide, covering the complete value chain from R&D to installation
Altius Sports – Offers high-quality synthetic turf surfaces for sports grounds, school campuses, and commercial landscaping
CCGrass – For over 20 years, they have provided artificial grass products for athletic and landscape purposes worldwide
SIS Pitches – Specializes in the design, manufacturing, installation, and maintenance of artificial grass pitches (fields), globally
Polypropylene (PP) Artificial Grass 
Polypropylene grass is a popular choice as it's thinner, more realistic-looking, and cheaper than other types.
However, it wears out more quickly than nylon and polyethylene. It's ideal for smaller, low-traffic areas.
Projects PP Artificial Grass Is Best For
This artificial grass type is best for home putting greens and small protected spots in shaded areas of the garden.
Cost
Polypropylene PP artificial grass costs between $2.00 and $7.00 per square foot. European- and American-manufactured products with high PP content have a softer, more natural feel and are more durable than polyethylene.
The cheaper PP yarns used in Chinese-manufactured artificial grass are far less durable and don't handle high UV exposure and heavy use very well.
Manufacturers
Manufacturers include:
Goasis – They manufacture a product called Lawn Realistic Thick, which is a polypropylene artificial grass coming in 4 feet x 6 feet lengths with a pile height of 1.38 inches. It comes with a shock-absorbing (impact-absorbing) rubber backing.
Fas Home – This product combines polyethylene and polypropylene for added durability.
ZGR: ZGR is another quality supplier of artificial grass made from a combination of polyethylene and polypropylene.
Nylon Artificial Grass
Manufacturers have used nylon for years, and it's still in use as an artificial grass type.
Some of its advantages include:
High water resistance
A high melting point, making it suitable for hotter, sunny climates
Harder grass blades make it resistant to wear
Its ability to spring back into place
Low maintenance requirements
UV resistance, meaning it won't fade under the sun
Unfortunately, nylon is not kind to skin. It's highly abrasive and leaves nasty burns if you skid across it. This is one of the reasons polypropylene and polyethylene replaced it in many projects.
Nylon has also become expensive, and it absorbs water well, making it vulnerable to spills. 
So, it's not something you want to use in children's play areas or for pets. 
Projects Nylon Artificial Grass Is Best For
Installers use nylon artificial grass mostly in high-use areas. Despite its increased price, it resists wear well, making it the most cost-effective artificial grass.
Cost
Artificial grass with a high nylon content ranges between $5 and $6 per square foot for cheaper products to as high as $11 to $12 per square foot for high-quality products.   
Due to its high cost, manufacturers don't make artificial grass with 100% nylon yarn but rather as a blend of nylon, polypropylene, and polypropylene.
Manufacturers
Due to its cost, only some pure nylon artificial products are on the market. However, SYNLawn has a product called SYNLawn Multi-Use, specifically created for use in high-use areas.
DuraPlay also produces a nylon artificial grass putting mat that can withstand extended use without deforming or creating uneven patches on the surface.
These nylon artificial grass products have limited use outside of smaller installations as they are expensive and unsuitable for pets or children.
Hybrid Artificial Grass 
Manufacturers created hybrid grass for sporting events. They either stitch it into natural grass or lay an artificial carpet on top of it. The larger spaces between the carpet fibers allow the natural grass to grow through the artificial grass. 
Some benefits of hybrid artificial grass include the following:
The most realistic playing surface
The artificial grass offers the natural grass some protection
A stable surface for players
Can be used year-round
However, these fields require more maintenance since they are partly made from natural grass. 
Projects Hybrid Artificial Grass Is Best For
The best projects for hybrid grass are high-end stadiums at established international sports clubs. At events like the Soccer World Cup, hybrid fields provided the quality surface needed.
Cost
Hybrid artificial grass costs between $3 to $5 per square foot for a woven mat with nylon and polypropylene yarn to as much as $15 per square foot for a combination woven mat and implanted plastic fibers.
Manufacturers
AstroTurf is the originator of artificial grass in the USA. It has an exclusive contract to supply SIS Grass Hybrid Turf Systems in North America. 
SIS is one of the leading innovators in the industry, and its agreement with AstroTurf offers them an opportunity to design, manufacture, and install hybrid pitches across the country. 
Recycled Artificial Grass
Recycled artificial grass works best for those who want to save money buying pre-used sections or rolls of artificial grass. Sellers recover these from stadiums and sports fields, repair them, then sell them. This grass is generally high quality since it comes from sports.
Some benefits include:
Cost
Different grades and qualities available
Color varieties and combinations
Can include sports markings and logos
Projects Recycled Artificial Grass Is Best For
Buyers use recycled artificial grass for commercial and landscaping projects.
Cost
The cost of recycled artificial grass can save you 20% to 50% off the price of new artificial grass products. The cost depends on the condition and age of the recycled artificial grass, where it came from, and its yarn construction.
6-foot x 80-foot rolls of artificial grass originating from sports fields currently cost in the region of $385 or $0.80 per square foot. Prices vary between $0.75 and $2.50 per square foot.
Manufacturers
One of the leading suppliers of recycled artificial grass is TURFCYCLE USA. They have been active in the artificial grass market since 2012 and have more than 85 locations nationwide.
Artificial Grass Recyclers is another well-known company supplying recycled artificial grass in the US. By providing recycled artificial grass to their customers, they prevent a large amount of non-biodegradable material from entering landfills. They also repurpose artificial grass, making sure to reuse the highest quantity of artificial grass.
Plant-Based Artificial Grass
Artificial grass manufacturers have been experimenting with various materials to make their products more recyclable and biodegradable. 
These materials include using soybean oil for the backing material (the "carpet" that holds the grass in place), sugarcane in the thatch (a layer between the ground and visible grass blades), and crushed walnut shells for the infill (packed between blades to help them stay upright).
Projects Recycled Artificial Grass Is Best For
Recycled artificial grass is an excellent option for projects using eco-friendly, cost-effective products. 
This type of artificial grass works well in low-use, low-aesthetic projects with low UV exposure. Recycled artificial grass is an excellent covering for pet-friendly yards, children's play areas, and sections of interior covering instead of carpeting.
This type of artificial grass is also used in gyms or on rooftops, balconies, and apartment interiors.
Cost
Artificial grass manufactured from recyclable polypropylene and polyethylene is available in 6 1⁄2 feet x 13 feet sections. These sections can cover 86 square feet and have a pile height of 1.10 inches, costing approximately $3.23 per square foot.   
Manufacturers
Creative Surfaces is one of the few manufacturers supplying environmentally friendly, recycled artificial grass. They make their product, Links, from 80% recycled polyethylene and polypropylene, with the remainder coming from new sources.
Blade Shapes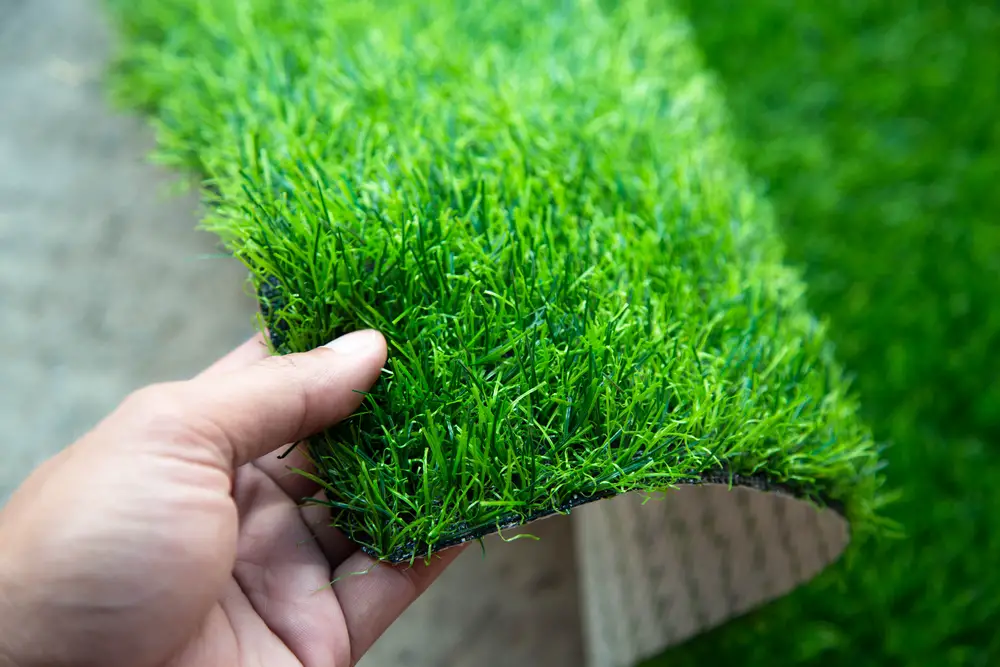 Manufacturers give artificial grass blades unique shapes, each serving different purposes.
Oval Shape
Oval blades are soft, durable, and mainly found in landscape installations.
S-Blade Shape 
This shape is a popular choice since it resembles natural grass. It provides a lush and vibrant appearance while still being soft to the touch.
Diamond Shape
Diamond-shaped blades are soft to the touch but still sturdy, perfect for commercial and residential landscapes.
V-Shape Blade
This is a more durable and strong blade, ideal for high-traffic areas in parks, playgrounds, and sports grounds.
3D "W" Blade
This is a strong and resilient blade, withstanding high pressure, bouncing back without breaking, and remaining cool under prolonged sunlight. 
Flattened Oval With Spine Blade
This grass is more realistic-looking and has a stronger blade core than other shapes.
Omega Blade
This blade is durable, soft, and realistic. Installers commonly use it in pet turfs and projects requiring shorter pile heights (the distance between the top of grass blades and the backing material holding them in place) 
C-Shaped Blade
Installers commonly use this natural-looking, soft-touch blade in residential and commercial projects.
Mini "W" Blade
The "W" shape is a highly durable blade suitable for high foot traffic areas, such as playgrounds and sports fields.
"M" Blade
These blades are also very durable, resist high sun exposure, and resemble natural grass.
Infill Material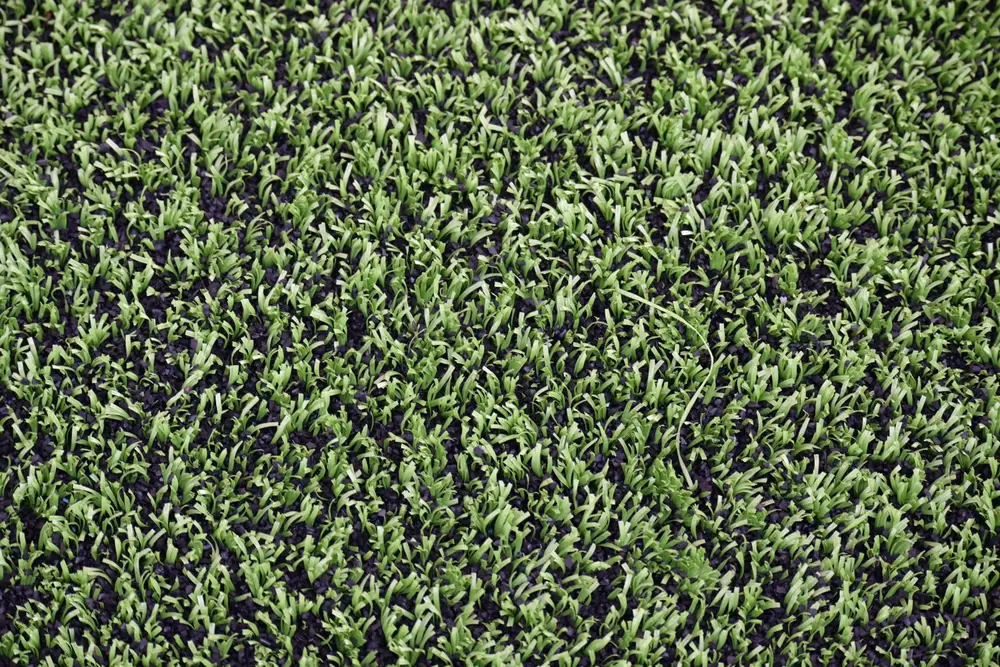 Infill fills the space between the artificial grass blades, providing support and impact absorption.
Manufacturers use various natural and human-made materials, including silica sand, rubber granules, and crushed walnut husks. 
Pile Heights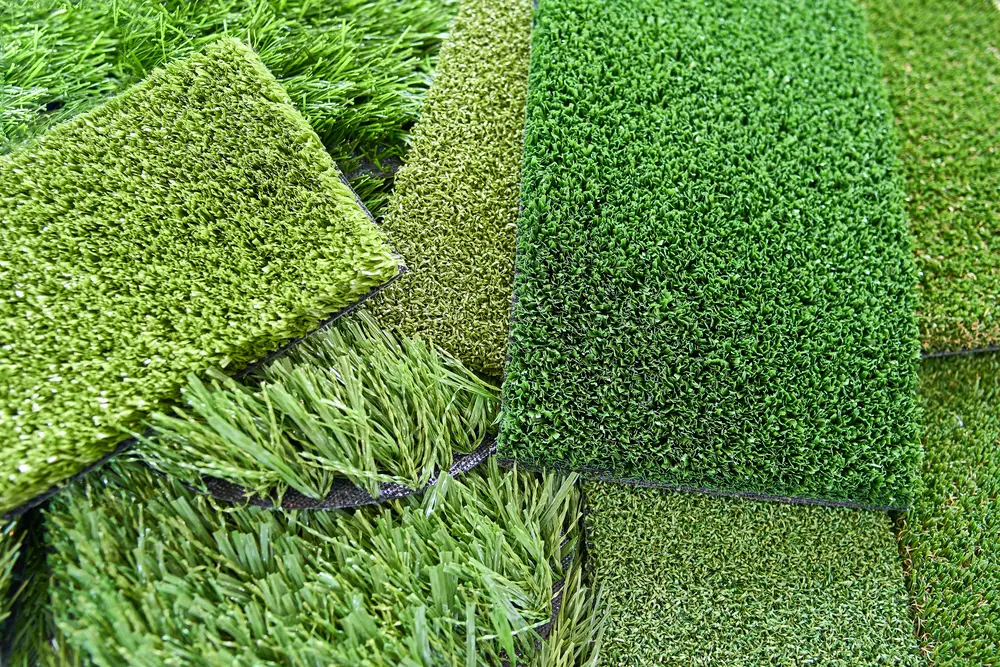 The pile height is the length of the artificial grass blades above the backing material through which it is woven.
Shorter pile heights of ¾ inch to 1 1⁄4 inch are best for low-use areas more ornamental in nature, giving a neat, just-mowed look.
Taller pile heights of 1¼ inch to 2 inches have a more natural look. Landscaping projects, high-use areas, and sports fields use pile heights of this size.
Densities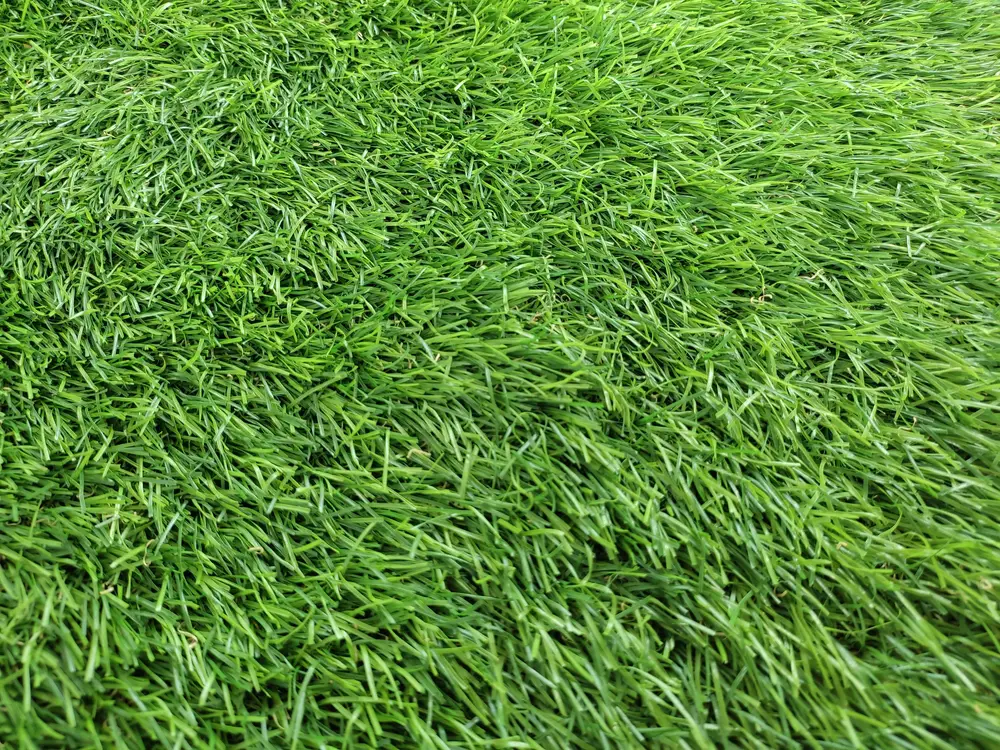 You calculate the density of artificial grass by the number of blades per square meter. A pile between 16,500 and 18,000 stitches per square meter (10.76 square feet) is considered high density, making the grass look fuller and more natural. This is what most landscaping projects prefer.
Due to its ability to withstand high usage, many also use it on sports fields and busy areas.
Comparing Artificial Grass To Natural Grass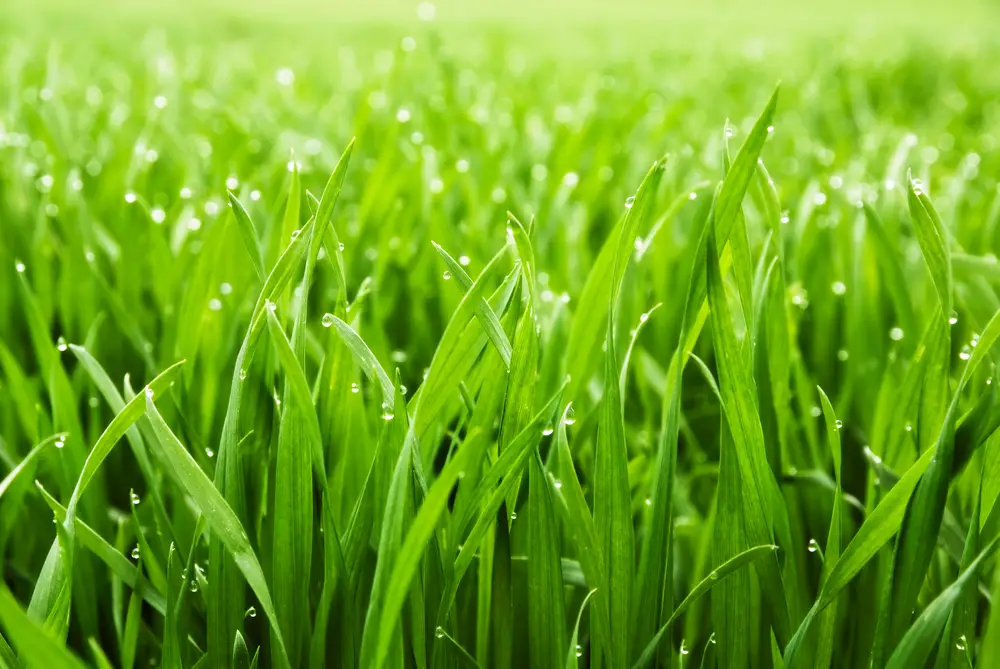 Natural grass has the following benefits:
Lasts a long time
Is real and biodegradable
Lower initial cost
No need to worry about replacing it
Artificial grass has the following benefits:
Low maintenance
Allergy-friendly and non-toxic
Lower cost over time
Retains look easier
Provides year-round playing surface, including in extreme-weather areas
Immediately usable
Having spent time maintaining and helping repair artificial grass soccer and natural grass fields, there's no comparison. Artificial grass is easier to maintain, takes much less time, and is a pleasure to play on.
There have been concerns regarding the adverse effects of heat on sports fields. But this is mitigated with an adequate sprinkler system and regular wetting down. Improvements in fiber design and infill material have led to fewer problems with heat in recent years.
In addition, there are environmental concerns regarding the disposal of worn-out artificial grass, but this is being addressed through re-use and the manufacture of biodegradable materials. Some people have raised concerns over a lack of natural biodiversity and wildlife habitat, which is an area that can be improved through the use of hybrid solutions.