Choosing the best type of artificial grass for your landscaping project is vital. Selecting the right product will lead to a longer lifespan, lower maintenance costs, and a better return on your investment. To help, here's the best artificial grass for every kind of property and use.
Generally, the best artificial grass is durable, soft, natural-looking, and UV-resistant. Here are the best artificial grasses for different properties/purposes:
In this content you'll learn:
My Experience Choosing Artificial Grass For Properties
When manufacturers first introduced artificial grass, installers primarily installed it on sports fields. There wasn't much choice initially, and I must admit the nylon yarn left some nasty skin burns after playing soccer on it.
Over the years, I helped to select more natural-looking artificial grass that provided more protection to players. The most recent sports fields I've been involved in laying up were hybrids, with the artificial and natural grass providing an almost perfect playing surface. It provides all the benefits of artificial grass without nasty rashes or high maintenance costs.
I've also used artificial grass in high-end commercial and residential projects requiring more natural-looking grass. This is an interesting selection process as combining artificial grass with natural grass landscaping requires products with a natural-looking thatch woven into the grass blades to give an impression of the real thing. With the different blade lengths and colors, it's almost impossible to tell where the natural grass ends and the artificial grass begins.
There was a lot to learn about artificial grass, and I'm ready to share it with you.
An Overview Of Artificial Grass
Carpet manufacturers originally developed artificial grass for stadiums and sports fields in the 1960s and 1970s. They designed it to withstand heavy usage, particularly in areas where natural grass struggled to grow. Unfortunately, the original products (made from nylon) looked fake and had limited use outside of sports fields.
However, artificial grass has become more lifelike and less rough with technological advancements and raw materials.
Now, manufacturers make artificial grass from polypropylene, polyethylene, and still nylon.
Factors Affecting Your Choice Of Artificial Grass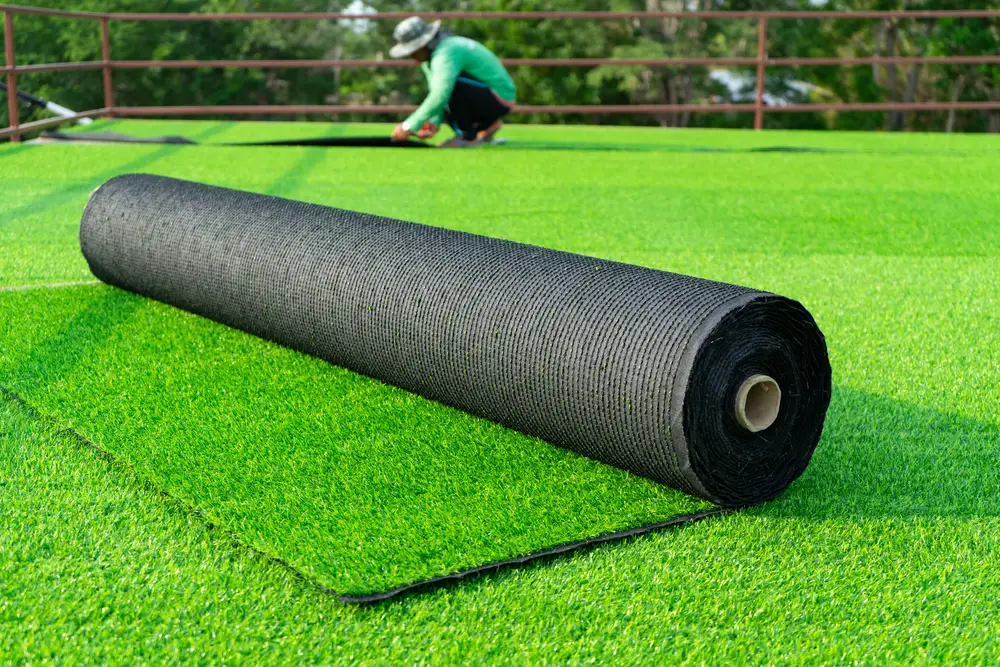 The main factor affecting your choice of artificial grass is what you intend to use it for. You'll also need to consider how much you will use it, location, climate, and cost.
Each artificial grass type has numerous unique features. Factors such as its yarn composition, pile height, density, backing material, and infill options affect the kind of use it's best for.
Many different suppliers are also based in the USA, Europe, and Asia. So, looking into supplies is equally as important as learning about artificial grass's many features and variations.
Budget And Finances
Artificial grass has a high initial cost. However, once you factor in the long-term maintenance and upkeep savings over natural grass, artificial lawns, and fields become a much more attractive option.
Unlike natural grass, artificial grass doesn't require regular watering, mowing, or fertilizing. It is also ideal for water-scarce areas.
Artificial grass fields are also ready for use more quickly than natural grass fields and are available year-round. 
When choosing artificial grass, weighing these considerable benefits against the lower initial costs of installing natural grass is essential.
However, you must find the right balance between quality and affordability, as cheaper artificial grass does not last as long and may compromise the look and feel of your project.
Understanding Artificial Grass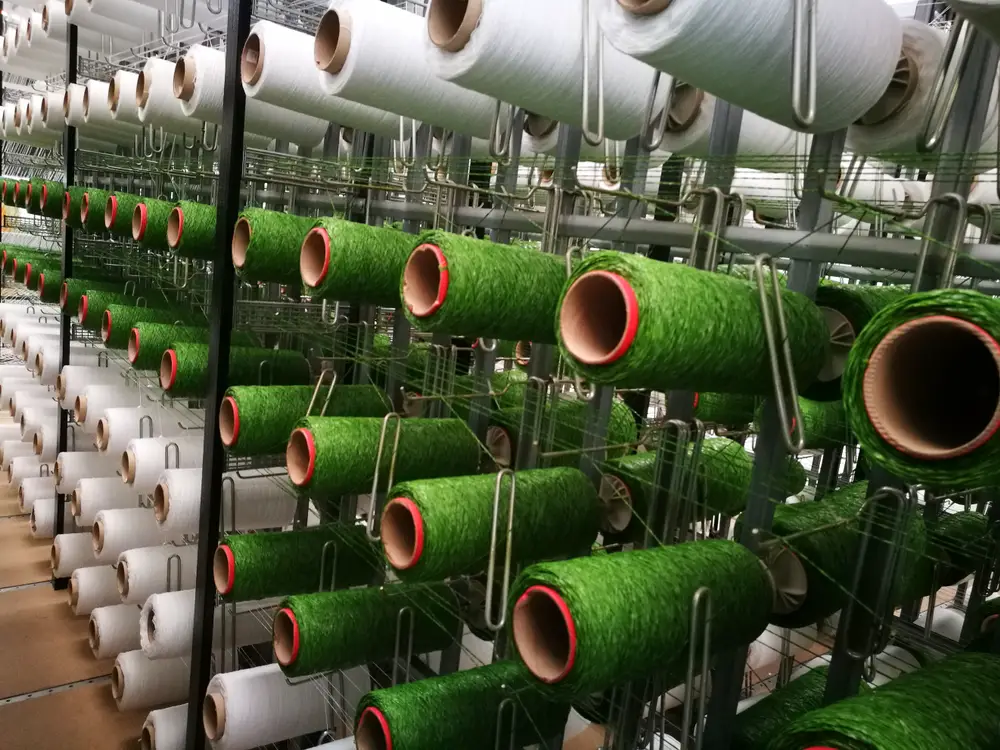 Making an informed choice for artificial grass requires understanding the terminology surrounding it. There's a lot to know, so let's get started.
Yarn
Yarn refers to the fibers making up artificial grass. There are three artificial grass yarn types: polyethylene (PE), polypropylene (PP), and nylon (PA – polyamide).
Polyethylene (PE)
Polyethylene is one of the most popular artificial grass materials as it is soft, durable, and looks natural.
Manufacturers mix PE with additives that help it resist ultraviolet (UV) rays from the sun and prevent the color from fading. PE yarns are also more resilient and recover their shape better than other yarn types. 
PE artificial grass is thus better for high-use areas like sports fields and stadiums.
Polypropylene (PP)
Manufacturers use polypropylene to make cheaper artificial grass products since PP products wear out more quickly and don't last as long as PE ones.
Specifically, PP yarns are larger and stiffer than PE yarns. This means they are quite strong initially, but they break more easily once bent over and don't return to their original shape. 
This makes PP artificial grass more suitable for low-use areas.
Nylon (PA)
Nylon is very strong and lasts longer than PP or PE products. It is also the least life-like and has the lowest visual appeal. Its stiff texture contributes to skin burns and rashes as well.
However, you'll still find nylon artificial grass in residential, commercial, and recreational areas.
Eco-Friendly Yarns
Also known as biodegradable yarns, recent technological advances resulted in yarns made from soybean oils. They're possibly the future of artificial grass manufacturing. This is in part true because biodegradable yarns fix a major concern with artificial grass use, which is how much of it ends up in landfills and takes up to, in some cases, hundreds of years to decompose.
Blade Shape
There are a great variety of blade shapes available for artificial grass. Manufacturers create these shapes by shaping individual yarn fibers or combining unshaped yarns into multi-ply blades.
You can choose a blade shape based on the final look you desire. Blades come in flat, narrow, wide, simple-curve, and complex-curve options. Flatter blades provide a more manicured look, while curved or textured blades look more natural.
The blades' shape affects the lawn's longevity and ability to withstand use. The "W-shaped" and "M-shaped" blade profiles are the strongest. They tend to offer a longer lifespan due to structural integrity. They can withstand heavy foot traffic better than other blade profiles.
Drainage
Outdoor artificial grass areas require drainage. This means the backing material must have adequate holes to prevent fields or lawns from becoming waterlogged.
This will also help prevent mold from growing or the buildup of unpleasant odors, especially if animals use the grass or there's a possibility of food or drink spilling on it.
Antimicrobial Properties
Artificial grass doesn't have the same ability as natural grass to shake off microbial growth. For this reason, it is crucial to choose an artificial grass that incorporates antimicrobial properties to avoid damage to the grass and maintain adequate hygiene and safety.
Density
Artificial grass density refers to the number of grass tufts stitched per square meter (one square meter equals 10.76 square feet). The higher the number of stitches, the thicker your grass will look. However, the grass's quality and strength also depend on the yarn it's made from.
High-use areas and sports fields need artificial grass with a density of 18,000 stitches per square meter.
Pile Height
Pile height refers to the distance between the tip of a grass blade and the backing material below it.
The pile height varies based on what you're using the grass for. Sports fields use slightly longer pile heights to account for the required specialized infill material and standards each sporting organization sets.
People use short pile heights for landscaping, putting greens, and other commercial projects. A short pile is about 1 to 1½ inches, and a longer pile is between 1½ and 2½ inches.
Face Weight
If you want highly durable artificial grass for use in a high-use area, you should look for a high-face-weight product. Face weight refers to the amount of yarn per square yard. Residential projects usually require a 40-80 ounce per square yard product.
Thatch
Artificial thatch mimics the natural grass layer between the ground and just below the tip of the visible grass blades. It is created by producing a tangled layer woven into the backing material, which is softer than the visible blades.
It provides several benefits, such as density, structure, and support for the visible blades, and it is a more natural-looking, brown or fawn color.
A layer of thatch helps to keep the artificial grass blades upright, also assisting them in springing back to their correct position when trampled.
Thatch Color
While individual blades of grass may be a consistent green color, alternating thatch colors results in a much more natural-looking final result. Through shades of yellow and brown, artificial grass takes on a realistic look that can fit in with almost any installation.
Infill
Manufacturers use various infill products to help artificial grass look natural and be a solid surface to walk or run on. Infill includes layers of silica sand, rubber granules, crushed walnut shells, and other natural materials.
Infill also helps weigh artificial grass down, aids in absorbing impacts, prevents artificial grass from shifting, and helps maintain a usable temperature.
To that last point, irrigating artificial grass in hotter areas is essential so that infill absorbs the moisture. The infill releases the moisture as water vapor as temperatures rise. This dissipates heat, helping to cool the artificial grass.
Backing Material
Backing material, flexible and like a traditional carpet, holds artificial grass blades in place.
The backing material's strength and stability come from a mix of materials, including polyurethane and latex rubber. It's peppered with holes to allow water to drain into the sand and stone drainage layers on which the artificial grass rests.
Color
Manufacturers mix dyes with artificial grass materials to create a range of colors, such as bright greens, blues, yellows, and browns. Depending on the chosen color, artificial grass can blend more seamlessly with natural grass. This also provides sports fields with many options.
Choosing Artificial Grass For Specific Needs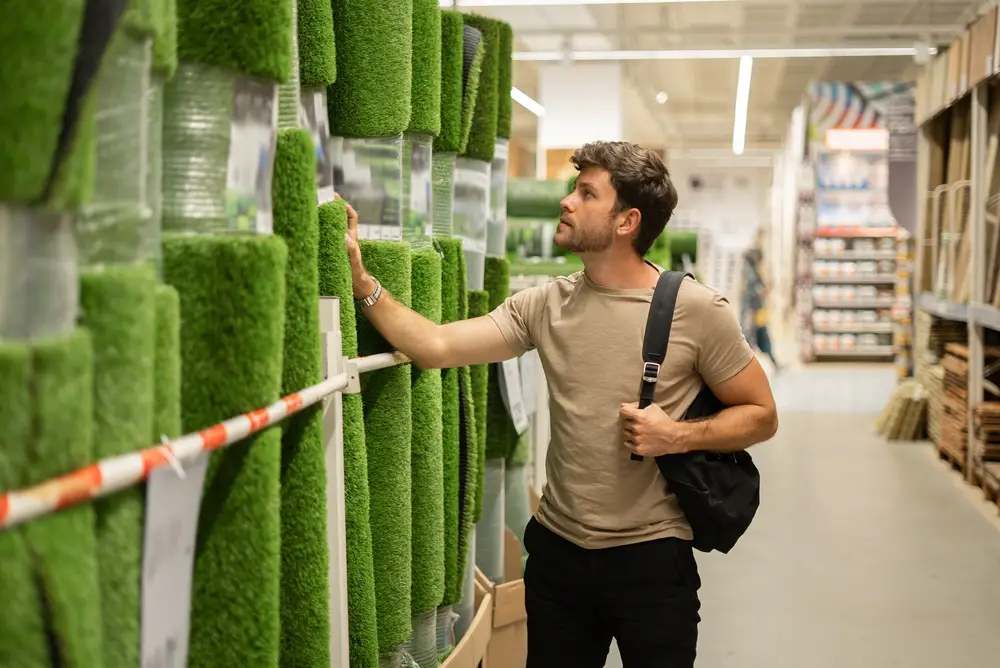 It can take time to decide which artificial grass product is best for your project with so many available options.
Here's a list of some of the factors I've found to help focus the attention on what matters most when selecting products for residential and commercial use.
A residential lawn must provide a safe place for children to play and a healthy environment for pets. I prefer the softer polypropylene blades as I found that children are less likely to sustain burns if they fall.
The chosen artificial grass must also be easy to clean spilled food or drinks off of and animal messes using detergents and a hose. 
Commercial projects focus primarily on providing a long-lasting artificial grass surface. Wear-resistant artificial grass with a high nylon content is preferable for its robust nature and long life.
I enjoy working with landscapers who wish to combine artificial and natural grass, as the products available now are almost indistinguishable from natural grass.
Home Lawns
Select artificial grass with a natural appearance and soft texture for your home lawn. Also, purchasing a long-lasting and durable product will ensure you get good value for your money.
I've found homeowners are happiest with medium- to high-density artificial grass with a moderate-to-high blade height of 1½ to 2½ inches. A mix of green shades with a realistic brown and yellow-toned thatch gives your lawn the most natural look.
Pet Yards
Prioritize purchasing artificial grass specifically designed for animals if you have pets. Your choice must include excellent draining, odor control features, and top-notch antimicrobial properties.
Playgrounds
Prioritize safety and durability when deciding on artificial grass for a playground. Look for grass with high density, shorter blade heights of around 1 inch, with adequate ability to absorb impacts. Kids will fall, after all.
You may also consider artificial grass options with additional padding for enhanced safety.
Sports Complexes
My experience lies mainly in selecting artificial grass for sports complexes and playing fields where durability, performance, and safety were uppermost in my clients' minds. Grass designed for sports fields will have a higher density than residential-use grass, with shorter blade heights and enhanced resilience to UV light.
Golfing (Practice Greens)
When installing golf practice greens, I look for artificial grass that mimics the feel and performance of natural grass putting greens. Ideally, the grass is very short, has densely packed blades, and is built so balls can roll smoothly across its surface. 
Rooftops
For rooftops, artificial grass should be lightweight and have excellent draining capabilities. It will also need high resistance to sun exposure. 
Truck Bed Liners
While I have never installed artificial grass products in a truck bed, I suggest you purchase rugged, durable, and wear-resistant artificial grass. You also have the problem of wear and tear and drainage, so a product with high nylon content is preferable. Consider adding a reinforced rubber backing material with plenty of drainage holes.
Balconies and Patios
Balconies and patios need artificial grass specifically designed for indoor and outdoor use. It must have good drainage and UV resistance. Ideally, it must offer a soft feel, best achieved with a high percentage of polypropylene. 
Most artificial grass products fit this profile.
Top Artificial Grass Picks For Different Uses And Properties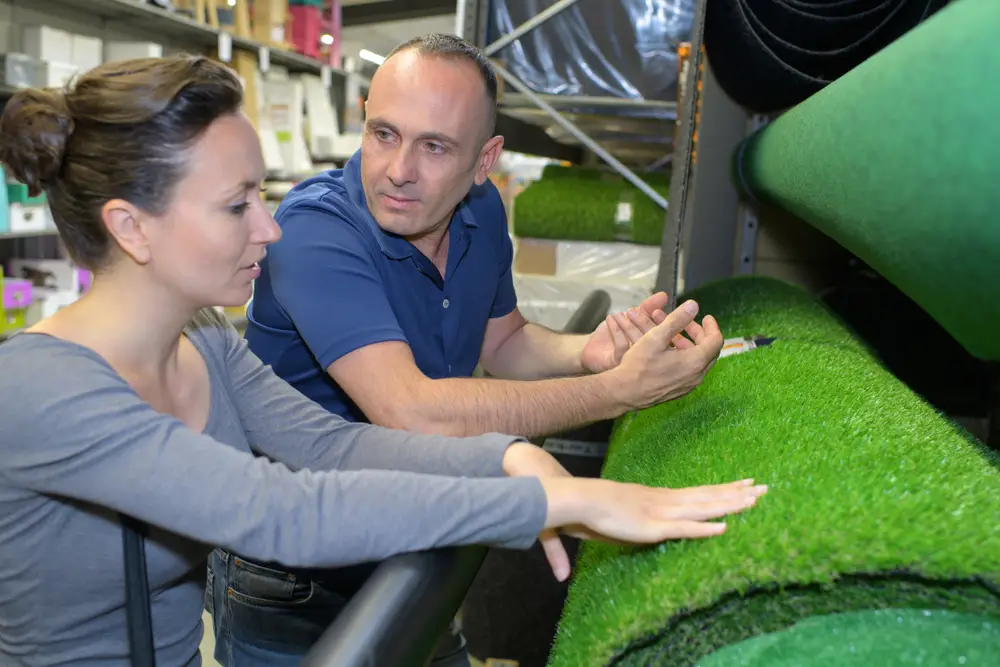 I have researched the following products that offer a variety of properties that are suited for a range of different projects.
Best Overall: Petgrow PG1-4 Artificial Grass Rug
You can use this artificial grass just about anywhere, from residential gardens and balconies to backyards, swimming pools, and even inside. As it is a hard-wearing product, it also suits commercial projects, such as in kindergartens, hotels, and sports complexes.
It is both heat and fade resistant, with a multilayered backing made of polypropylene with SBR latex coating, a reinforced net for strength, and more than adequate drainage holes.
The grass blades are 1.37 inches (35 mm) long, and the grass comes with a 10-year guarantee to hold its color.
Best For Soccer/Football: Artificial Grass Wholesalers 15-Foot Roll
Manufacturers purposefully build this artificial grass for use in stadiums and sports fields. It suits high-energy activities such as football, soccer, and hockey, and it is highly durable.
It comes with a natural-looking thatch that imitates a natural field and has sufficient drainage holes to ensure it provides a sports field free from standing water.
The 40 ft (12.2 m) roll is extremely heavy, weighing 325 pounds (147.5 kg). So, installation requires some effort from two or three strong laborers. However, it's worth it. 
The reinforced rubber backing supports a polypropylene/polyethylene mix of blades. The manufacturer has included a slight variation in the color of the yarn for a more realistic look as well. The thatch comes in light and dark brown for a natural color scheme.
Professionals can install this grass with or without infill.
Best for Gardens and Landscaping: SunVilla Realistic Indoor/Outdoor Artificial Grass 
Suppose you're looking for artificial grass that can blend in with its surroundings. In that case, SunVilla's products are suitable for most garden use. They require no infill. 
Manufacturers make this artificial grass from non-toxic materials, making it one of the new styles of eco-friendly artificial grass products that are becoming more popular.
The backing material is polypropylene with a reinforced net coated with SBR latex for shock resistance (ability to withstand impacts). Manufacturers make the blades from a mixture of polypropylene and polyethylene yarn with added UV protection for outdoor use.
They designed the grass to withstand heavy foot traffic, and it carries a 10-year guarantee against fading. It is a popular product to use in landscaping due to its natural-looking color and ability to blend in with natural grass. A yellow/brown thatch has a natural hue and supports the longer 1.38-inch (35-mm) blades.
Best Residential Artificial Grass: AYOHA Artificial Turf
Ayoha is my preferred supplier of residential artificial grass. Residential use ranges from landscaped gardens to backyards and play areas around the home. This makes it the ideal artificial grass product for residential use.
AYOHA is known for being soft to the touch with a natural, 4-tone blended green appearance and thick polyethylene and polypropylene blades. UV inhibitors also protect the blades from UV-induced fading.
Polyethylene, polypropylene, and styrene-butadiene rubber latex make up the backing material, which has sufficient holes to ensure proper draining.
For its price, it offers one of the best options available for landscaping use due to its life-like appearance and longevity.
Best for High Traffic Areas: Lita Realistic Deluxe Artificial Grass
This high-quality artificial grass is designed for high-traffic areas that lack shade. Its yarn is UV resistant, and it comes with perforated backing that provides excellent drainage.
This artificial grass comes in 3.3 ft x 5 ft (16.5 ft) squares or 1m x 1.5 m (1.5 m²), making it easy to lay in walkways and paths. 
A very resilient 3-layer backing consisting of polypropylene layers with a grid panel and latex provides a shock-resistant surface through which the polypropylene yarn is woven to form a thick grass later. The backing is flexible to accommodate uneven terrain. 
Best For Realistic Look And Feel: Goasis Lawn Realistic Thick Artificial Grass Turf
Goasis has an excellent reputation for producing UV-resistant, long-lasting, and natural-looking grass. With a well-designed thatch layer that improves its authentic look, this artificial grass is ideal for areas that include both natural and artificial grass.
Goasis designed this high-density grass with a blade height of approximately 0.4 inches (1 cm). This gives the lawn a just-cut look that provides a very smooth surface. It is free of toxic chemicals, making it an ideal option for children and pets.
Goasis offer a 4-tone pattern for a more realistic look and provide a 10-year warranty. 
Best For Playgrounds:  Petgrow Deluxe Realistic Artificial Grass Turf
Playground-friendly artificial grass must be tough to withstand children's high level of use. Petgrow manufactures this grass from a high-density polyethylene and polypropylene mix with a thick rubber backing. This provides a very natural surface that reacts similarly to real grass.  
The perforated backing material allows water to drain easily. This makes it easy to keep clean. You can brush any debris off the surface and then use detergent to wash the grass surface. The drain holes allow the grass to dry very quickly.
With the thick rubber backing providing plenty of shock absorption, you can install the Petgrow artificial grass on concrete, soil, or even wood and plastic patio surfaces.
Maintenance And Care Considerations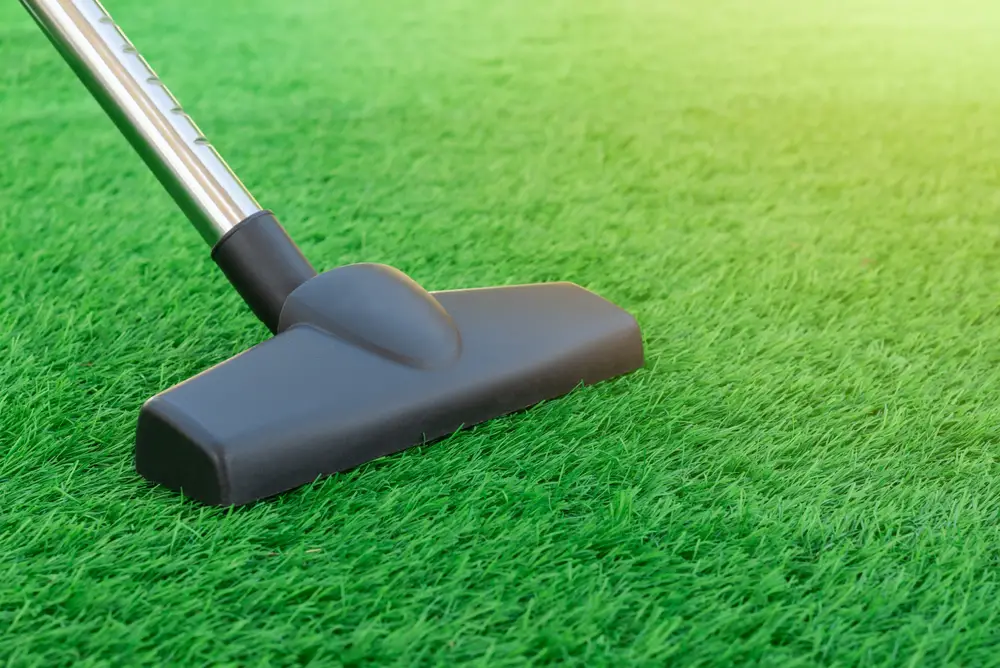 Regular maintenance is essential for keeping artificial grass in good condition. You will also maximize its useful life.
Here are some tips to help you maintain your artificial grass.
Regular brushing and power brooming help prevent matting and keep fibers upright. Apart from helping maintain a natural and good-looking appearance, doing this keeps the infill spread evenly, which provides support for artificial grass blades and helps make the surfaces smooth.
Cleaning and removing debris prevents dirt, leaves, and other organic matter from collecting on the surface. Please do this to avoid drainage issues and potential damage. You can use a leaf blower or a rake to remove any objects that don't belong on the lawn.
You should sort out stains and odors promptly to avoid damage to the artificial grass and to avoid health problems. Also, you should mop spills immediately and use a mild detergent to remove stains and other unwanted liquids.
Persistent odors may require using an artificial grass deodorizer and, in some cases, using a hose or pressure washer. 
Seasonal Maintenance Tips
Seasonal maintenance varies depending on both the type of grass and its location. Indoor artificial grass requires less seasonal maintenance since it is protected from the weather.
Brushing grass blades to keep them upright and occasional cleaning to remove dust and debris is usually all you need to do to keep indoor grass in good shape.
With outdoor artificial grass exposed to the elements, it requires additional seasonal maintenance. You must clear snow and ice from the surface to prevent damage in colder climates.
Grass in warmer climates requires regular watering to keep it cool. It may also be necessary to rinse the surface with a detergent to keep it clean.
In areas that experience heavy rainfall, you must ensure the grass drains adequately by clearing any clogged drains and removing debris.
Areas with high humidity experience mold or mildew growth. The use of an appropriate cleaner will prevent it from becoming a problem. This requires regular inspections to see if mold or mildew growth is occurring below the surface blades in the thatch.
Final Thoughts
Whatever type of project you're planning, it's best to consult a few different suppliers before deciding on what artificial grass is best for your kind of property and use. Make sure you understand the warranty and guarantees for the product. Also, stick to the maintenance and upkeep schedule to maximize your artificial grass' longevity.