In this content you'll learn:
Key Takeaways
The costs to cut grass include selecting a lawn mower, trimmer, edger, and cleanup tools.
The costs for the above items vary based on power source and quality.
You can also hire a professional to cut your grass for you, which costs between $30 and $100.
---
Knowing the costs to cut grass upfront can help you make informed decisions and save money. To help, we've provided those costs below for the various tools and equipment you'll need to cut grass. We've also included product options to get you started!
Product Options
To make it easy to start your lawn mowing adventure, we've provided options below for each kind of lawn mower and associated costs. 
Let's start with gas walk-behind lawn mowers.
Gas Walk-Behind Lawn Mowers
Here are some options for gas lawn mowers:
Here are some of the additional items you'll need for a gas lawn mower:
Electric Walk-Behind Lawn Mowers
Here are some cordless options for electric lawn mowers:
Here are some corded options:
If you get an electric lawn mower, you'll also need the following items:
Extra or replacement batteries (for cordless lawn mowers)
Extension cord (for corded lawn mowers)
Reel Lawn Mowers
Here are some options for reel lawn mowers:
Robotic Lawn Mowers
Here are some options for robotic lawn mowers:
Riding Lawn Mowers
Here are some options for lawn tractors:
Here are some options for zero-turn riding lawn mowers:
Now, let's move on to additional tools you'll need.
Trimmers
Here are some options for gas trimmers:
Here are some options for electric trimmers:
Edgers
Here are some options for gas edgers:
Here are some options for electric edgers:
Cleanup
Here are some gas leaf blower options for cleanup:
Here are some electric leaf blower options for cleanup:
And here are some other options for cleanup:
What Are The Costs To Cut Grass?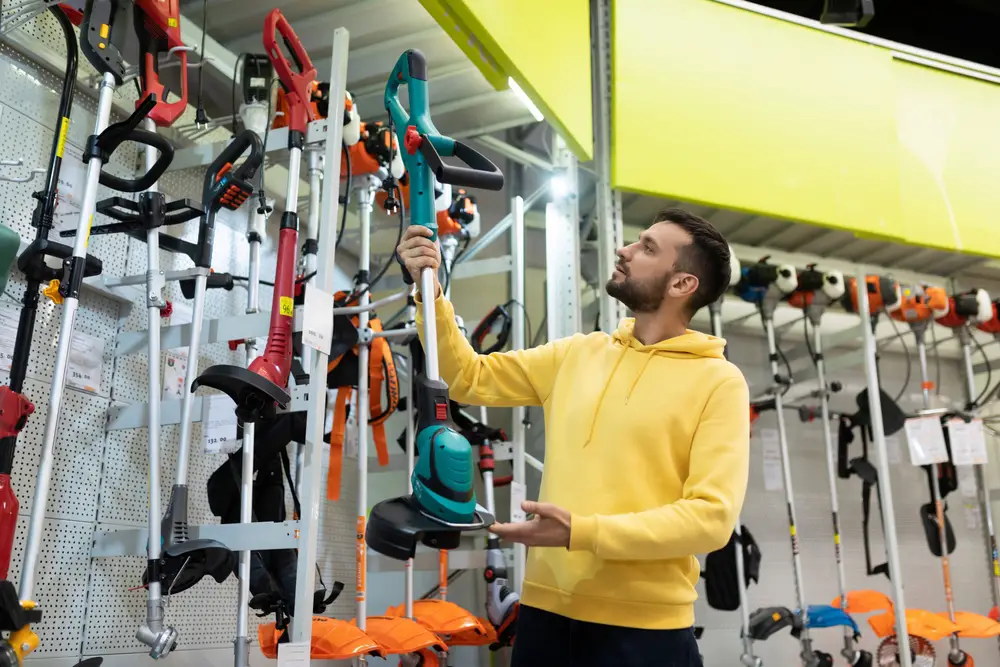 Unless you have a large lawn, mowing won't take too much time, and anyone can do it thanks to the array of user-friendly lawn mowers and tools on the market. 
Buying a lawn mower is one of the most significant costs to cut the grass, but the type you choose will impact the price. Thankfully, there are many options for you and your situation.
Lawn Mowers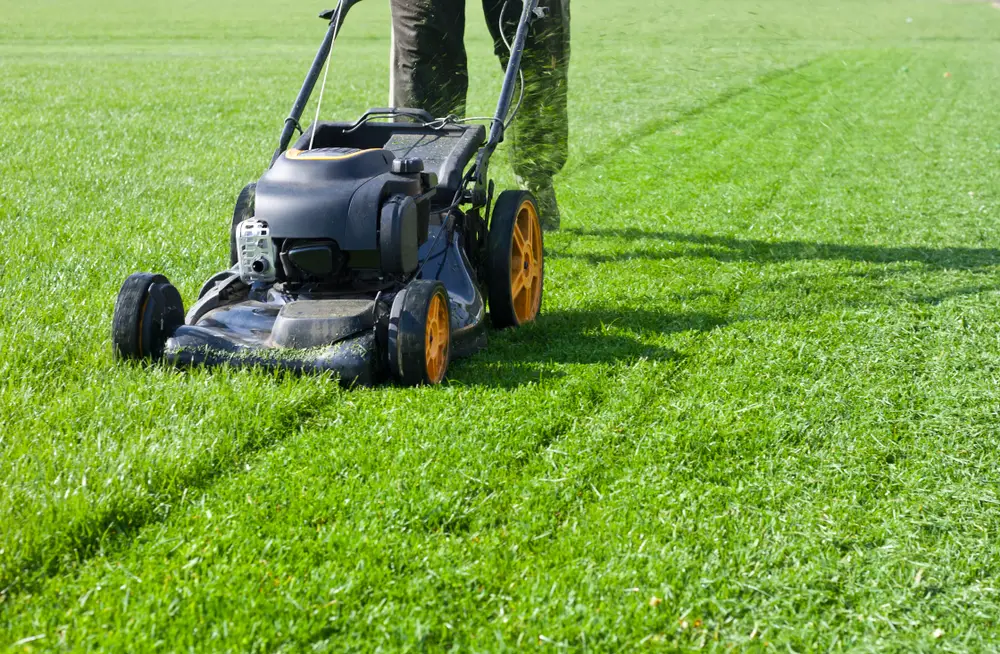 Lawn mowers come in several types: gas, electric, push, self-propelled, and riding (which has several subtypes as well).
Please note that we will be lumping the push and self-propelled lawn mowers in with the prices for gas and electric lawn mowers. This is because those are features included with those lawn mowers. 
The critical thing to know is that self-propelled lawn mowers are easier to use but will cost more than push lawn mowers.
With that said, let's start with a common lawn mower choice: gas walk-behind lawn mowers.
Gas Walk-Behind Lawn Mowers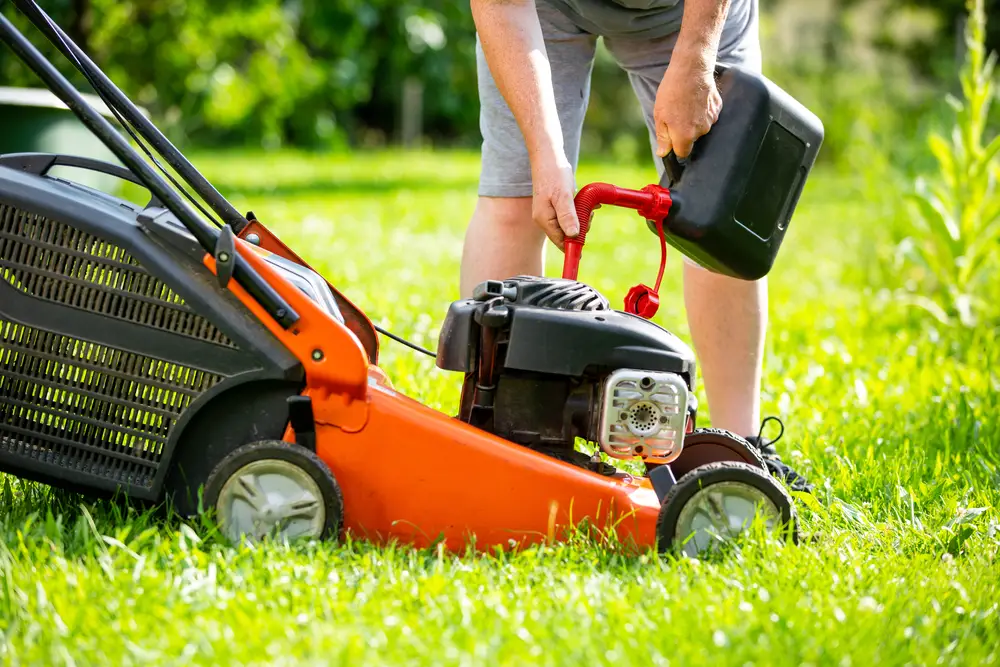 Gas lawn mowers run off a high-power combustion engine with many moving parts. Moreover, gas lawn mowers are far more powerful and typically intended for larger lawns, so they have a wider cutting diameter. 
As with any purchase, lawn mower costs vary between brands. However, you can generally expect to pay between $200 and $500 for a gas lawn mower.
A Word On The Maintenance Costs Of Gas Lawn Mowers
You'll need to perform regular maintenance on your gas lawn mower if you want it to run smoothly. This often means replacing parts like spark plugs and filters. While these aren't incredibly expensive, you'll pay for these parts, unlike with electric lawn mowers.
In addition, you may have problems with the fuel lines, the carburetor, or even the engine in the long run. Repairing or replacing these can be expensive. 
Last, you will need to purchase fuel and oil for your gas lawn mower, which is not a cost with electric lawn mowers (as well as fuel stabilizers and gas cans). 
Electric Walk-Behind Lawn Mowers – Corded And Cordless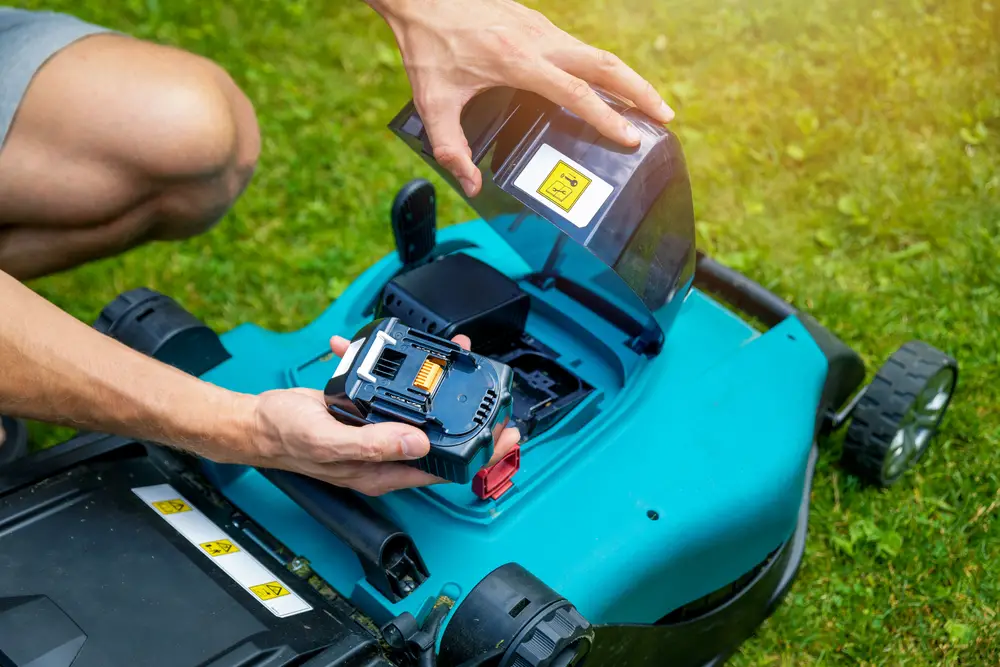 Electric lawn mowers work in one of two ways: connecting to an outlet or rechargeable batteries. These are some of the most convenient lawn mowers because they are user-friendly and low-maintenance. 
However, it's worth remembering that a corded electric lawn mower will be cheaper than a cordless model. That's because of the technology and convenience of battery power, but even battery models are relatively inexpensive.
Corded lawn mowers usually cost between $150 and $300, but you may also need to invest in an extension cord, which could cost around $20-50. 
On the other hand, the average price of a cordless (battery-powered) lawn mower is about $300-$600.
With cordless models, check whether or not the manufacturer included batteries. Some lawn mowers are sold alone, reflected in the price. You might think you're getting a great deal until you realize you also have to buy batteries. 
In addition, some lawn mower batteries won't be sufficient for larger lawns. In that case, you'll need to purchase additional batteries (and chargers).
Reel Lawn Mowers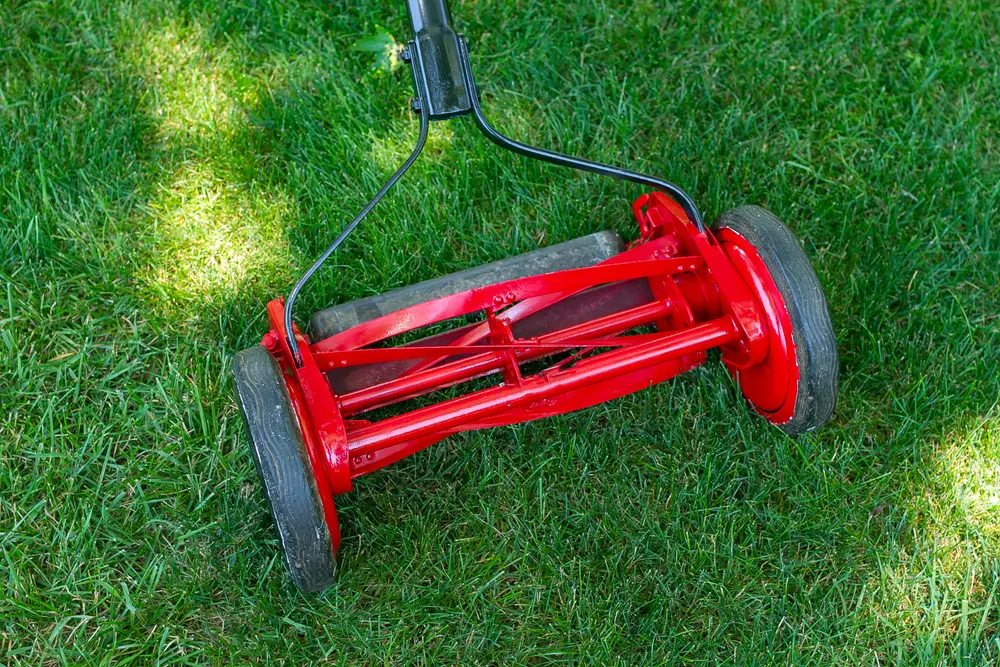 You might remember reel lawn mowers from long ago; they're also called manual lawn mowers because they're not electric- or gas-powered. No, instead, we power them by pushing them! 
Since there are no engines or electrical parts, these lawn mowers are among some of the cheapest. I picked one up a few years back to touch up my lawn between mows, and it didn't even exceed double figures!
The average price of a manual lawn mower is between $80 and $150, although I've seen some as cheap as $50! That said, cheap doesn't always mean good, so it's worth checking the quality. 
The sharpness of the blades is imperative when buying one of these models because if they're dull, it will mean a lot more work for you!
Robotic Lawn Mowers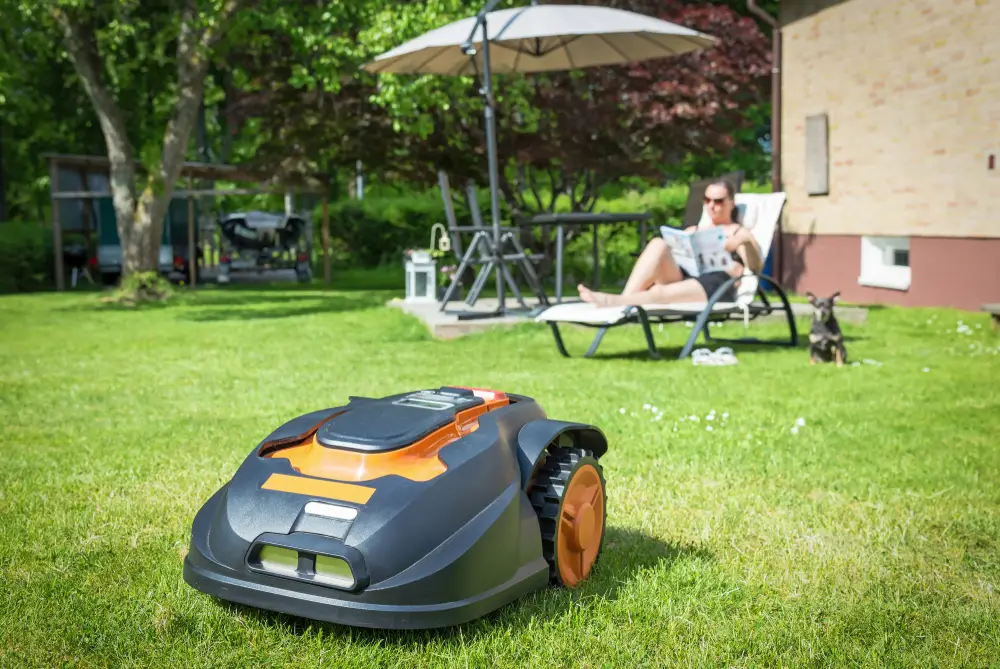 I've recently been looking into buying a robotic lawn mower because, let's face it, they take the effort out of keeping your lawn looking great. 
There are two types of robotic lawn mowers: those with a boundary wire (the more common one) and those without.
Boundary wires do exactly what you think they would: they tell the robot where the mowing boundaries are. Some robotic lawn mowers don't need this boundary wire and use alternative methods such as an app. However, fewer of these lawn mowers exist and are generally more expensive than their boundary-wire counterparts.
Generally, you'll pay between $600 and $2,000 for boundary wire robotic lawn mowers. For those without boundary wires, you're paying above $2,000.
Riding Lawn Mowers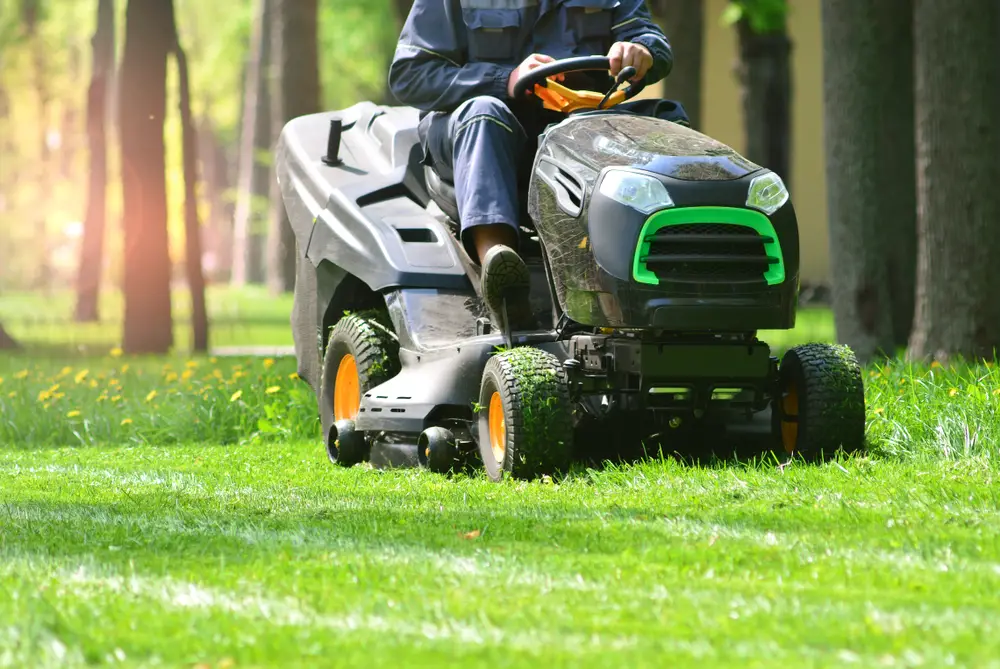 A riding lawn mower will save a lot of time and energy for anyone with a large lawn. 
These gas-powered or electric machines range in cost from $2,000 to $4,000. Some even cost close to $7,000.
Most lawn tractors will be cheaper than zero-turn lawn mowers (which allows for more effective turning, hence the name).
Edging, Trimming, And Cleanup Tools
Caring for your lawn requires more than just lawn mowers. You'll also need trimmers, edgers, and more.
Trimmers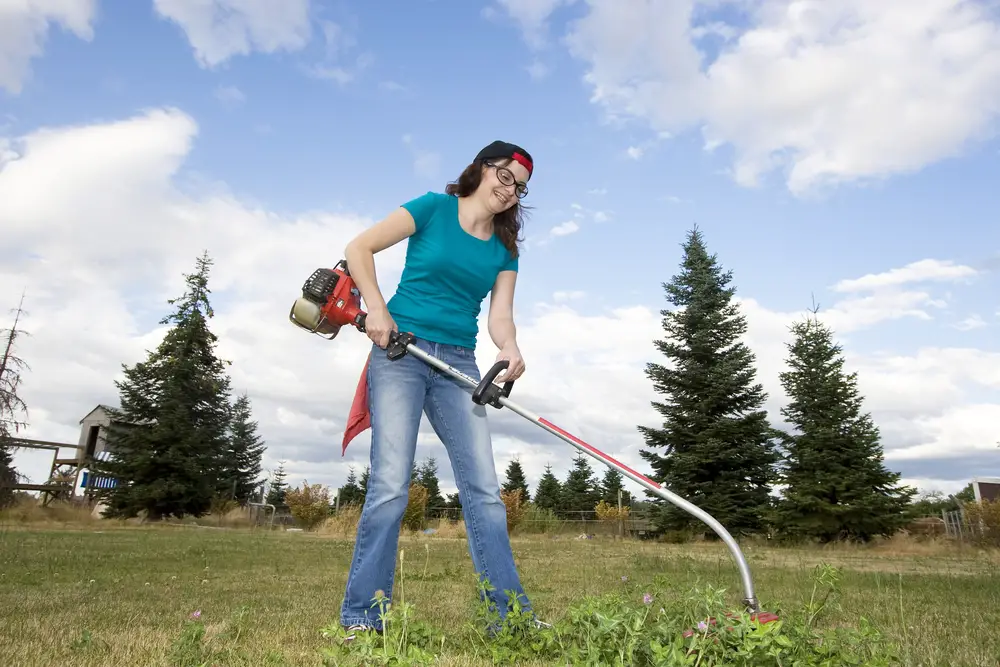 Gas trimmers (weed hackers) typically cost between $70 and $200, whereas an electric model may cost between $50 and $100. 
There are manual edging shears, which are much cheaper. I picked up a set for around $20, but they are more time-consuming and physically demanding to use. 
Edgers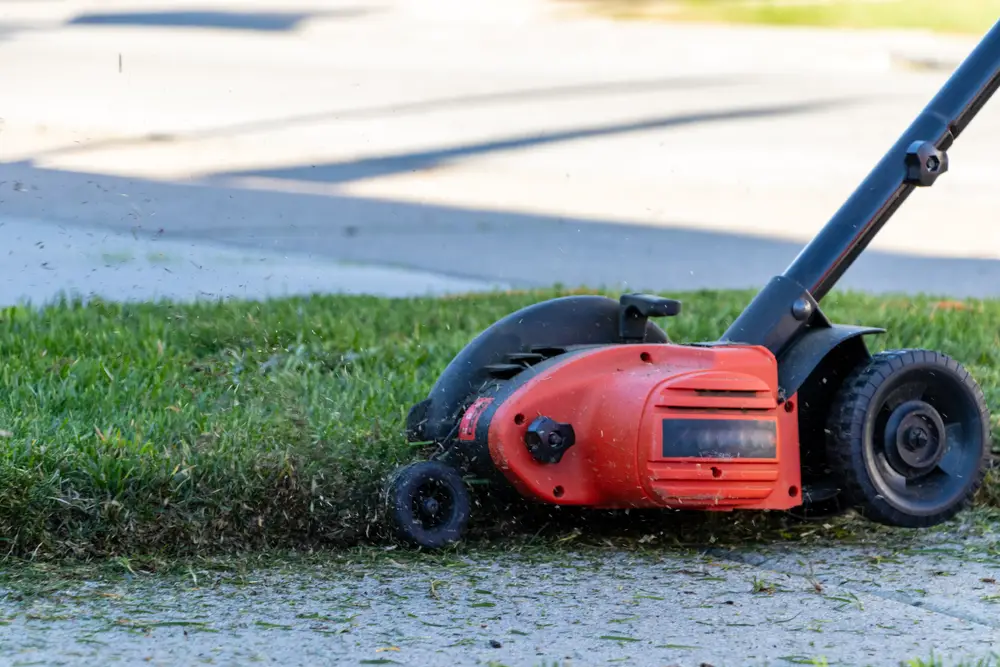 If you want to create a neat edge for your lawn, invest in an edging tool. These do not cut the grass but make a small ditch around the yard's edge, leaving a neat and manicured appearance behind. 
While you'll pay around $70-$200 for a battery-powered edger, a gas model can cost in the region of $250-$400.
That said, there are multi-use tools that function as both a string trimmer and an edger. You can often get a great deal on these, and it also saves you from having to find the space to store two separate tools. 
Depending on the brand, these can cost anywhere between $70 and $200. 
Cleanup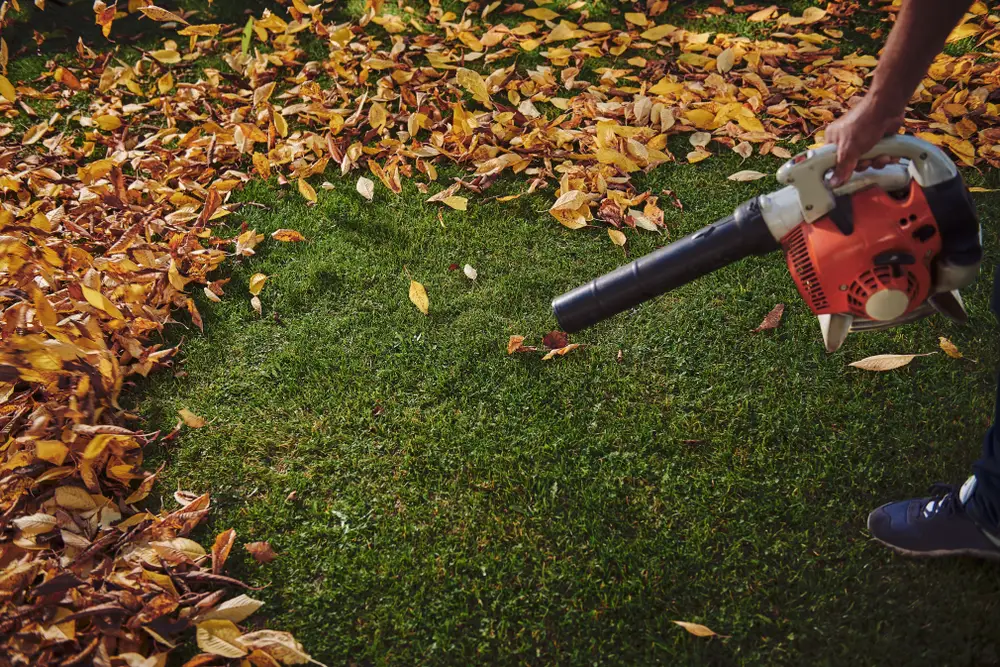 Finally, you'll need some tools to clean up after cutting the grass. However, these are among some of the most affordable and include things like a dustpan and brush, a garden broom, and a rake. You can typically purchase these for between $10 and $20.
You'll also need a leaf blower, which cost between $30 and $300.
Your bank account may feel a little overwhelmed after adding up the total cost of buying all of the necessary equipment. However, you must consider that these tools should be seen as an investment. 
While you have to shell out initially, your new tools will last for years (as long as you maintain them properly). So, instead of paying a weekly fee to a professional, you'll reap the rewards for a long time to come.
Are There Any Other Costs For Cutting Grass?
Spending your hard-earned money isn't the only cost involved in taking care of your lawn. Before you decide on the best option for you, think about whether you have the time. 
The Cost Of Time
If you're busy, finding the time to mow your lawn will be difficult. Generally speaking, you can expect to spend between 20 and 30 minutes per 100m² (1,076 ft²), and that's only if you have a flat, even lawn.
Getting the job done for lawns with hills, obstacles, or bumpy terrain may take even longer. Plus, you have to factor in any trimming, edging, or tidying up you need to do. 
All in all, you should dedicate a couple of hours each week to mowing a medium-sized lawn. 
How Much Does It Cost To Hire Someone To Cut Your Grass?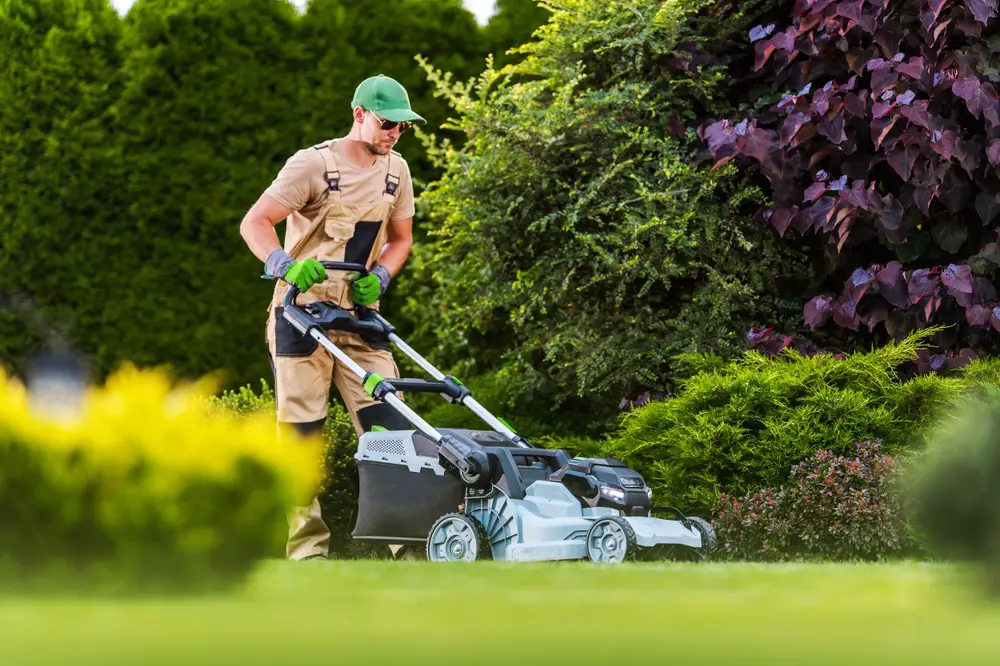 For some people, mowing the lawn is the stuff of nightmares. 
I hear you. It can be a real pain, so why wouldn't you want to hire someone to do the work for you?
The average cost of hiring a professional to mow your lawn falls somewhere between $30 and $100 per hour. Of course, the price will depend on the experience of the professional and the quality of their work. In some cases, they may charge a set fee based on the size of your lawn. 
Alternatively, you could hire a local non-professional person to do the work for you. Maybe you have a teenage neighbor or a friend looking to earn a little extra cash. This would be a cheaper way to finish the job, but you won't have that professional finish.
Hiring A Pro VS DIY – Which Is The Right Option For You?
It's worth carefully considering the costs to cut your grass because each homeowner has different needs. 
As I discussed earlier, investing in lawn care tools might come with a high initial cost, but you won't need to keep shelling out cash weekly for someone else to do it. If you pay $50 per lawn mowing service each week, it won't take more than a couple of months before you've spent the same amount you would have done buying the equipment yourself. 
That said, there are lots of people out there who simply don't have the time or the physical ability to mow the lawn themselves. If this sounds like you, hiring someone to do the work is the best way to keep your lawn presentable.