Are you looking for a lawn mower to mow your 1/2 acre lot? Then you can't help being more concerned to choose the perfect one. And true fact is that you will find only a few that suit your this size lawn.
But as you have to choose the best one, nothing should frustrate you. And of course, you will find your desired one, just know the right process. This right way is you should go with the trusted brand.
For you, we've come with a list of the best lawn mowers for 1/2 acre lot of some of the top brands.
Let's see.  
In this content you'll learn:
Top 9 lawn mowers for 1/2 acre lot Reviews
We know that you're searching for the best lawn mower for 1/2 acre lot. and to find the mower that's the best choice for your lawn, you must take a look at some of the top-rated mowers in the industry.
So, let's begin: 
­­­­1# Greenworks MO40L2512 G-MAX 40V Lawn Mower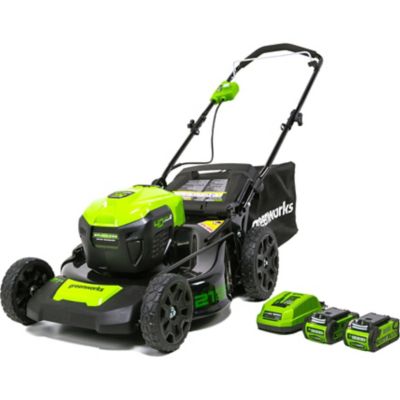 We are kicking off our list with one of the most innovative electric lawn mowers that GreenworksTools has ever made. Have you ever considered that an electric lawnmower can be as powerful as a gas-power mower?
Well, the Greenworks MO40L2512 has proven that it's possible. It's powered by a 40V battery and its brushless motor is capable of taking care of tall, rugged grass clippings with ease.
Features and Benefits:
Deck:
The overall cutting performance of a lawnmower depends on the sturdiness of its deck. And that's why the MO40L2512 mower features a heavy-duty 21-inch deck made of solid steel.
Smart Cutting System:
It features a state-of-the-art load sensing mechanism that can detect the toughness of the grass and weeds. Thus it changes the lawnmower's speed accordingly.
Height Adjustment:
You can adjust the deck cutting height into multiple positions. The maximum cutting height is 3.75 inches and the minimum cutting height of the deck is 1.375 inches.
Frankly speaking, you can't find an electric lawnmower that's more powerful than the Greenworks MO40L2512. It's perfectly suited for a ½ acre yard.
­­­­2# Bad Boy MZ Magnum 54 in. Zero-Turn Mower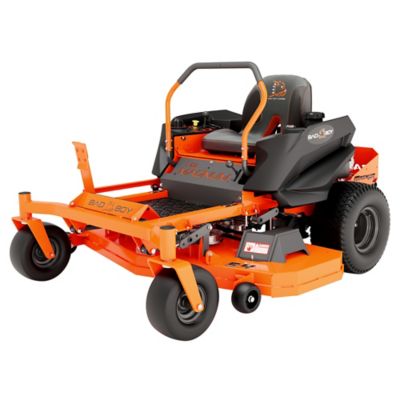 You've probably heard of Bad Boy. Their zero turn lawn mowers have become quite popular in the past few years and there is a good reason for that.
And this gas-powered zero-turn lawn mower has more than enough power to mow through a half an acre lawn.
This zero-turn mower has a huge, fabricated deck that has a width of 54 inches. The deck is made of 7-gauge steel and its build-quality is unbeatable.
Features and Benefits:
Fuel Capacity:
This lawnmower has a fuel capacity of roughly 5 gallons. That means you can mow your lawn multiple times without requiring any refills.
Engine:
The engine of the MZ magnum lawn mower is made by Kohler and the engine's displacement is 725cc.
Tires:
It has two front caster wheels that can maneuver around tricky areas. Also, its solid 18-inch rear tires can easily move over steep terrains.
After all, the Bad Boy MZ magnum has some impressive features that make it worth considering.
­­­­3# TB30 R Troy-Bilt Riding Lawn Mower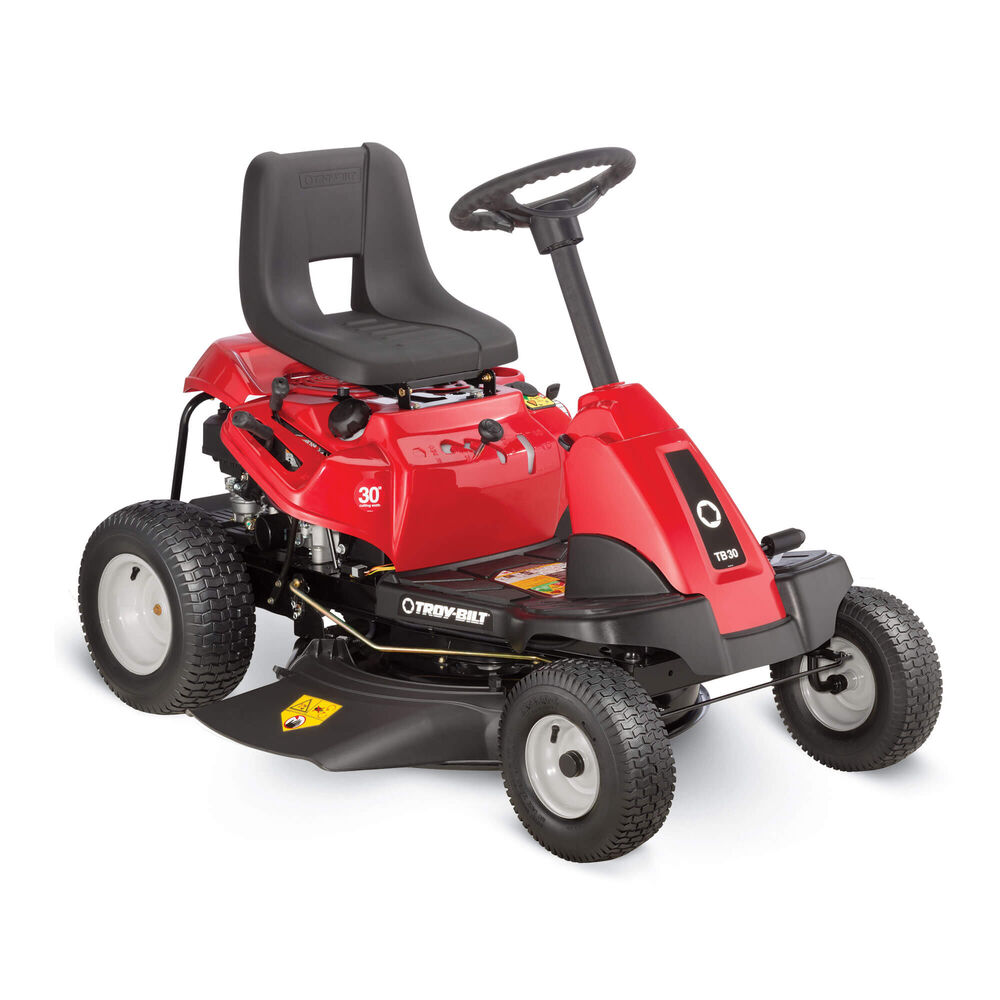 The TB30 R is an affordable riding lawn mower made by Toro. In fact, Toro excels in producing premium quality riding lawn mowers and the TB30 R is no exception.
It has a compact design, especially considering the fact that it's a riding lawnmower. Though it's not a zero-turn lawn mower, it has a turning radius of 18 inches. And it will make sure that the mower turns easily around obstacles such as trees.
You have to use a steering wheel in order to operate this mower. The controls of this mower are pretty straightforward and it even comes with LED headlights.
Features and Benefits:
Engine and Transmission:
The TB30 R mower features a 382cc OHV engine that's made by Troy-Bilt. It also has a hydrostatic transmission system.
Deck:
It comes with a 30-inch deck that's made out of robust 14-gauge steel. You can adjust its height into five positions.
Speed:
The TB30 R riding mower is remarkably fast and it has a top speed of 4.5 miles per hour.
Overall, the TB30 R has exceeded our expectations and that's why we are recommending it.
­­­­4# Toro 30 in. 223cc Time Master Self-Propel Lawn Mower
If you're looking for a high-quality self-propelled mower that can mow through a .5-acre lot, then the Toro TimeMaster mower is the ideal product for you.
As it features a large 30-inch deck, it can cut through a large amount of grass clippings on a single run. This mower is quite fast. And so it will save you a lot of time while mowing your yard.
Features and Benefits:
Engine:
As the name suggests, the TimeMaster lawn mower is powered by a 223cc OHV engine made by Briggs and Stratton.
Cutting System:
It features two durable atomic blades that can cut through grass with ease. And it even comes with a spin-stop mechanism that will stop the blades from moving, but the engine won't turn off.
Washout Port:
You can use the washout port of this lawnmower in order to clean the internal part of the deck.
The Toro TimeMaster lawn mower is easy to use and its performance is extraordinary. We recommend you buy it.
5# Husqvarna Automower 310 Robotic Lawn Mower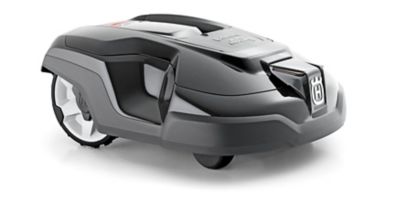 If you think that mowing the lawn is a tiresome and time-consuming task, then the Husqvarna Automower is the product for you. It will surely change your thinking.
This robotic lawnmower will automatically mow the lawn. And it will let you enjoy your free time.
This mower can mow for roughly 70 minutes and it can cover .25-.5 acres of land in that amount of runtime. It also moves around obstacles and slopes with ease.
Features and Benefits:
Smart Phone Control:
You can connect this mower to your smartphone via Bluetooth and then control the movements of the mower through your phone.
Height Adjustment:
The cutting height of the Automower 310 is adjustable and you can adjust its deck's position  from .8" up to 2.4".
Performance:
This robotic mower can automatically sense the obstacles and narrow passages . It also changes its path accordingly.
Mowing the lawn will be quite easy and convenient for you if you own a robotic lawnmower. That's why we suggest you purchase the Husqvarna 310 robot lawnmower.
6# Toro 21 in. 159cc Super Recycler Self-Propel Lawn Mower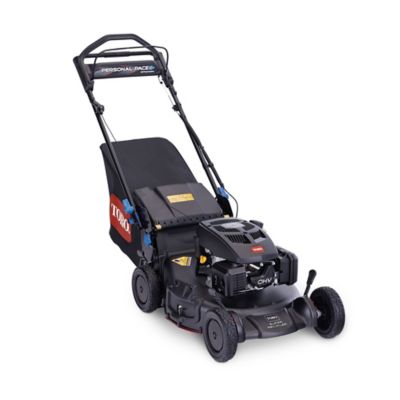 The Toro super recycler is one of the most popular self-propelled lawn mowers made by Toro. That's because of its sleek design and incredible performance.
It has a robust construction and its self-propulsion system will make it easy for you to maneuver it around your yard. It can easily glide over bumpy areas and it won't require any maintenance.
Features and Benefits:
Deck:
The Toro super recycler mower features a heavy-duty, rust-proof 21-inch deck. You can adjust this deck into seven different positions.
Height Adjustment:
Its cutting height can be adjusted from 1 inch up to 4.5 inches.
Engine:
It features a powerful 159cc engine that's made by Toro. This engine is categorized as a gas-powered engine.
The Toro 21" super recycler performs excellently in all types of mowing conditions. We highly recommend you purchase it.
7# Huskee 3-in-1 Push Mower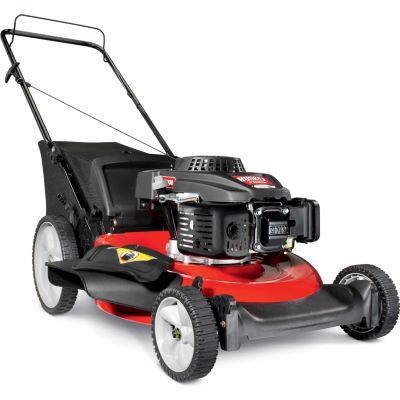 This Huskee lawn mower is remarkably versatile as it provides superior performance in bagging, side discharge and mulching mode.
This mower is easy to operate and its ready-start technology makes starting the engine much easier. It features a gas-powered engine and this mower has a fuel capacity of 0.3 gallons.
Features and Benefits:
Engine:
The engine of this mower is made by Briggs and Stratton and it has a displacement of 140cc. This engine is from the 550EX series.
Height Adjustment:
You can adjust the deck height of this lawnmower into six positions that range from 1.25" up to 3.75".  
Wheels:
The Huskee 3-in-1 mower has large wheels and these wheels have a diameter of 11 inches. They can easily glide over bumpy surfaces.
On the whole, the Huskee 3-in-1 lawn mower is one of the most powerful walk-behind mowers made by Huskee. You can buy it without any hesitation.
8# TB110 Push Lawn Mower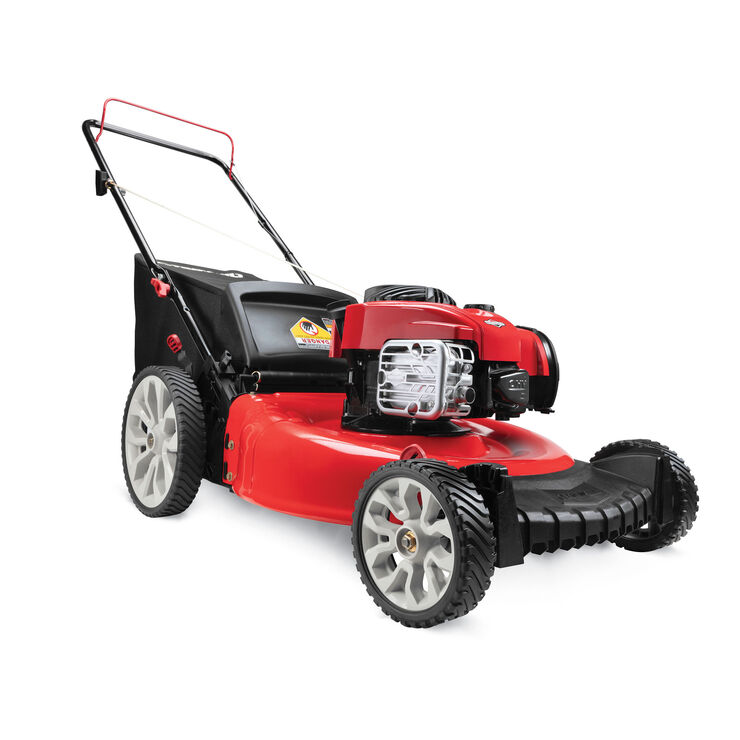 The TB110 push mower made by Troy-Bilt provides reliable performance and excellent cut quality. Its engine features a ready-start technology that will let you start the engine without any kind of choking or priming.
It has large rear wheels that can roll over steep hills and rough surfaces.
Features and Benefits:
Engine:
The TB110 mower features a Briggs and Stratton OHV engine. It's from the 550EX series and it has a displacement of 140cc.
Grass Catcher:
It features a 1.9 bu. rear bag that's big enough to hold a large amount of clippings. It will make it easy for you to dispose of the grass clippings.
Cutting System:
It features a Tri-Action cutting mechanism that includes a sturdy steel blade, a rake bumper and a symmetric deck.
The TB110 push mower has a durable construction and it provides consistent performance. That's why you should consider it.
9# Bronco 42 Riding Lawn Mower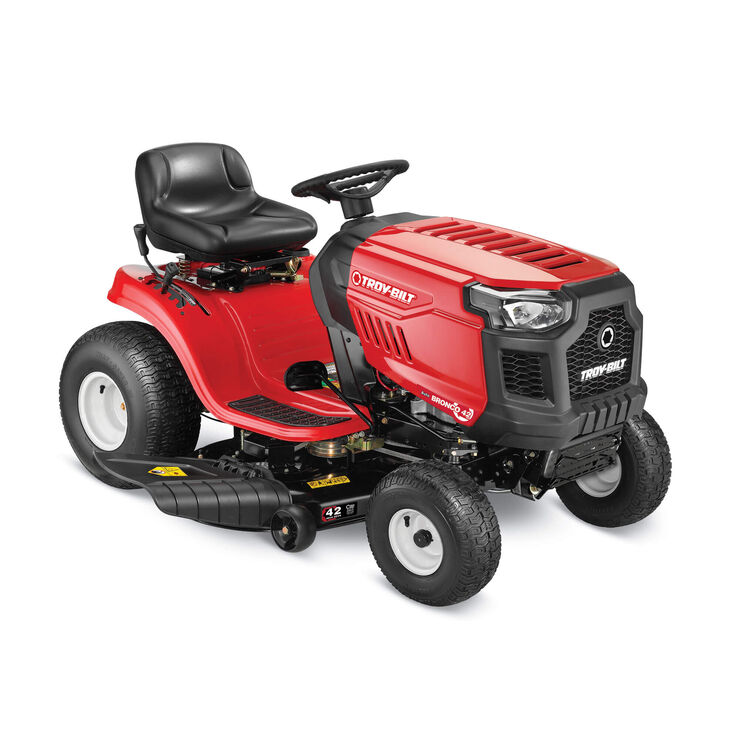 If you're searching for a budget-friendly riding lawn mower that can mow an ½ acre lawn, then the Branco 42 mower is the one you should buy.
Although the Branco 42 riding mower has a compact design, it's extremely powerful. In fact, its Briggs and Stratton engine has a power output of 19HP and it's auto-drive transmission system will let you maneuver over rugged terrains.
Features and Benefits:
Deck:
It features a 42-inch staggered deck that's specially made for mowing in side discharge mode. It even has anti scalp wheels.
Front Headlights:
The Branco 42 riding mower features two front headlights. That means you can mow your yard even if it's dark outside.
Construction:  
This riding mower has a strong construction and it's made of heavy-duty 13-gauge steel.
The Branco 42 riding mower is unbeatable in terms of construction quality and cutting performance. Now, shouldn't you consider it?
Buying Guide
While purchasing a lawnmower, you have to take into account some of its core features. Otherwise, you'll end up spending your hard-earned cash on a mediocre lawnmower. 
We want to make sure that such a fate doesn't befall you, so we will describe the important features of a lawnmower that you should consider: 
Deck Size
A lawnmower's cutting ability mostly depends on the size of its deck. That's because the diameter of its deck determines the cutting width of the mower. 
And since you're looking for a 0.5-acre lawn, which will differ from the mowers for a 1-acre area, you should consider buying a mower that has a large deck. The deck size should preferably be between 42"-54". 
Power Source
Most people just look at the price and brand of the mower and purchase it. But you also have to consider the way in which the mower operates. A lawnmower performance depends entirely on its power source.
For a .5-acre lot, a standard electric battery-powered lawnmower should be ideal. Still, if you want more power, then go for a gas-mower. 
Cost
The cost is probably the first thing that comes to the mind of a customer before he/she is buying any product. That's also true in the case of lawnmowers. Typically, gas-powered mowers are more expensive than electric mowers. Moreover, they need a lot of maintenance (oil, gas stabilizers), and that costs a lot in the long term. 
Runtime
You have to consider the runtime of the mower. If it runs out of power halfway through mowing your lawn, then that would be incredibly frustrating for you. And to mow .5 acre of lot in a single operation, then the runtime should be 45-60 minutes. 
Final Verdict
To sum up, when it comes to deciding which lawnmower to buy, it really comes down to the customer's preferences. So, just skim through our list and see which one catches your eye. You can trust us when we say that we have only included the best ones in the market.
But still, we know that you're looking for only the topmost one . That's why we will reveal our choice for the best lawn mower for 1/2 acre lot. And that is the MO40L2512 mower from Greenworks.
Its smart-cut technology and extended runtime has made it take the top spot on the list.