Lawnmowing has its season. And after completing the work in season, you have to winterize your lawn mower for further use.
You need to winterize it carefully and smartly so that it can provide you with a long-lasting service. And here you need to follow some steps.

Now, you can ask how to winterize a lawn mower to get faultless starts up in the next season? Okay, don't worry! In this article, you will know the whole process of winterizing your lawn mower for better use.
So let me describe the processes. 
In this content you'll learn:
How To Winterize A Lawn mower
To have the perfect winterizing, you have to go through some steps. And properly following those steps will ensure the effective winterizing.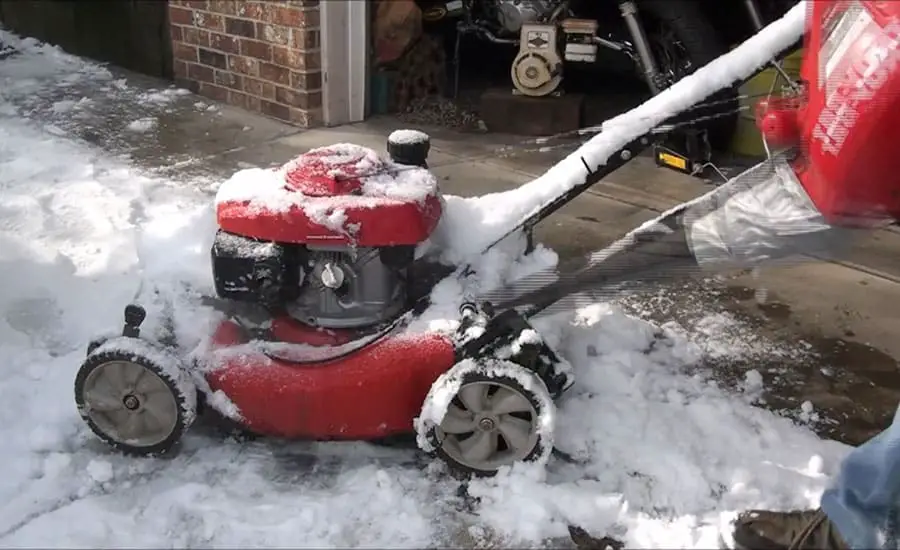 Importance of Winterizing Lawn Mower
Before starting the process, let's discuss some vital reasons to winterize your lawn mower and why it's so important to the health of the engine. You might want to learn more on some of the specific processes, like draining gas from the mower.. First of all, it will increase the durability and stability of your lawnmower. 
Your mower will stay in storage for the whole winter season. As winter stays for a long time, the workforce and stability of the mower can reduce. On the other hand, the cold temperature will hamper its parts. 
Do you want to face these problems? It must not be. So you have to winterize your lawn mower very effectively.  
Winterizing Your Lawn Mower
You will be able to winterize your lawn mower by going behind some necessary steps. I mean, to fulfill the process, there are some simple but meaningful steps. So let's jump to the steps. 
Clean Up Your Mower
At the first step, you have to clean up your mower. It will help your mower to stay stable. Moreover, the parts of the mower won't damage. 
So clean it up from muds, grasses, and other particles. Use water pressure to make it dirt-free. Now dry it with a towel. 
If you do complete the cleaning process perfectly, then it is free from risk. Moreover, you will find your mower in excellent condition when the weather warms up again. 
Disconnect The Spark Plug
To continue the maintenance process, you have to disconnect the spark plug. It is necessary to prevent any kind of accident. So try to do it as early as possible. 
Remove The Battery
To keep your battery active for further use, remove it from your lawnmower. To start this process, disconnect the battery cable. Now clean the battery terminal with a brush. 
Now swab it with a cloth. Never forget to store it in a calm and droughty place.
Dispel The Fuel Or Gas
You have to dispel the fuel from the mower. If you don't do it, you may face various serious problems. For example, plastic and rubber metals associated with fuel tanks can vanish. 
Moreover, it can also destroy the metal parts of your mower by gumming up. 
So never forget to do it. 
If you have a mower running with gas, then empty the gas tank. 
Remove And Sharpen The Blade
According to experts, a user has to sharpen the mower blades at least once a year. Though you will winterize your mower, it's an excellent opportunity to hone your edge. 
Remove the blade from the mower. Now sharpen it with expert hands. 
Polish The Wheels And Moving Parts
It is high time to polish the wheels and other moving parts of the mower. Polish the wheels with the necessary pieces of equipment to prevent their damages. Moreover, you have to lubricate the moving parts, rubber, and plastic parts of the mower. 
This polishing process will provide you with excellent service.
Store Your Lawnmower
Before starting to store your mower, it is recommended to double-check all the steps. After accomplishing the mentioned steps, you have to keep your mower. 
Try to store in an indoor place. You know, in the winter season, there is moisture and it's cold outside. So a garage or any indoor area is preferable for storing your mower. 
Most importantly, keep your storage space neat and clean. 
Necessary Tips
You can follow these necessary tips to prevent any unwanted situation.
Wear gloves in this whole process especially while working with the mower blade.
Wear a mask while working with gas.
Store the battery of the mower at a cool temperature. 
And finally select a safe and secure place for storing your lawn mower. 
Verdict
As a user, you must winterize your lawn mower. I hope you have a clear concept now on how to winterize a lawn mower. And I believe that you will be able to winterize your lawn mower by following the above mentioned steps. 
So let's do it. And never forget to cover your mower with a tarp. Good luck!