When you have a tight budget, choosing a lawn mower requires more research and analysis. And here very few mowers will meet all of your needs. But definitely, you should not go for a cheap one just to save a few dollars.
Along with considering your budget, you should consider some other factors that will ensure the best lawn mower under 300. And of course, there are some awesome mowers that you can get within this budget.
To smooth your selection process, we have come with the best 10 lawn mowers under 300. Let's dive in. 
In this content you'll learn:
Top Ten Lawn Mowers Under 300
We have come with this comprehensive list going through intensive research and product testing . Now, we will dig deep into each of these product's features and determine what makes them so great. 
So, let's explore: 
1# Troy-Bilt TB115 140CC, 21-in Push Mower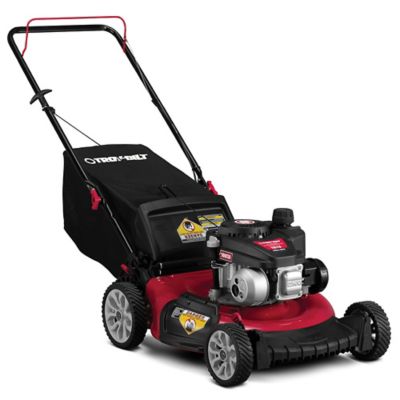 The TB115 mower from Troy-Blit is probably the most powerful push mower that we have ever tested. It provides superior cutting performance as it features Troy-Blit's proprietary Auto-Choke engine. 
It would be the most versatile choice for you as it features a mulch kit, a grass catcher, and a side discharge chute. 
Features and benefits:
Cutting system: 
It features a compact 21" deck and a Tri-action mechanism that will provide you with a well-manicured lawn.
Height Adjustment: 
The TB115 mower features six different height adjustment options, and you can adjust the height from 1.25″ up to 3.75″.
Deck: 
It comes with a heavy-duty 21-inch deck that's made of 15-gauge steel. The deck is symmetrical, and it's resistant to rust. 
The Troy-Blit TB115 is unmatched to any other lawnmowers in the market in terms of cut quality and versatility. You'll definitely be impressed by its performance. 
2# WORX WG779 40V 14″ Lawn Mower 
Do you feel like maintaining a gas-powered lawn mower is too much of a hassle? If so, then we suggest you go for a cordless electric lawn mower. And the Worx WG779 is one of the best electric lawn mowers out there with a price tag of less than $300. 
The most exciting feature of this mower is its intellicut technology. In fact, this feature will allow you to choose the torque of the mower and conserve battery power. 
Features and benefits:
Performance
The WG779 mower can mow upwards of 5500 sq. Ft. of land before its batteries drain out.
Batteries: 
It uses two 20V batteries, and they provide a combined voltage of 40V. 
Height Adjustment: 
There are three cutting heights available to you that range from 1.5″ to 3.5″.
The Worx WG779 lawn mower is really cost-effective, and it's also hassle-free. It's lightweight and easy to use. We strongly recommend it. 
3# Huskee 3-in-1 Push Mower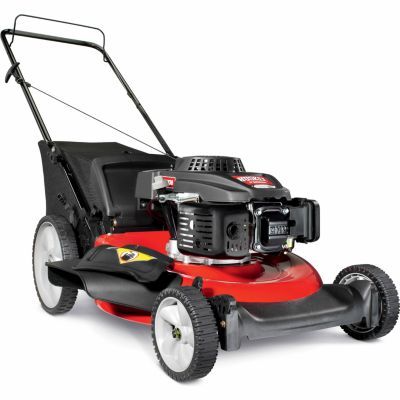 The Huskee push mower is quite well-known for its versatility, and you'll get multiple options for taking care of the grass clippings. Whether you prefer mulching or bagging, the Huskee mower will provide you with the ultimate cutting performance.
Apart from that , it features ready-start technology that will allow you to start or stop the engine whenever you please. 
Features and benefits:
Engine
The Huskee push mower features a Briggs and Stratton 140cc engine. And this OHV engine is from the 550EX series. 
Height Adjustment: 
It features a dual-lever height adjustment system that lets you choose six different heights from 1.25 inches to 3.75 inches. 
Rear Wheels: 
This mower features large 11" rear wheels that can maneuver on rough mowing surfaces. 
On the whole, the Huskee lawn mower is really efficient at cutting grass, and it's also quite cost-effective. You should consider it.  
4# Greenworks 2502202 Pro 21-Inch 80V
When you have decided to purchase an electric lawnmower, then the Greenworks Pro 80V would be the best choice for you. This mower is comparatively more powerful than other Greenworks cordless mowers as it uses an 80V Li-ion battery as its power source. 
It features a 21-inch cutting deck, and it comes with all the necessary accessories for different cutting modes such as mulching, bagging, and side discharge. 
Features and benefits:
Motors: 
The Greenworks Pro mower features incredible brushless motor technology that will provide you with as much power as a gas-powered 160cc engine. 
Smart-Cut: 
It features cutting-edge smart-cut technology, and its speed will increase automatically if the mower faces rough grass and weeds. 
Performance: 
This mower has a total runtime of 60 minutes, and it will provide you with smooth and quiet operation. 
The Greenworks Pro 80V mower has many innovative features that make it one of the best cordless lawnmowers in the market. So of course, it is worth considering.  
5# GreenWorks DigiPro G-MAX 40V Cordless Lawn Mower

Do you feel like it's time for you to take your mowing capacity to the next level? If you do, then we suggest you buy an efficient battery-powered lawnmower like the Greenworks DigiPro lawnmower. 
The DigiPro mower would be an excellent alternative to an expensive gas-powered lawn mower. And it will be ideal for you if you own a small or medium-sized yard. 
Features and benefits:
Deck: 
It features a compact 19-inch deck made of stamped steel. Besides, this deck makes sure that the mower stays balanced while maneuvering around the yard.  
Performance: 
The DigiPro will last for an hour on a single charge. Its 40V G-Max battery will consistently provide power to your mower. 
Storage: 
Its handle can be folded, and you can easily store it in the garage. 
The DigiPro cordless lawnmower will enable you to mow your lawn efficiently and at a fast pace. You should consider buying it.
6# PowerSmart DB2321PR Gas Powered Push Lawn Mower 
The PowerSmart gas-powered walk-behind lawnmower is perfect for mowing small lawns. As it has a compact design, it can take care of the tight spots in your yard. It's easy to assemble, and the process will only take you roughly 10 minutes. 
It's best suited for bagging, and it features an 18-gallon rear bag for collecting the grass clippings. 
Features and benefits:
Height Adjustment: 
It provides the user with five different height adjustment options that range from 1.18″ to 3″.
Engine: 
The PowerSmart push mower features a 170cc OEM engine. It will provide your lawnmower with a sufficient amount of power to mow the yard. 
Cutting Modes: 
It's a 3-in-1 lawnmower that's capable of side discharge, mulching, and bagging. 
In fact, the PowerSmart DB2321PR push mower is a high-quality lawnmower that's easy to use. You'll definitely be satisfied with its performance. 
7# Cub Cadet SC 100 HW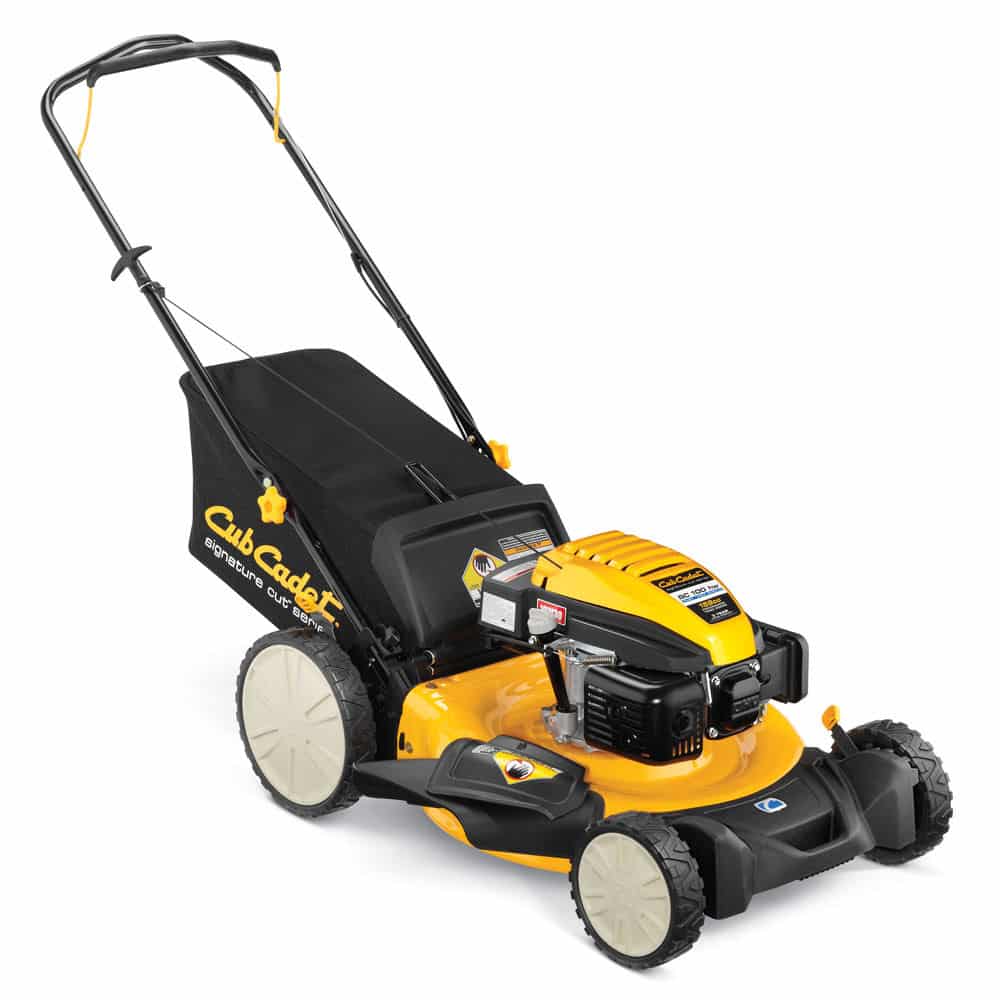 Typically, Cub Cadet mowers cost a lot of money, but the Cub Cadet SC 100HW is an exception. You'll be impressed by its extraordinary features such as its sure-start technology, smart-jet deck wash mechanism, and ergonomic handles. 
This mower is sure to start on the first pull, and it won't bog down while going over rough terrains. 
Features and benefits:
Engine: 
A 159cc OHV engine powers the SC 100 HW lawn mower. And this engine is made using Cub Cadet's proprietary technology. 
Cutting Height: 
The deck height can be adjusted from 1.25 inches up to 3.75 inches. There are two levers for height adjustment. 
Accessories: 
The SC 100HW mower comes with a mulch plug and a 1.9 bu. rear bagger. You won't have to empty the bag while mowing your yard as this bag is capable of holding a lot of grass clippings. 
To sum up, this is an energy-efficient, low-cost push mower, and it will provide you with superior cut quality. We strongly recommend you buy it. 
8# Sun Joe 24V-X2 Lawn Mower
Sun Joe is quite well-known for providing highly affordable walk-behind mowers that are packed full of amazing features. Two 24V batteries power this Sun Joe mower. These batteries are quite reliable and provide flawless power output.
This mower is best suited for cutting in the mulching mode, and the cutting height is also customizable from 1″ to 3″. 
Features and benefits:
Grass Catcher: 
The Sun Joe mower won't spread clumps of grass around your yard as it comes with a large 11-gallon rear bag.  
Motor: 
It features an efficient brushless motor with a power output of 670W and will maximize your mower's performance. 
Performance: 
This mower can glide over rough surfaces with ease, and it will provide you with precision cuts. 
There is no need to be skeptical about this lawnmower. You can keep trust in us when we say that the Sun Joe 24V mower is worth purchasing. 
9# Sun Joe 14 in. MJ401C Cordless Lawn Mower, 28V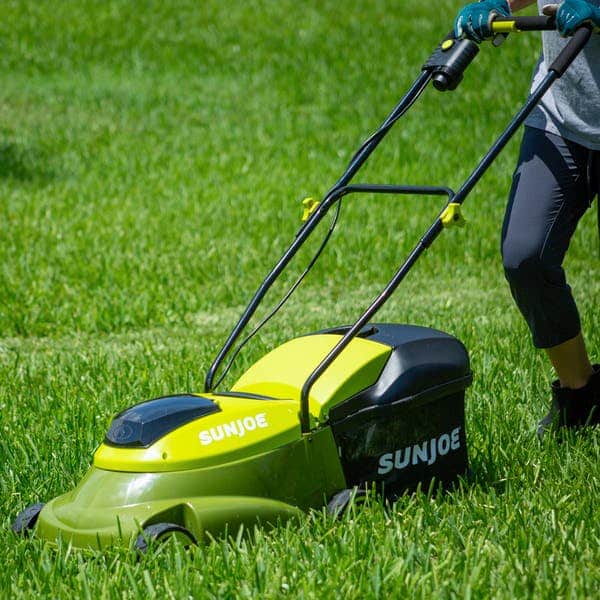 Yet another Sun Joe cordless mower has taken a spot on our list. If you're thinking maintaining a corded or gas-powered mower is too much of a hassle, you should consider this 28V cordless mower. 
This mower features a sharp blade made of steel that has a cutting path of 14,". And it will provide you with crisp cuts every time you mow your yard. 
Features and benefits:
Runtime: 
It's powered by a 28V Li-ion battery, and it provides the users with a total runtime of 25 minutes. 
Quality: 
The Sun Joe 28V mower is quite convenient to use. It can mow a maximum of ten thousand square feet of land on a single charge. 
Bag: 
It features a grass catcher with a 10.6-gallon capacity. You can easily take it out and dispose of the clippings. 
The Sun Joe 28V mower is pretty lightweight and easy to maneuver. It's also quite affordable, and so you should consider it.
10# Greenworks 25322 G-MAX 40V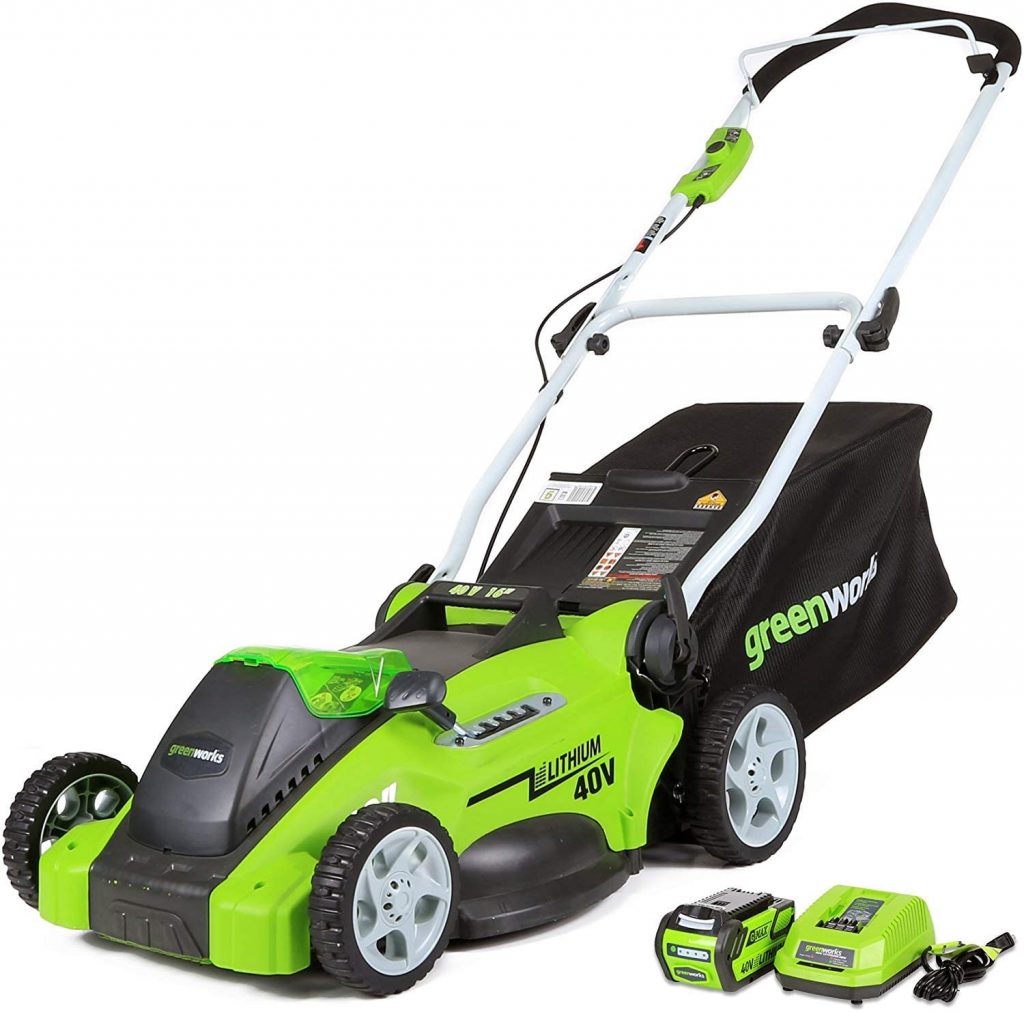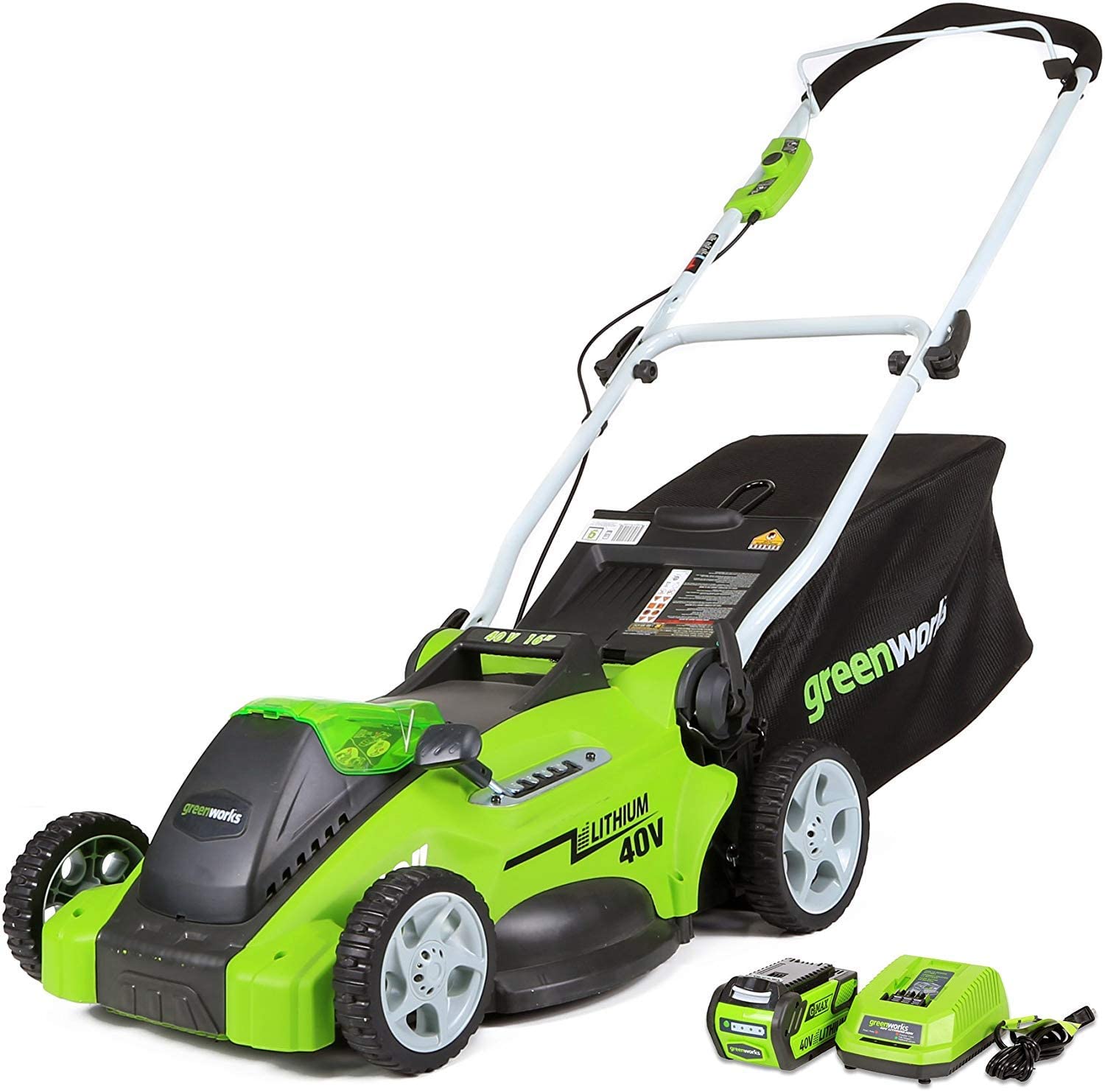 The Greenworks 25322 is a two-in-one cordless battery-powered lawnmower. It doesn't create that much noise and vibration when compared to gas-powered mowers. It can be operated smoothly, even in harsh mowing conditions. 
You'll get a runtime of 45 to 60 minutes, and that's more than enough time to mow half an acre of land. 
Features and benefits:
Deck: 
It features a compact 16-inch deck that can easily maneuver around tight spaces and obstacles. 
Height Adjustment: 
The user can choose from five different height adjustment positions. The heights range from 1.25" to 3.38". 
Wheels: 
The Greenworks 25322 mower comes with 7″ rear tires, and 6″ front tires.These tires can easily maneuver over steep slopes. 
Nothing beats Greenworks when it comes to cordless lawnmowers. The 25322 model provides exceptional performance at a reasonable price.
Buying Guide
When it comes to buying a product on a specific budget, you cannot go through the whole process blindly. You have to gather as much knowledge as possible regarding the products that are available in the market. 
That's why in order to help you, we will now discuss and analyze the factors that you need to consider before buying a mower under $300: 
Performance
Buying a high-performance lawnmower should be your top priority. Now you might be thinking that performance is a vague term, and determining the performance of a mower is quite tricky. 
Well, you can look at the runtime of the mower, and you can also look at how much land it can cover on a single run to determine its performance. 
Self-Propulsion
You have to buy a mower that comes with a self-propulsion feature. That will make the task of mowing the lawn much easier for you.
If you buy a regular push mower, you'll have to push it forward on every incline, which would be tedious. Don't you agree?
User interface
This is a feature that no one talks about, but it's also a crucial factor that you have to consider. The user interface i.e., the controls of the mower, has to be as user-friendly as possible. 
Cutting Height
The mower that you're going to buy must have a wide range of height adjustment options available to the user. And it will enable you to customize the height according to the condition of your lawn. 
Final Verdict
A lawnmower is a tool that every homeowner needs. And having an excellent lawn mower can save you from a lot of trouble and frustration for years on end. But finding an exceptional mower under 300 might seem impossible.
But we sincerely hope that our list has made you realize that such a task is actually possible. We have only included the top-rated mowers in the industry on our list of best lawn mowers under 300. 
Still, in case you want to know about our top pick, we must tell you that Troy-Bilt TB115 is the best mower in the market. Its powerful auto-choke engine and tri-action cutting system has made it our favorite choice.