Imagine you're working on cutting grass with your lawnmower, but suddenly the tire is separated from the rim. How annoying it is! Isn't it?
Well, to handle such a situation conveniently, you need to know what's the actual reason behind this problem. Now the question may come, what should you do to solve this problem? 
Okay, To fix this kind of problem, you need a clear idea of regulating the lawn mower tire. In this article, you will get to know how to fix a tire off the rim, as it's really important to learn how to fix the wheels on a lawn mower. 
So let's start our journey.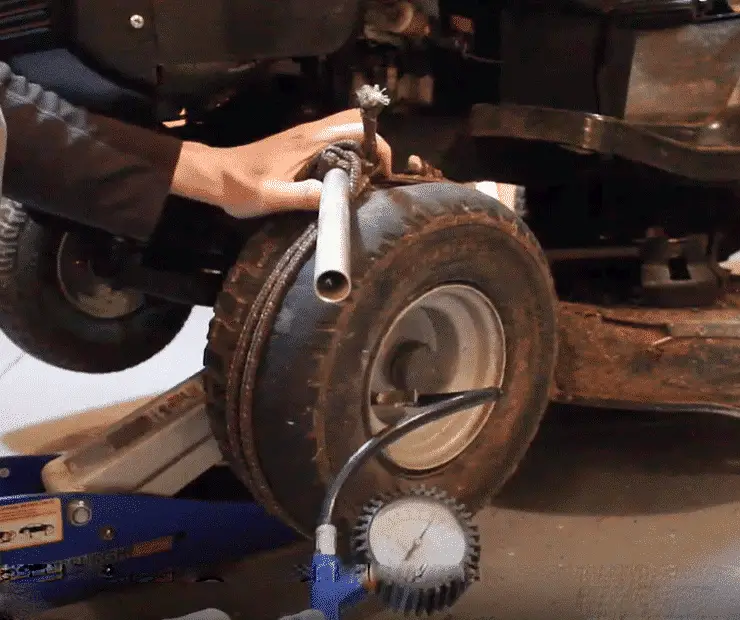 In this content you'll learn:
How To Fix Lawn Mower Tire Off Rim?
As a regular user of a lawnmower, separating a tire from its rim is not a mystery to you. It can happen for the constant use of a lawnmower. But you have to learn how to fix this kind of problem. 
Let's describe it step by step. 
Identify The Actual Problem
Before starting the process, you have to identify the original problem that happened with your tire. The tire may lose its inside air pressure. And when it loses its air pressure, it becomes a flat tire. 
Moreover, the tire also can face the bead-off problem. Whatever it is, you need to identify the main problem and go forward to solve it. 
Park The Mower
First of all, you need to park your lawnmower in a safe and balanced space where the repairing process will be comfortable. Your garage or a free space will be the perfect parking place.  Make sure that it will not start accidentally. 
Dispel The Tire
After parking it perfectly, you need to remove the tire from the rim. For this task, slide the jack stand and raise the lawnmower. You need to raise it to lift your flat tire. 
Now detach the debris cap. After detaching the debris cap, remove the tire from the rim by blading your screwdriver on the rim. 
Make Needed Repairs
You've already triggered your problem. So this time you need to make suitable repairs. If the problem with the tire is not major at all, then just repair the old tire and place it again.
Non-major problems include tire split, puncture, or bead-off. This kind of problem never requires a new tire. 
On the other hand, if the tire faces a major problem and is difficult to repair, then replace with a new one. 
Replace With A New Tire
Replacing a new tire is not a hard job at all. After removing the old tire, install a new one on the rim. Do it comfortably with your screwdrivers. Never forget to apply the tire seal while installing a new one. It will make your tire more durable. 
Add Air Pressure
Now you need to add air pressure to your new tire. Remember, when you repair your old tire and install it again, it requires a double-check before adding air pressure. This step will help you to avoid further reconstruction.  
However, check the air pressure to make sure that the entire thing is suitable to run the wheel. 
Complete The Process 
Set the tire perfectly. Remove the jack stand from under the mower. Place your lawnmower into a vertical position and start it to run. 
Some Necessary Tips For You
You may find a wide variety in the size of tires. So you have to select the perfect one for your lawnmower.
Arranging repair equipment is another vital matter. So never forget to do that. 
Verdict
A properly working tire is really a vital tool for a lawnmower. So to get an excellent lawn, you should repair your mower tire perfectly. You might also want to add a tube to your lawn mower's tires for added protection. 
I hope you have a clear concept now on how to fix a lawn mower tire off rim. Now, fix your mower tire and get a beautiful lawn. Never forget to maintain your safety.