Want to have your lawn mowed effortlessly? Then there is no alternative to a zero turn mower.
I think there is no need to explain to you why this type of mower is great in use. Rather let's know how you can get the one.
You know the difficulties are here. But I never faced such difficulties as I rely on top brand Troy Bilt.
And based on my first hand experience, I have come forward to help you. Excited to know the details? Be patient.
Here i am going to share some of the best Troy Bilt zero turn mowers that are clearly ahead in their quality and performance.
So let's see. 
In this content you'll learn:
4 Best Troy Bilt Zero Turn Mowers
In this part, let me explain to you how we sorted out these 4 products. The task was not easy at all. We went through a planned word for that.
We ran an intensive market research and tested out numbers of products. And finally, we picked these 4.
Hopefully, you will find your desired one. 
1. Troy Bilt Mustang Z42 Lawn Mower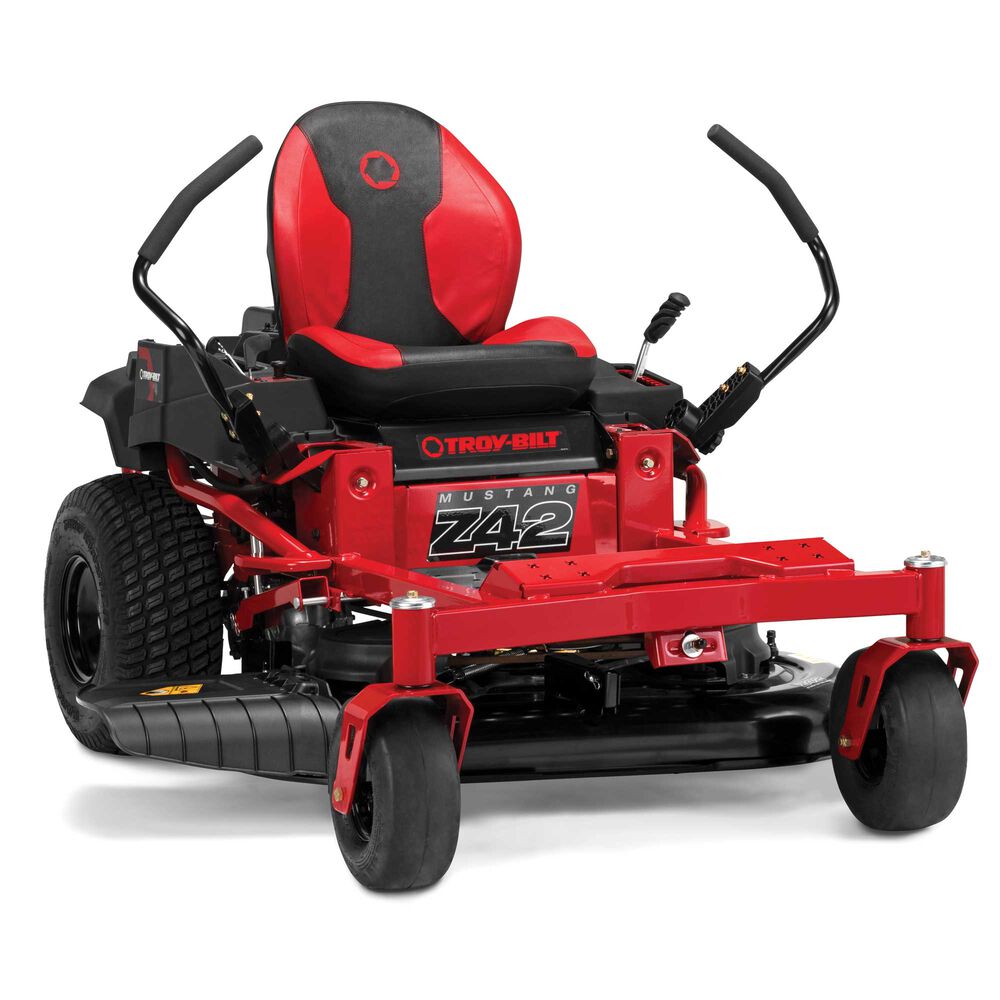 The Mustang Z42 is a gas powered zero turn mower that is specially designed for larger lawn. It may even be used to mow a bit of a hilly lawn.
This mower is engineered in such a way that it takes less time to mow a large lawn, thanks to its zero-turn capacity as well as hydrostatic transmission system.  
Moreover, the mower comes with a  durable tubular frame that enhances its strength and longevity. One of the most important things is that the device is fitted with a 679 cc Troy-Bilt twin cylinder engine that delivers more than enough power to mow the lawn perfectly. 
The Mustang Z42 features top-quality lap bar controls that make it easy to control. And it is featured with a special mechanism for engaging the blade.  
In addition, this mower is fairly easy to clean due to its built-in deck wash adapter. You can easily fix a garden hose for cleaning the grass. 
Features and Benefits:
Design and Construction
The Mustang Z42 features  an ergonomic design and durable construction. It is fitted with a heavy-duty fully welded 2" tubular frame that offers the optimal stability.
Power and Performance
The engine of this device is featured with full-pressure lubrication that makes sure an easy and smooth refill with oil. In fact, it offers reliable performance.
It features effective zero-turn performance due to its double hydrostatic transmission. So it offers excellent maneuverability even in a slightly hilly lawn.
Easy Cutting 
The model is outfitted with a dash-mounted knob which will allow you to engage the cutting blade quickly and conveniently.
Comfort
You can comfortably clean the grass clippings owing to the integrated gas washer. Apart from that, with this mower, you will enjoy a comfortable riding, thanks to its comfy gripped high back seat. Not only that, it also features comfy lap bars with cushions.
Safety 
Most importantly, the mower comes with a built-in parking brake that prevents mishaps. 
Attachments 
This lawn mower can be fitted with a rear bagger as well as mulching kit that are sold separately. It also can be fitted with a rear hitch that is also sold separately.
Now, if you are looking for a sophisticated gas lawn mower with the zero turn capability, then the Mustang Z42 can be a great option for you.
2. Troy Bilt Mustang FIT 34 Lawn Mower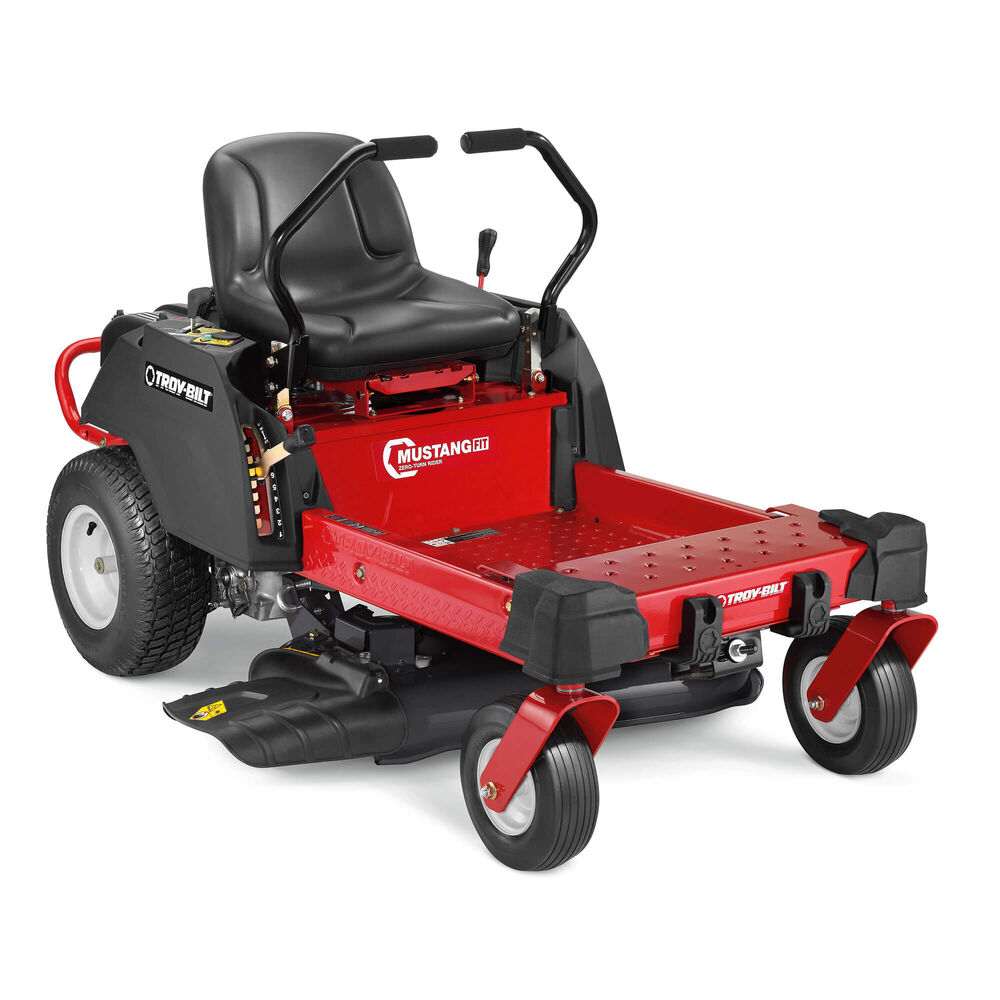 Are you looking for a compact mower with zero-turn capability? If so, then the Mustang FIT 34 is an option that you can choose without any hesitation.
This lawn mower is built to deliver high-performance. It may even tackle a large lawn with its powerful and top-rated engine as well as dual hydrostatic transmission. Moreover, the mower is fitted with a reinforced frame that extends its longevity. 
With this residential zero-turn lawn mower, you can quickly and effectively mow your lawn due to its lap bar steering control. It even features a height adjustment system.
To be more specific, the cutting height of this residential mower can be adjusted in 8 positions, ranging from 1.25 in. to 3.75 in. 
In addition, the mower comes with a soft high-back seat to add extra comfort for the user. This versatile mower is fitted with attachments like a mulching kit, and rear discharge bag that makes it more functional. 
Features and Benefits:
Performance:
With a displacement of 452 cc single-cylinder OHV Troy-Bilt engine and its superb lubrication system, the mower ensures smoother and reliable operation. Remarkably, the device itself features dual hydrostatic transmission that makes sure fast and efficient mowing.
The best thing is that the mower offers excellent maneuverability as it features 7 MPH forward speed and 2.5 MPH reverse speed. 
Deck: 
The mower is equipped with a stamped deck. And the deck is made from 13 gauge steel that makes it highly durable. In fact, this deck consists of a couple of sharp blades that makes the cutting much easier.
Cutting Options:
The mower comes with improved cutting capacity. And with the side discharge capability, the mower can cut the grass conveniently. 
Maneuverability:
When it comes to talking about maneuverability, this residential zero-turn model is excellent for sure. With the maximum of 7 mph and 2.5 mph forward and reverse speed successively, this mower offers improved maneuverability.
Another important factor is that it features a rear wheel drive system and its 0 turn capability.
Wheels:
The lawn mower is armed with 18 inches rear as well as 11 inches rear wheels. 
Overall, the mower is made from rust-resistant materials, so it will last longer. With its impressive features and benefits, this lawn mower can be a nice option for the homeowners.
3. Troy Bilt Mustang Z50 Lawn Mower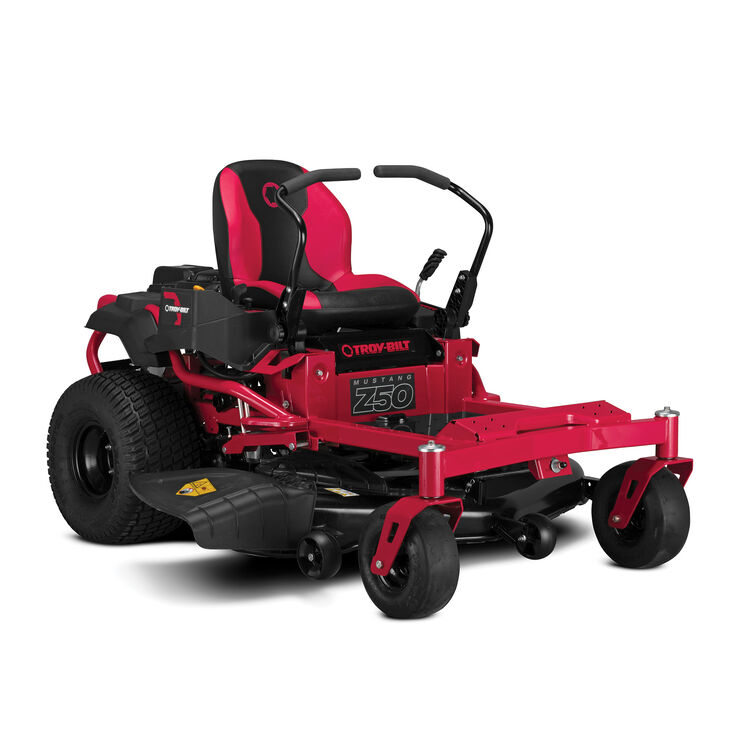 The Mustang Z50 is pretty much similar to the first model. In fact, this model is slightly more powerful than that of the Z42 model.
But the main difference is the mowing deck. The Z50 comes with a 50 inches mowing  deck that can cover a wider area on a single pass.  
It may even handle a large hilly lawn efficiently, thanks to its heavy-duty wider mowing deck. And this deck is featured with anti-scalp wheels to prevent it from getting damaged. It also features a front roller. 
Moreover, the mower comes with a purely welded tubular frame for enhancing robustness and longevity.And one of the most convenient things is that the mower features a 9 position lever with fast and efficient blade engagement. 
Features and Benefits:
Engine
The Troy Bilt Z50 is fitted with a 679 cc OHV twin cylinder engine that offers a sufficient amount of power to cut the grass with enough run time. 
Speed
This model comes with the maximum forward speed of 7 MPH as well reverse speed of 2.5 MPH. 
Drive System
The mower is featured with hydro-static transmission that makes the mowing process easier. 
Mowing Deck
The deck of this lawn mower is made from 12 gauge steel. So this deck is incredibly durable. The deck even won't be damaged, thanks to its anti-scalp protection.
Cutting Quality
This top-rated lawn mower has outstanding cutting quality. And it is armed with 3 sharp blades. The model also features a cutting height adjustment system.
Comfort
You can comfortably ride this lawn mower as it comes with the vibration-free soft and comfy high-back seat. The mower also incorporates a foam-gripped steering wheel for better control. 
And for extending run time, the device is fitted with a large fuel tank that can contain 3.5 Gal. fuel.  
Safety
The lap bar controls of this mower is featured with a built-in parking brake that can fastly and safely turn off the device to prevent the mishap. 
Deck Cleaning
A garden hose can be simply attached to the built-in deck wash system to easily and efficiently clean the mower by removing grass from the deck. 
Spare
To make it more functional, you can attach a mulching kit to your mower which is sold separately. And the fuel stabilizers also can be used to maintain the engine of your device.
This mowing device would be the best for those who own a large lawn and want to mow it quickly and efficiently.
4. Troy Bilt Mustang Pivot 46 Lawn Mower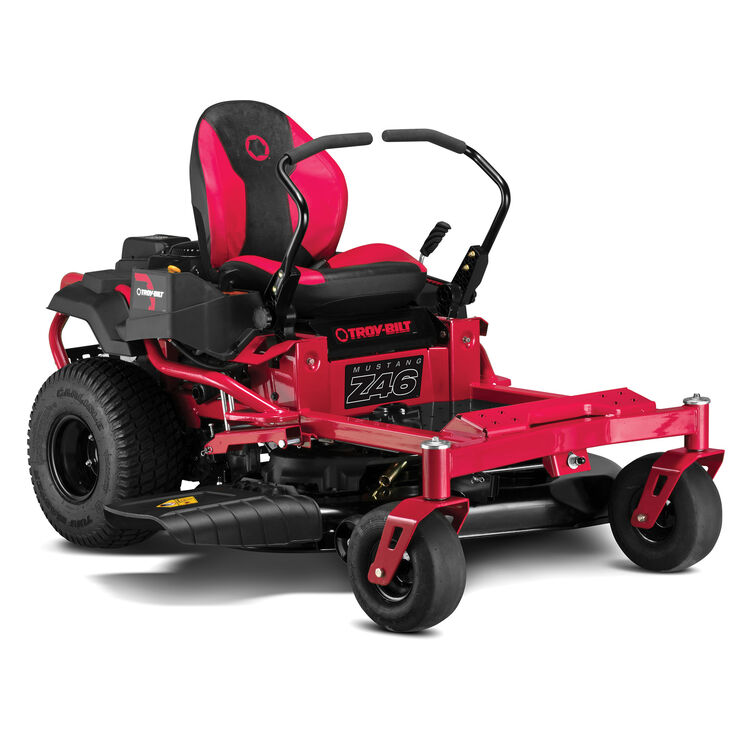 This is another awesome gas lawn mower with zero turn capability. The Mustang Pivot 46 mower is designed for residential purpose. 
But even though the mower is intended for residential use, it is featured with the heavy-duty design and construction. The Pivot 46 lawn mower perfectly combines the precision, power and performance. 
The model is powered by gas and it runs on a powerful engine with the displacement of 725 cc. And it is equipped with a heavy-duty 46" mowing deck for a wider pass.
The mower is fitted with 18" rear wheels as well as 11" front wheels with rear drive system. However, it is worth mentioning that the 10W-30 type oil is recommended for this mower. Let's dive to know more in detail about this product.
Features and Benefits:
Engine
The engine of this lawn mower is extremely powerful. And it delivers plenty of power to mow the lawn over an extended period of time. And this kohler engine has a large fuel tank that has the capacity to hold 2.8 gallons of fuel.
Deck
Well, the mower comes with a high-performance stamped deck that is made from top-quality materials. To be specific, the deck is made from 12 gauge steel that makes it incredibly durable. And this deck is featured with a pair of sharp blades for smoother cutting. 
Comfort and Ease of Use
For added comfort, the model is featured with the Electric PTO that allows for quick and efficient blade engagement. Moreover, it comes with a Comfy high-back seat. And this seat features double suspension springs that make sure smooth and comfortable riding. 
Apart from that, the mower boats Patented Synchro Steer technology, so you will get an excellent zero turn capability from this mower. And it also features an ergonomically designed steering wheel.  
Drive  
The Pivot 46 is featured with the rear wheel drive system that makes it more powerful and efficient. 
If you do own a lawn with ½ to 2 acre area, then this lawn mower may be a great option for you. The mower can handle both the flat and hilly lawn. So definitely you can consider this lawn mower as it offers great maneuverability. 
Things To Consider To Choose The Best Troy Bilt Zero Turn Mower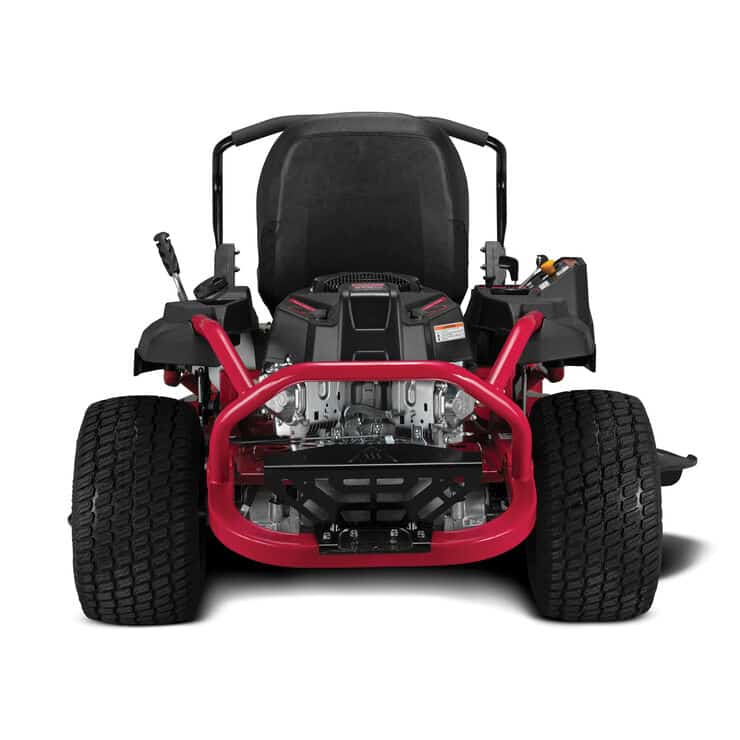 Surely you know that the Troy Bilt is a top-leading lawn mower manufacturer. But they come with a ton of product lines. So you must have to consider some essential factors to choose the best of the best products from this reputed brand. 
Engine HP
The performance of the engine is a great issue in terms of choosing a zero turn lawn mower. You can complete your mowing task more quickly and efficiently if your mower comes with a high-performance engine with more HP. The heavy-duty engine will make your job done faster and easier. 
If you do own, however, a small yard, then the mower with a low horsepower engine can be perfect for you. But you must have to choose a model with more HP engine if you have a larger property.
Cutting Width
Indeed! It's a big deal when it comes to choosing a top-rated zero turn mower. But the cutting width only can be a factor if you own a large lawn and want to mow it quickly. But when you have a smaller property, then you may choose a lawn mower with a smaller cutting deck.
Maneuverability
You should choose the model that is easy to maneuver, especially for a smaller yard. 
Fuel Capacity
It's really an important factor in terms of choosing a gas powered lawn mower with zero turn features. If your device has more fuel capacity, you will get enough run time to mow your lawn even without any interruption.
Comfort
You may know how important it is to have a mower that is comfortable to operate. In this case, you have to make sure that the mower comes with a comfortable seat and ergonomic steering wheel.
Final Verdict: To recapitulate, I'd like to say that these 4 Best Troy Bilt Zero Turn Mowers are the best-rated products available on the market today. Have a look at which oil will best serve your Troy Bilt lawn mower to ensure proper maintenance of the engine.
You know whether you own a flat or slightly hilly lawn, these lawn mowers can be perfect for both options.
Hope you are now confident enough to pick your best-suited one. But if you have yet any confusion, do not hesitate to ask us.
Happy Mowing.