There is no such thing as an ideal-sized lawn mower. It depends on your preferences, the size of your lawn, and sometimes even your budget. So, when it comes to "What size mower do I need," the answer is, it depends.
In this content you'll learn:
Why Is The Size Of My Lawn Mower Important?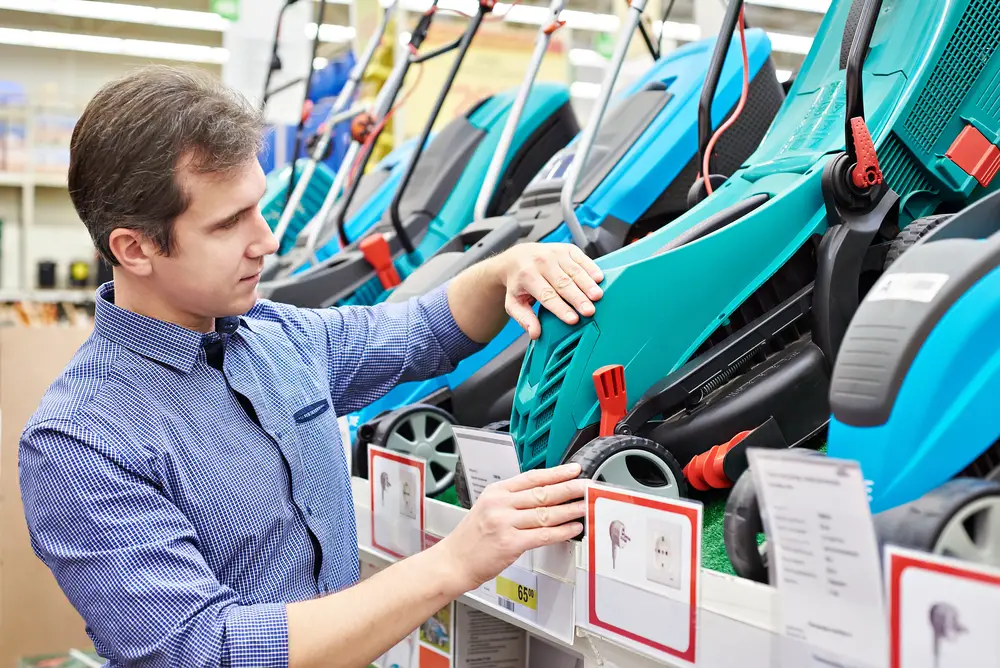 Lawn mower size is more important when choosing a lawn mower than it first appears. It not only reduces spending but also reduces frustration. Here are some more reasons why lawn mower size is important.
The Size of the Yard
This is the most important factor you need to consider before buying you lawn mower.
If your lawn is a quarter acre or less (1,011.71 square meters), you should buy a walk-behind lawn mower. Any bigger than that and you'll want to use a riding lawn mower. If your lawn is small, you can still get a riding lawn mower, but you'll want to go with a smaller model.
In general, for smaller lawns, you'll want a riding lawn mower with a cutting deck of 40 in (101.6 cm) or less. For bigger lawns, you'll want a cutting deck that's 42 in (106.68 cm) and up.
The Type Of Fuel Used
This is more for people who want to go easy on the environment. If your lawn is smaller, go with an electric lawn mower. They don't require a lot of maintenance and you won't have to buy any fuel.
For bigger yards, gas-powered lawn mowers are a better choice. They're generally more powerful and have more size choices.
How Much Time You Have
Not everyone has a lot of time to cut the lawn. Not everyone wants to have that time. A smaller lawn mower will take longer to cut a lawn, no matter the size of the lawn.
On the other side of things, a bigger lawn mower will take less time to cut a lawn. So, how much time do you have, and how much are you willing to spend on cutting the lawn?
The Different Lawn Mower Types And Their Average Sizes
Now, let's take a look at the different types of lawn mowers and what sizes they come in.
Sizes of Zero-Turn Lawn Mowers
A zero-turn lawn mower's segments are very similar to those of most riding-type lawn mowers. Usually, they are about 4 feet (1.21 m) tall, 6 (1.83 m) or 7 (2.13 m) feet long, and 4 (1.22 m) feet wide.
The key distinction is that some have cutting decks larger than others. Notably, the trimming decks of these lawn mowers can go all the way up to 72 in (182.88 cm).
Sizes of Riding Lawn Mowers
The size of the cutting deck of a riding lawn mower normally lies between 36 in (91.44 cm) and 54 in (137.16 cm). This is true for lawn tractors too. In general, they are 6 feet (1.83 m) in length and up to 4 feet (1.21 m) in total height.
Sizes of Push And Self-Propelled Lawn Mowers
Push lawn mowers and self-propelled lawn mowers typically have cutting decks ranging from 21 in (55.88 cm) to 36 in (91.44 cm). These lawn mowers are around 3 feet (0.91 m) in height and 5 feet (1.52 m) long.
Electric lawn mowers tend to be within the same range, although usually, they're on the smaller end of that range.
Size of Reel Lawn Mowers
A reel lawn mower's width is typically 13 in (33.02 cm). They are around 3 feet (0.91 m) tall and 2 feet (0.61 m) long.
Keep in mind that reel lawn mowers are only going to be good for very small lawns. Anything too large and you'll be exhausted and frustrated.
In Conclusion: What Size Mower Do I Need?
Lawn mower size is no joke. That's why it's good to ask, "What size mower do I need?" Now you know, and you're well on your way to a great purchase and a great mowing experience.
So, which lawn mower size are you planning on buying? What are your reasons for doing so? We'd love to hear your thoughts in the comments below!