Greenworks has been producing numbers of lawnmowers from the very beginning of their journey in the mower industry. And 80v mowers are one of the best innovations of this brand.
Is it my mere statement? Not at all. Lots of users acknowledge it. And that's why in an 80v mower, Greenworks is the name trust.
You also want to have a Greenworks mower 80v, right? Of course, you can pick the best one as we've brought up here the topmost mower from the Greenworks. And you know this one is just shaking the market with its service.
So, without delay more, let's get to know about this.    
In this content you'll learn:
Why Should You Buy An 80v Mower?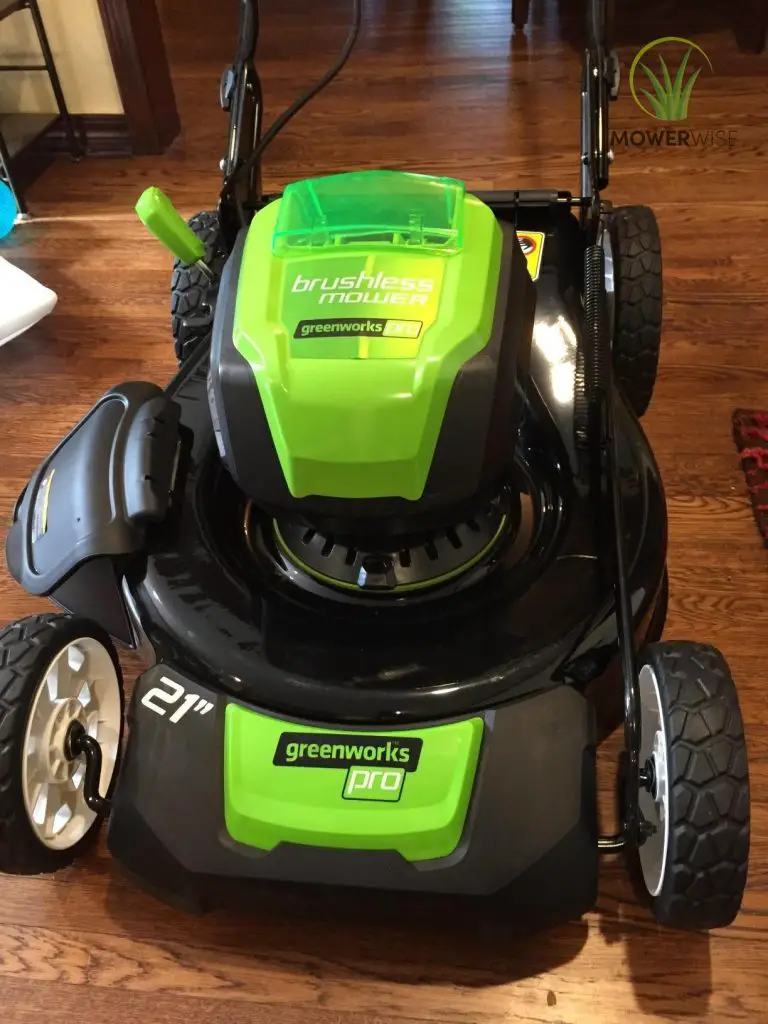 This question is probably going through your mind. And that's why, first of all, we will let you know why an 80V mower would be a great choice for you. 
First of all, the 80V battery is way more powerful than the 40V or 60V battery. So the Greenworks mower 80V will have better power and performance compared to the Greenworks mower 60V. 
Also, this mower is energy-efficient. It detects the roughness of the grass and uses engine-power accordingly. So an 80V mower is definitely worth considering. 
Greenworks PRO 2501202 21-Inch 80V Cordless Lawn Mower Review
Are you thinking about taking your mowing capabilities to the next level? If you are, then we have some good news for you. The Greenworks Pro 80V will provide you with the ultimate cutting performance and reliability. 
As the name suggests, the Greenworks Pro was made for landscape professionals. And it is one of the most popular and well-received mowers made by Greenworkstools. 
We have tested out a lot of Greenworks lawn mowers in the past couple of years. But the Greenworks pro 80V had the most extended runtime among all the mowers that we tested. It ran non-stop for 60 minutes without bogging down even once. 
A powerful 80V Li-ion battery powers this mower. And the power output of this battery is almost as much as some of the gas-powered lawn mowers. That's why if you're looking for an alternative to buying a gas-powered mower, then the Greenworks Pro 2501202 should be your top choice. 
Features and benefits:
Versatility: 
You'll definitely be astonished at how versatile this lawnmower really is. According to the manufacturer, the Greenworks pro is a 3-in-1 lawnmower. That means it is suitable for mowing in three different cutting modes, such as rear bagging, side discharge, and mulching. 
Performance:
The Greenworks Pro is capable of mowing 10,000 sq. ft. on a single charge. Also, it's really quiet, and it doesn't create that much vibration. 
Battery:
As we have mentioned before, an 80V Li-ion battery powers this lawnmower. Greenworks has used state of the art technology to manufacture this battery. 
The battery is also quite versatile, and it can be used in more than twenty outdoor Greenworks power equipment that uses 80V batteries. The battery also has a charge indicator on it. 
Starting: 
You won't have to go through the hassle of pulling cords to start the engine. The Greenworks Pro features an instant push-button starting mechanism that makes it easy for the user to start the mower. 
SmartCut Technology 
This mower features a load-sensing system that can detect the height and toughness of the grass. This feature will increase the mower's speed if it faces tall, rugged grass. 
So, if you search for recommendations for buying a Greenworks electric mower, most of the people will suggest you purchase the Greenworks pro 80V. And now you know why.
After reading all of this mower's innovation, it should be quite clear why this mower is so popular. 
FAQ
Are Greenworks 80v Batteries Interchangeable?
The answer is yes. You can use the same 80V battery on different outdoor power equipment made by Greenworks. 
Is GreenWorks Worth Considering?
Greenworks have made a lot of high-quality products over the years. A lot of people agree that Greenworks is an excellent brand. 
How Long Does Greenworks 80v Battery Last?
Typically, the Greenworks 80V battery lasts for approximately 30 minutes to 1 hour.  
Final Verdict
And that marks the end of our review of the Greenworks Pro 80V cordless mower. Did you find our review interesting? We certainly hope that you did. 
This Greenworks mower 80V outperforms almost all of the other electric mowers that are currently available in the market. No other electric mower can even come close to its power-output and overall mowing-capability. 
And you can trust us when we say that there isn't a better option for you other than this mower.