Have you a large lawn. Then it is really good luck for you!
But you know it is also a hassle as you have to cut the grass of this large lawn regularly. You can tackle this hassle easily with a good walk behind mower.
Then where to get the best one? You can get the best one from the reputed brand like Toro. Yes, here you should rely on top brands only.
Toro has a proven track of making top-quality walk behind lawn mowers. But as they have numbers of such types of products, it may not be easy for you to pick the best one.
And considering it, we have designed this article with the best 3 Toro commercial walk behind mowers.
Let's explore.
In this content you'll learn:
Why Should You Buy A Commercial Walk-behind Mower?
You're probably wondering whether buying a commercial walk-behind mower is even worth it. Actually, there are several reasons to consider purchasing a high-quality walk-behind lawnmower. 
First of all, these mowers are capable of mowing large lawns, and they are surprisingly powerful.
Since they have compact designs, they are able to mow around tight spots, and they are easy to move around obstacles such as trees and rocks. You can also control these mowers quite easily. 
Furthermore, the walk-behind mowers are fairly affordable and they are much cheaper than riding or zero-turn lawn mowers.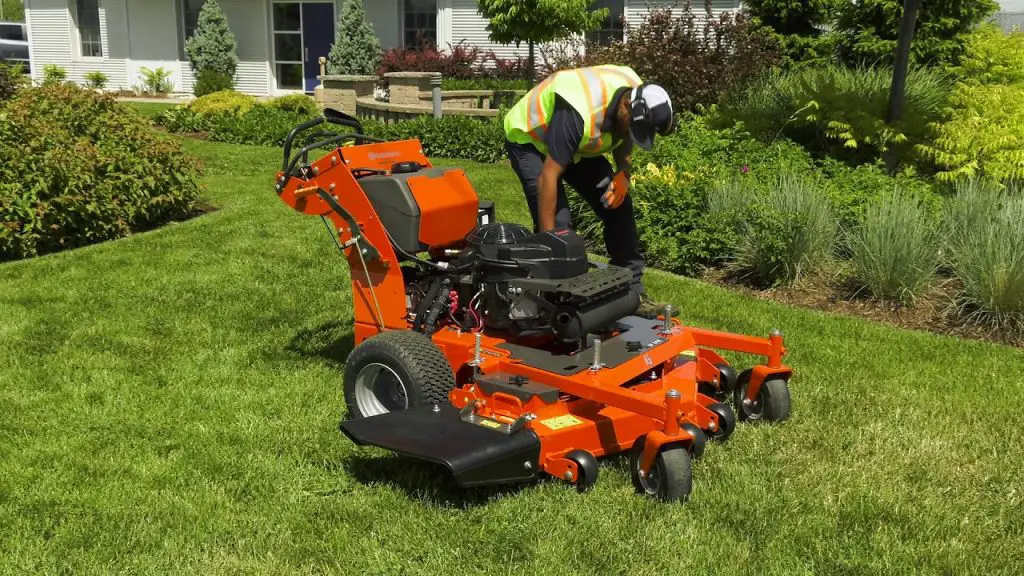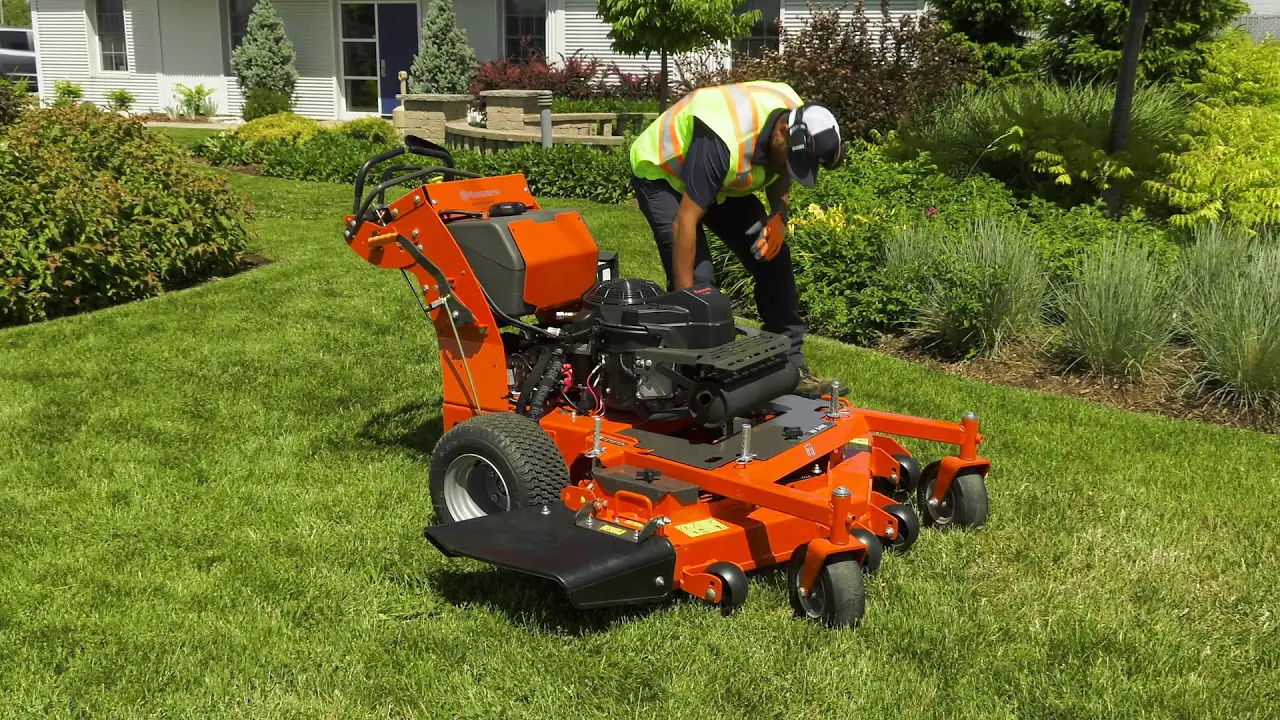 Top Three Toro Walk-behind Mowers
Choosing the best Toro commercial walk behind mower is not a straightforward task. You need to do thorough research and put a lot of time and effort into it. But let's face it. you really don't have that much time, right?
However, there is no need to worry. The research has already been done for you. The following Toro lawn mowers are the best in the business: 
1. Toro 30 in. 223cc TimeMaster Self-Propel Lawn Mower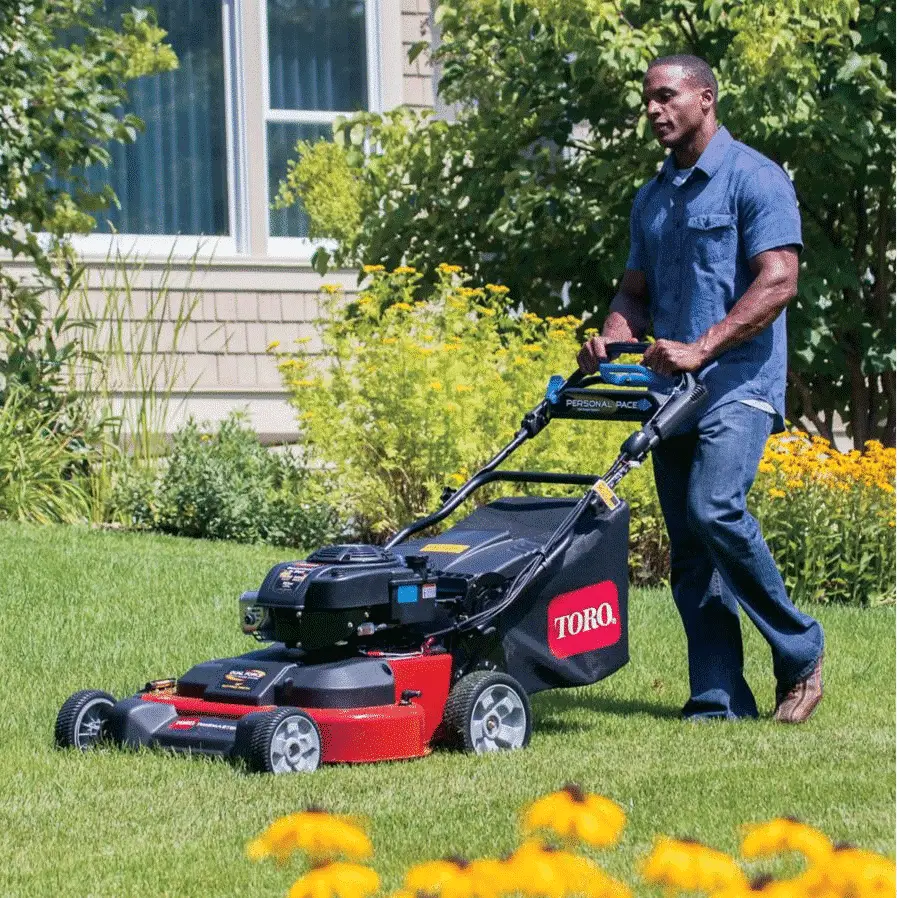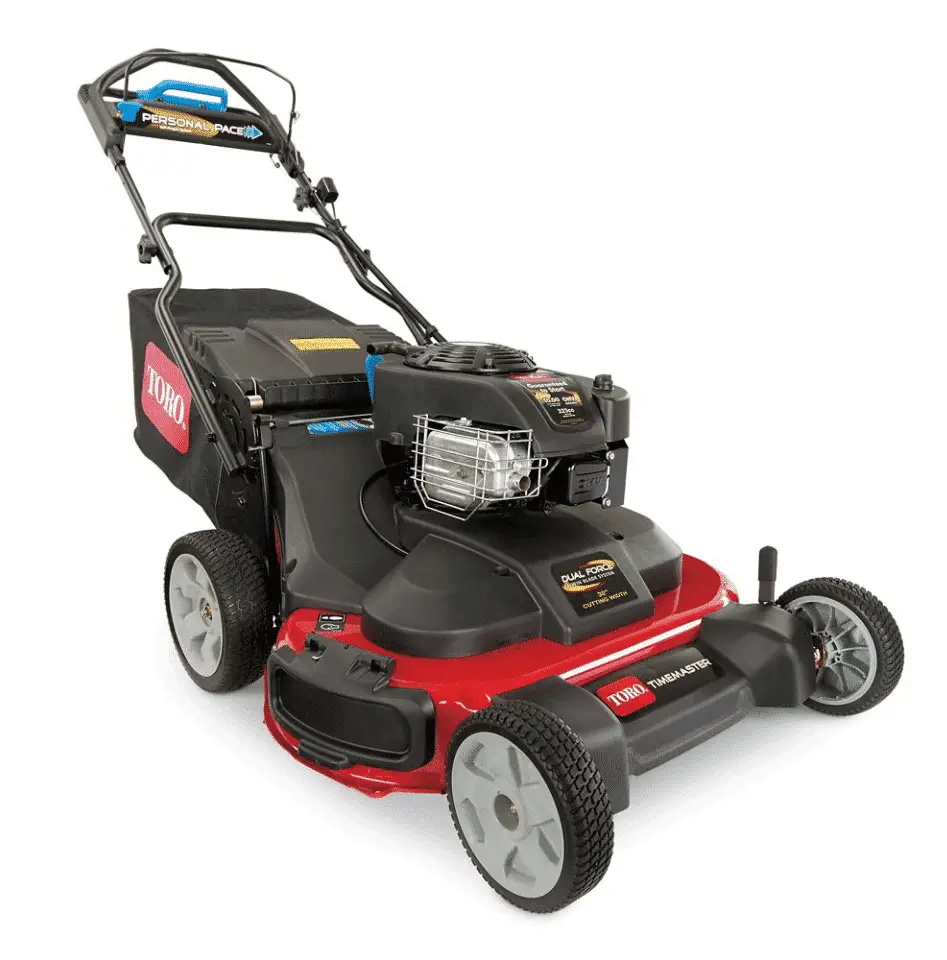 Toro TimeMaster lawnmower is a high-quality walk-behind mower. It's powered by a Briggs and Stratton engine. And the engine sets this mower apart from the other walk-behind mowers in the market. It also features a dual-blade system. 
Having two cutting blades enables the TimeMaster mower to have a wide cutting width. Also, it has a nice, compact design that makes it really easy to maneuver.
It features a smart personal pace system that determines the mower's speed according to the user's walking speed. And The self-propulsion system is controlled using the handlebar. You just need to push it forward to increase the mower's speed. 
Features and benefits:
Starting:
Starting this lawnmower is a straightforward process, but you have to be careful while doing it. First, you have to pull the cord to start the engine, and then you have to slowly pull the lever down to engage the blades.
Handlebar: 
The push handle is used to control the mower's speed. Its position can be adjusted by using the blue lever that's located on top of the deck. You can fold it horizontally and store it in your garage.
Cutting Modes:
The default cutting mode of this lawnmower is mulching. So, if you prefer bagging, you have to first take the mulching plug out of the mower and then install the bag.
Safety Stop: 
It features safety stop, and if you walk away from the Toro TimeMaster mower it will automatically stop the blades, but the engine will keep on running,
We were blown away by this lawnmower's quality. It's a powerful mower, and it provides the users with excellent cut quality. So you can just go ahead and purchase it. 
2. Toro 22 in. Recycler All-Wheel Drive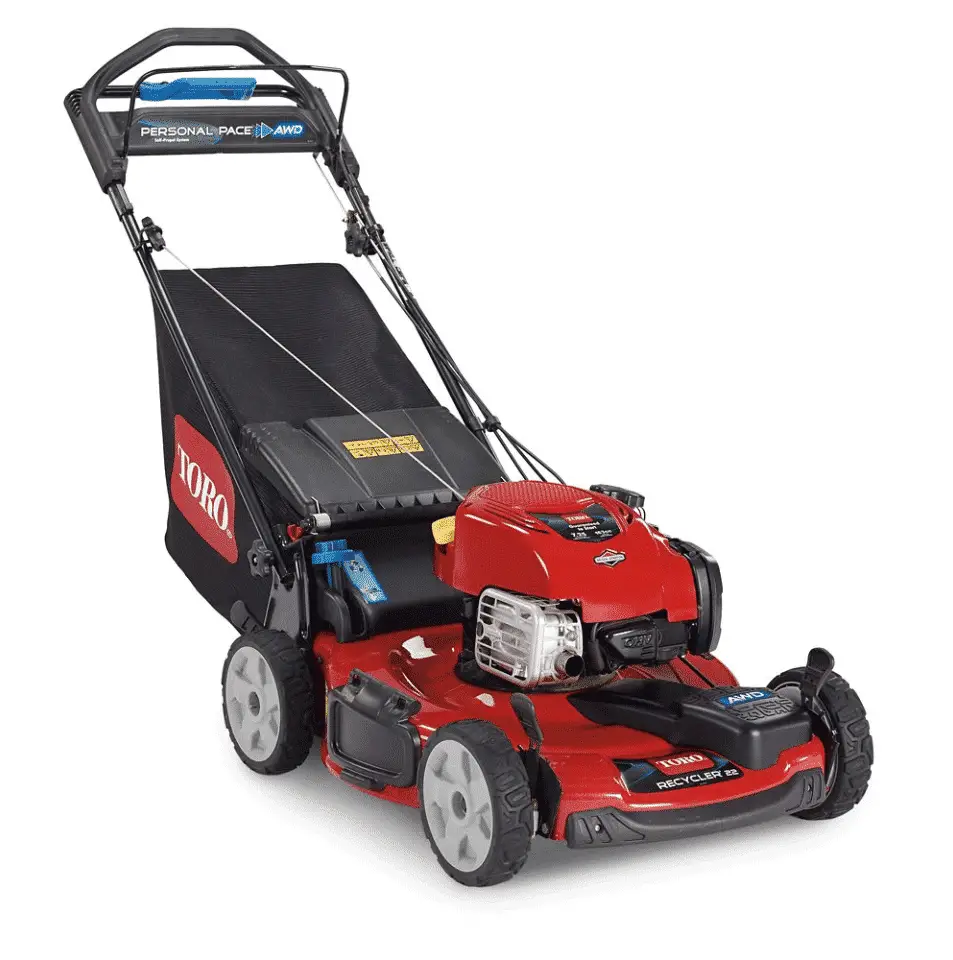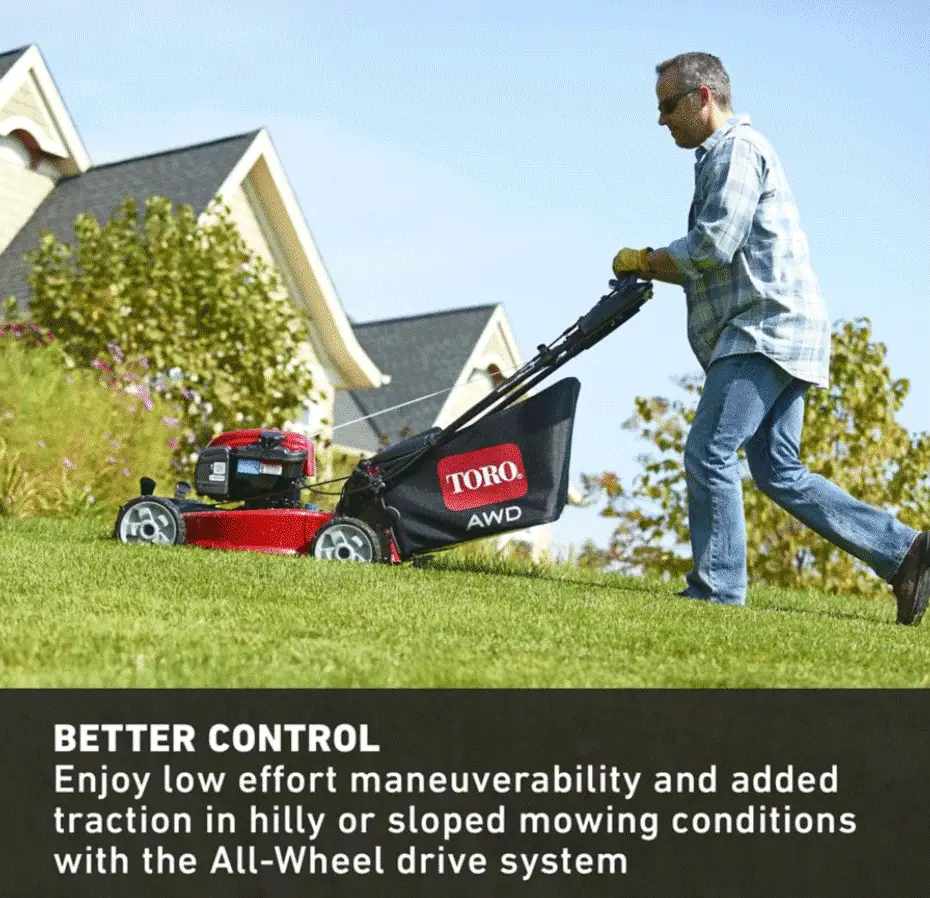 Are you looking for a mower that can tackle bumpy surfaces and other forms of obstacles? If so, then we would strongly recommend you consider buying the new Toro 22″ AWD recycler mower.
The Toro 22 recycler is a self-propelled mower that features Toro's proprietary all-wheel-drive technology. And this AWD technology enables this mower to generate a lot of traction so that it can propel itself properly, even on rough surfaces.  
This mower also comes with a fuel stabilizer that will extend your mower's lifespan. 
This lawnmower is excellent at mulching, and it can efficiently disperse the clippings throughout your yard. These clippings will work as a fertilizer and increase the beauty of your lawn. 
Features and benefits:
Maintenance: 
Does doing routine maintenance work on your lawnmower feel like a chore to you? If so, then we have good news for you. The Toro recycler won't require any kind of maintenance. 
Cleaning: 
Cleaning this lawnmower is a breeze. It has wash ports, and you can attach a hose to them to clean the deck.
Versatility: 
The Toro recycler mower is renowned for its versatility. It is able to mow in different cutting modes such as bagging, mulching, and side discharge.
Cutting Height:
You should be well aware of the fact that changing the cutting height can make a huge difference in your mower's overall performance. That's why Toro has included a 9-point height adjustment feature with this product. 
By now, it should be clear to you that the Toro 22″ recycler mower is a genuinely great lawnmower, and it won't disappoint you in terms of performance. 
3. Toro 21 in. 159cc Super Recycler Lawn Mower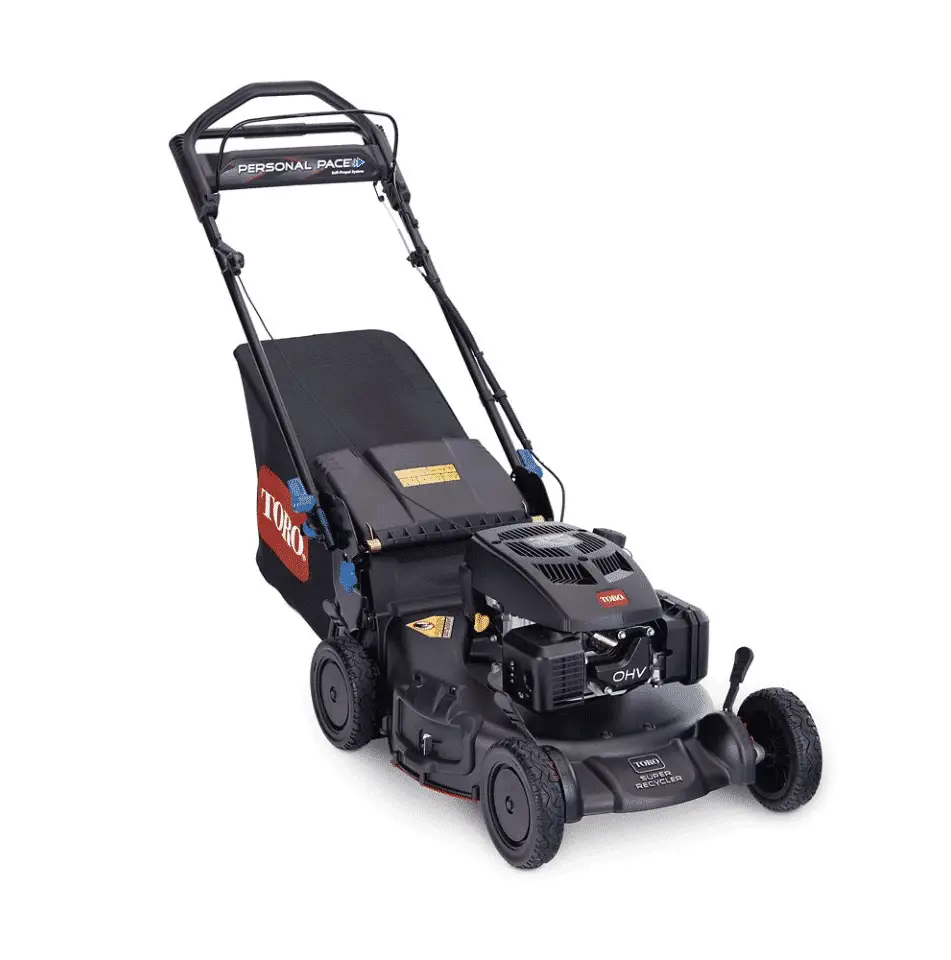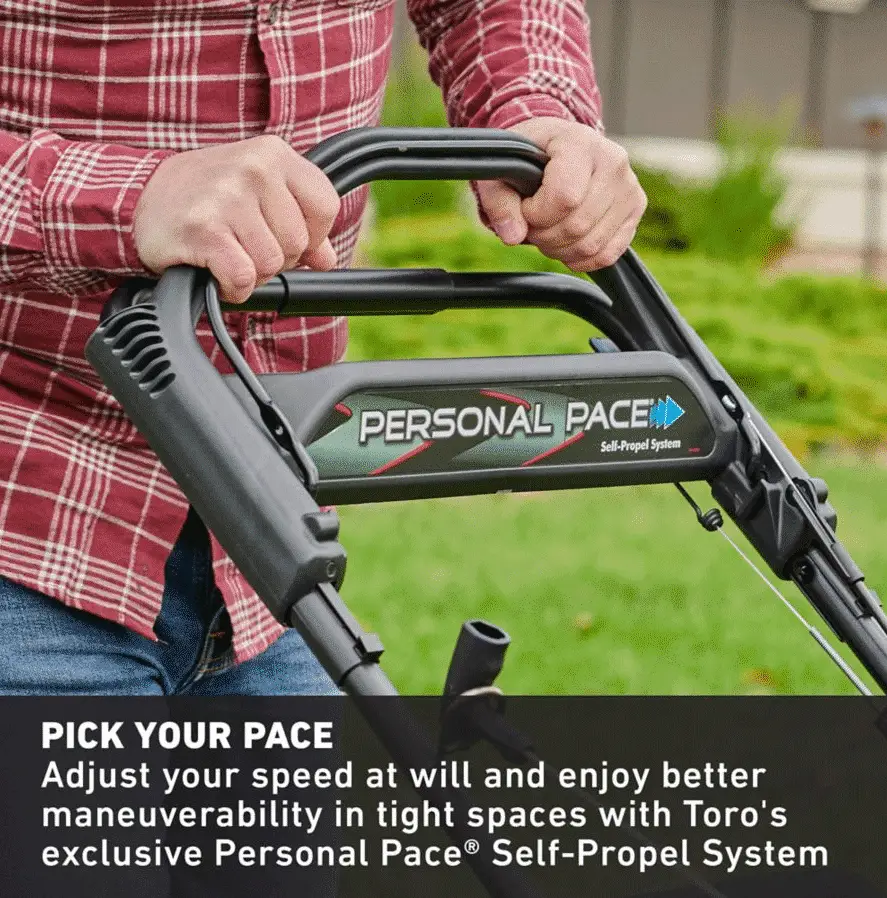 The Toro super recycler is a self-propelled, walk-behind lawn mower that features a classic SmartStow design. Toro even didn't modify its design when they updated this model. 
This mower will save you a lot of storage space due to its SmartStow design. Also, it has a compact 21″ deck that will make it easy for you to mow around tight spaces. It has an aluminum deck that's quite durable and resistant to rust. 
It also comes with a first-class cutting blade that has superior mulching capabilities. We were quite pleased with its cutting performance while mowing in mulching mode.
However, if you like bagging, this mower also comes with a bushel bag that can hold up to 2.1 gallons of grass clippings.
Overall, the Toro 21″ super recycler walk-behind mower is a versatile lawnmower with a lot of premium features. You won't be disappointed by its performance.
Features and benefits:
Construction: 
The Toro super recycler mower has a sturdy construction. And it will last for many years without even getting a scratch on it. 
Engine: 
This mower can mow through tall, thick grass even if it's wet. That's because a 163cc Briggs and Stratton engine powers it.
Speed:
Most of the self-propelled walk-behind lawn mowers in the market only feature a one-speed setting. But that's definitely not the case for the Toro super recycler mower. It features variable speed, and its maximum speed is 4.8MPH.
Height Adjustment: 
You can customize the height settings of this lawnmower. It has a 7 height adjustment position mechanism that ranges from 1.25" to 4.35".
Performance:
This mower has a gross torque of 7.25 ft. Lb. And it can mow .25 to .5 acres of land on every single run. 
Mowing with the Toro 21" super recycler mower was an enjoyable experience for us. We highly endorse this lawnmower. 
Buying Guide of Toro walk behind mower
Before buying a Toro walk behind mower, you must first have knowledge on what makes a lawnmower worth considering. You know lawn mowers are complex machines, and they come with a lot of features and functionalities.
That's why in the following guide, we will now discuss some of the important features that a lawnmower should have to make your life a bit easier: 
Type 
As you may already know, there are different types of walk-behind lawn mowers, and each has its own unique functionalities. So, you have to choose the type of mower that matches with your requirements. 
Typically, walk-behind mowers fall into two categories. The first category is electric mowers that are best suited for smaller lawns because they have less power. The second one is the gas-powered mowers. They are much more powerful, and they can handle large yards.
Push Vs. Self-propelled 
We suggest you go for a self-propelled mower instead of buying a push mower. That's because self-propelled mowers are much easier to maneuver, and they are also faster. Most of the Toro walk-behind mowers feature All Wheel Drive (AWD) that help in propelling the mower. 
Cutting Modes 
You should buy a lawnmower that excels at the cutting mode that you prefer the most. All of the mowers that we have reviewed in this article are tailor-made for mulching. But they also feature rear bagging and side discharge.
Changing the cutting mode is also easy. You just need to remove the mulch plug and attach the bagger.
Deck 
Typically, the walk-behind mowers made by Toro feature decks with cutting widths of 19-30 inches. The most commonly used material for constructing the decks is steel. But some mowers have decks made of aluminum and plastic.  
Although steel decks are really durable, they are prone to rust, and they also vibrate a lot. So you can consider buying a mower with an aluminum deck.  
Starting
There are different types of starting mechanism for Toro lawn mowers. The first type of starting is called the zone start. Here you have to hold a handle down and then pull a cord. Then there is the Blade-break-clutch system where if you let go of the handle, only then the blades stop moving, and the engine keeps running.
Final Verdict
And that marks the end of our list. So did you have fun reading about the best Toro commercial walk behind mower? We think so. And we believe that now you have all the necessary information you need to make the right choice. 
We had a lot of fun testing these products out for your convenience. And These three innovative lawn mowers are definitely top of the line, and you won't be disappointed if you choose one of them.
Still, we want you to make the best possible choice. That's why we suggest you go for the Toro 30 TimeMaster lawnmower. It should be no surprise to you that it took the top spot on the list. It has a large cutting deck, and also a convenient safety stop system.