Do you frequently trim your grass with a lawn mower or remove bramble with a brush-cutter? Then you might find it quite difficult to remove resilient plants in the countryside or forests. It becomes much harder when dealing with vast or rough regions. 
Therefore, in cases like these, a flail mower comes in very handy. But, what is a flail mower used for? Well, to get the answer, read through to the end of the article.
Let's get started.
In this content you'll learn:
What Is A Flail Mower Used For: The Ultimate Guideline
A flail mower can be useful in your yard or in a variety of agricultural tasks. It saves both time and labor. Hence, let's discuss what a flail mower is used for.
But first of all, let's get to know what a 'flail mower' actually is.
What is a flail mower?
As a piece of motorized lawn and agricultural equipment, a flail mower slashes and shreds any plant that it comes in contact with on the ground. It is mostly used to cut through thicker grass/scrubs that a standard lawn mower can't handle.
Quite a few of the basic types are self-powered, but others are mostly PTO-driven mini tractors. These are attached to the three-point hooks seen on the majority of mini tractors.
The name of a flail mower comes from the flails that are attached to its horizontal cylinder. The flails are also known as 'knives' or 'blades' by many mini tractors implement manufacturers. 
Furthermore, flail lines are frequently separated to provide a full cut. Depending on the manufacturer, the flails are connected to the barrel with chain links or caps.
The tractor's axle is aligned to the cylinder. In order to convey its rotational power to the drum, the PTO drive shaft has to establish a right angle with the tractor's plane through the employment of a gearbox. The flails are pushed out by centrifugal energy as the drum rotates.
Anyhow, a chain joins the bottom of regular flails, which are fashioned in the shape of a "T" or "Y." There are also trendy flails in a variety of forms for cutting larger brushes, and others that offer a clean and finished cut.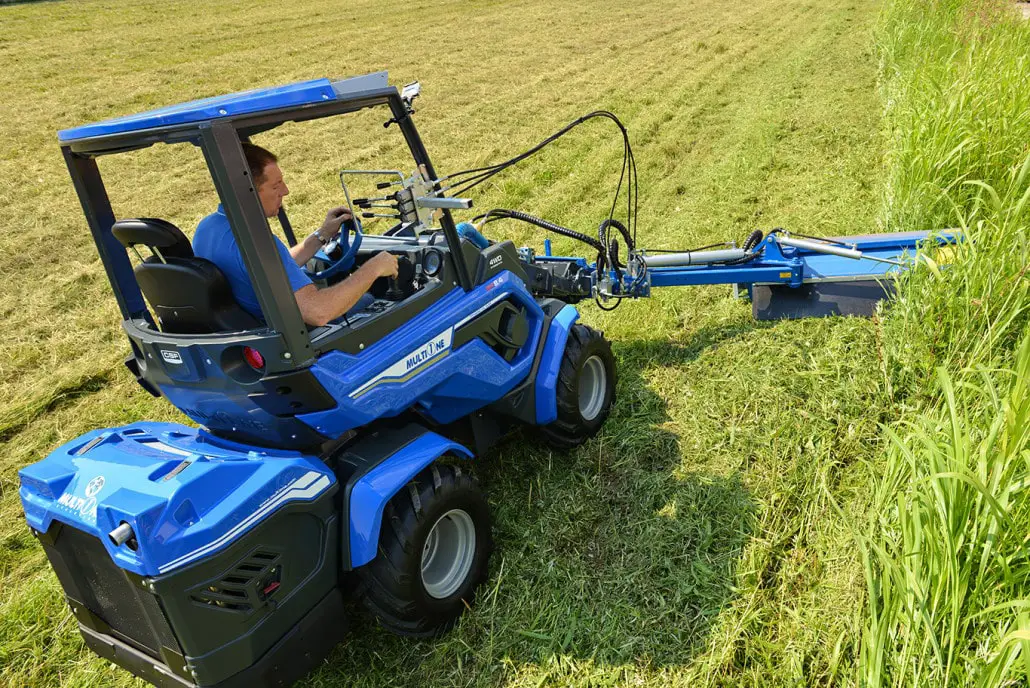 What does a flail mower do?
Disruptive long grass and bushes blocking the highway can be chopped and dealt with by a flail mower. A flail mower, therefore, is useful for mowing dense bushes and vines.
Because of its design, the chance of damage from flying debris during operation is significantly reduced. As a result, these tractors are ideal for cleaning up grassy areas that have been covered by other plants.
As the mower can be positioned at right angles, it can be used to clear golf courses as well. And it can perfectly prune the sides of shrubs, trees, and any other thick shrubbery on the golf course.
Although flail mowers are useful for cutting brush, they take a long time to capture and manure the brush. And so, these aren't great for clearing brush and trees; although, they can be utilized on extremely young saplings, to a small degree. 
Some flail mowers are equipped with stronger-grade knives and are explicitly intended for brush slicing. They can match the brush trimming performance of a rotary mower.
Where to use a flail mower?
A flail mower can reach a variety of spots easily, whereas other mowing machinery can't, no matter how strong or flexible they are. Not just that, with a flail mower you will save time and work more efficiently. 
Now, here are some examples of where you can use a flail mower: 
You can mow vast areas twice as large as any lawn mower can handle.
All forms of vegetation, from high, resistant grass to branches scattered on the ground during trimming, can be removed.
You can also ascend sloped terrain without exerting the physical effort that requires to carry a brush-cutter. This is possible because a flail mower is designed to be self-propelled. It means the engine delivers mechanical power to the wheels.
You may also perform on uneven terrain since the huge back wheels with curved treads can readily navigate any surface, including cracked ground with holes.
How do they operate?
A flail mower cuts with Y- or T-shaped knives or flails linked to a long rotating shaft. These knives spin at a rapid rate, slicing through any substance they come across.
The rotating shaft (the flails are split out to achieve a thorough cut) is powered by a PTO drive. 
Furthermore, they hold the cut items underneath the mower for a moment so that more shredding can take place. After that, the fine clippings are then uniformly dispersed over the mower's full breadth. They spin in the reverse direction as the wheels do.
How To Assemble A Flail Mower?
Before connecting the tractor and the flail mower, make sure the ground is even and smooth. Nothing should hinder the process for the two of them.
Attach the lower arms first by detaching the brackets and releasing the pins. Insert the lift arms into the arms center, and secure them with the corresponding release pin that you pulled.
Now, fasten the tractor's upper edge link to the third higher joint by removing the pin between the panels.
Use the pin to secure it. Modify the third point so that the frame's top part is symmetrical to the ground. 
Always keep the center gearbox aligned to the ground to prevent stress when you power up the engine.
Conclusion
Flail mowers are a fantastic complement to any farm's equipment. I hope we've provided all the answers you need on 'what is a flail mower used for'. 
They can accomplish a wide range of jobs because of their adaptability and maneuverability.
So, what are you waiting for? Get your hands on this extraordinary machinery!